Modern Staircase Ideas: 18 of the Very Best Designs
By Amy Reeves
Inundated with modern staircase ideas? We've searched high and low to collect the crème de la crème of design inspiration, tips and tricks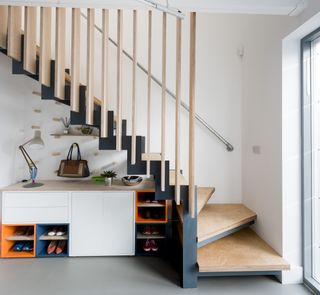 (Image credit: Jeremy Phillips)
There are so many modern staircase ideas out there it can be hard to know where to even begin when looking. Well, we've done the hard work for you and curated the crème de la crème of contemporary stairway designs to help you narrow down your favourite styles. 
Whether you're looking to update an existing house with the latest steel and timber staircases or to include a frameless glass structure in a new one, approaching suppliers and architects with a clear idea in mind will save time and money. 
Take a look below for the very best trends, styles and structures – with a few industry tips to get you on your way – and check out our expert guide on staircase design for comprehensive advice on how to get started. 
(MORE: Get a quote for your new staircase)
1. Create a Floating Glass Staircase
Make an instant statement with this clever timber and glass staircase design. 
Finished with a modern glass balustrade, the wooden steps to have the illusion of floating. The simple straight flight has a hidden steel stringer (the housing either side of the stairs) behind the stone-clad plasterboard which supports the whole structure.  
2. Add a Minimalist Staircase for a Modern Finish
These stairs are about as pared-back as you can get. The thin step tread made with a central spine to support it celebrates the intricate craftsmanship of staircases to create a minimalist focal point. 
A similar look could be created using painted wood steps and powder-coated steel. 
3. Let Timber Take the Lead
The best modern staircase design let the materials speak for themselves — as this walnut structure demonstrates. 
The muted green of the front door and the polished concrete floors makes every element in this hallway sing. 
(MORE: Need a quote for your new staircase?)
4. Reinvent the Modern Spiral Staircase
This spiral staircase was designed for the homeowners to transition from the quirky open plan living space (below) to the more rustic basement floor. 
Thick treads made from ash are stacked to hide the usually visible central column which supports the structure. 
5. Install a Cantilevered Staircase for a Contemporary Finish
Sleek, stylish and full of wow-factor, this cantilevered black steel staircase is a statement feature in its own right. 
5. Use LEDs to Light Up a Modern Staircase
Concealing LED lights under each tread of a contemporary staircase creates a cost-effective yet etherial appearance.  
(MORE: Get tailored advice for your new staircase)
6. Add a Contemporary Staircase to an Open-plan Space
While this terrace house was renovated, the homeowners chose to open up the previously enclosed and dark staircase. The replaced it with a timber and glass structure which leads right to the open-plan living space. 
The glass baluster doesn't feature a handrail (Building Regulations in England don't require one), making the staircase less visible. 
7. Think Outside the Box to Work to a Budget
This steel and timber staircase was designed by the homeowner using CAD software. The ply balustrades were installed as a cost-saving measure while he raises funds for a laser-cut metal profile in the future. 
8. Contrast Wood and Metal for a Trendy Staircase Design
Scandinavian-inspired pale woods matched with matt black finishes is one of the most popular styles in recent years. 
Here, simple and narrow balusters are beautifully complimented by oak treads and a stunning continuous handrail. 
9. Go Bold for an Industrial Staircase 
These bespoke steel staircases (above and below) were designed to provide access  from the open-plan living spaces down to the sleeping areas in the basement, while creating an industrial finish.
The open riser and mesh sheet balustrade design allows plenty of light in to make the downstairs spaces feel brighter.
(MORE: Get a quote for your new staircase)
10. Modernise a Traditional Staircase
The spiral staircase in this renovated Victorian school house was modernised with a contemporary sage green. 
The rejuvenated  structure creates the perfect bridge between the history of the property and the it's new purpose to suit a modern family lifestyle. 
(MORE: How to Save an Old Staircase)
11. Go Big with a Modern Staircase Design
Leading gracefully down from a the new mezzanine area, the staircases either side of the kitchen area truly make an impact in this contemporary-styled barn conversion. 
Plus, the spandrel (the triangular space under the stairs) has been incorporated into the kitchen as extra storage. 
12. Keep it Simple to Make an Impact with a Modern Staircase
When designing this kitchen extension to a terrace property, Merrett Houmøller Architects kept a simple pallet of materials throughout the spaces. 
The result is a dramatic black steel staircase which takes centre-stage in the double-height space.
(MORE: Get a quote for your new staircase)
13. Add a Splash of Colour to a Contemporary Staircase
The simple glass and white painted timber staircase of this barn conversion has been accompanied by on-trend bold colours and styles to really make the feature come alive. 
14. Go for a Modern Wood Staircase for a Stylish Mid-century Modern Look 
This self build used exposed cross-laminated timber to decorate their living space while the glass and wood staircase provides an uninterrupted view to the reading nook on the mezzanine. 
15. Go for a Modern Rustic Staircase Design 
Stone, glass and render all feature predominantly in this self build's living room while the wood draws the eye towards the fine detailing on the upstairs handrail which then continues throughout the house. 
(MORE: Ultimate Guide to Self Build)
16. Complete a Contemporary Staircase with Finishing Touches
Floor-to-ceiling glazing and concealed lighting make this staircase really stand out. 
(MORE: Get a quote for your new staircase)
17. Create an Air of Elegance with a Modern Staircase
When building an extension to their cottage in the Cotswolds, the homeowners decided to relocate their old staircase.  
Making the most of their new vaulted ceiling, the charming oak stairway now matches the kitchen (and includes valuable storage) while a mural adds delicately detailed decoration. 
18. Get Creative to Make a Modern Staircase Work Harder
Oversized balustrades, a gentle winder design and a deep navy steel structure mean this staircase packs a punch. 
Plus, freestanding, colourful storage below with a DIY peg board creates a a handy place to kick off coats before heading upstairs. 
Get a Quote for Your Modern Staircase
Homebuilding.co.uk partners with the UK's best staircase design specialists to match your requirements with their products and services. 
Simply answer a few questions on what you need from your staircase and we'll put you in touch with a suitable partner.
Homebuilding & Renovating Newsletter
Get the latest news, expert advice and product inspiration straight to your inbox.
Thank you for signing up to Homebuilding. You will receive a verification email shortly.
There was a problem. Please refresh the page and try again.