The Best Modern Staircase Ideas: 35 Stylish Designs
By Amy Reeves
Looking for modern staircase ideas for your project? We've collected the crème de la crème of design inspiration, tips and tricks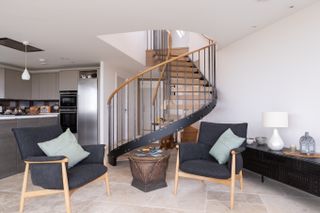 (Image credit: Bisca)
Create an impression with these modern staircase ideas. As one of the most important features in a house, they need to be both functional and beautiful to make an impact when visitors enter the home, so take the time to get the design right. 
It doesn't matter if you're renovating an existing staircase, adding a new one to update a dated hallway, or designing from scratch in a new home, approaching suppliers and architects with a clear idea in mind will save time and money. 
From contemporary wooden stairways to glass floating steps, there are so many modern staircase ideas out there it can be hard to know where to even begin looking. Well, we've done the hard work for you and curated the very best of contemporary stairway designs to help you narrow down your favourite ideas. 
Take a look below for the very best trends, styles and structures — with a few industry tips to get you on your way – and check out our expert guide on staircase design for comprehensive advice on how to get started. 
1. Make a Warm Welcome with Modern Staircase Ideas
Staircases play an important part in our homes — often greeting visitors at the door and welcoming tired family members to bed. Set the tone for your home by creating a warm interior scheme in the hallway. 
Simple yet inviting, this steel design has been finished with ash on the floor and treads. 
2. Keep Stairway Costs Down with Ideas for a Budget
Utilising a simple pine staircase is a cost-effective option. They can either be painted, carpeted or, as here, have a contemporary stair runner up the centre. 
(MORE: Types of Carpet)
3. Create Instant Impressions with a Stairway Colour Scheme
This steel staircase's balustrades are painted in a French Grey which is continued around the door linings and skirting boards throughout the floorplan — a simple but effective way of creating a coherent home. 
4. Maximise Potential of a Budget Staircase
While staircases can be as expensive as you choose, that doesn't mean all designs have to cost the earth. Keeping the plan simple can create some stylish and striking results, as this contemporary glass and timber unit shows. 
The homeowners bought an inexpensive pine staircase and whitewashed it before fitting a 15mm toughened glass balustrade themselves. 
5. Light Up an Enclosed Stairwell 
Enclosed stairwells can be dark and isolated from the rest of the house, so getting the artificial lighting design right is key. 
In renovations, perhaps well-placed wall lights or a pendant light will make the space feel more comfortable, or in a new home, get creative with internal windows, as in this self-build which includes narrow internal glazed panels provide glimpses into the main open plan space.The solid bamboo staircase include colour-changing LED lighting hidden in the handrail and a lightwell above. 
(MORE: Staircase Lighting Ideas)
6. Use a Contemporary Staircase to Zone Open-Plan Spaces
As open plan living is more popular than ever, with adjustments for function 'zones' like a snug, kitchen or home working area, using a staircase to divide one large space is a great idea. 
This stunning steel staircase highlights the double-height void in the centre of this open plan home. It has been painted in the same RAL shade as the windows and divides the more intimate snug – out of shot around the corner – from the modern kitchen and dining area. 
7. Combine Black Steel and Wood for a Contemporary Staircase and Hallway
The perfect blend between Scandinavian and industrial styles, this staircase and hallway design works in complete harmony. 
Plus, a hanging egg chair gives purpose to the often wasted space of the top landing. 
8. Make an Entrance with an Open Modern Staircase
Replacing a traditional design in this modern farmhouse, this wooden staircase features open treads and a glass balustrade so natural light from the rooflight above and glass panels by the front door can flood the entryway. 
9. Give an Old Staircase a Modern Makeover
This original staircase has been elegantly updated with a calm, confident redesign. Stair runners are making a magnificent comeback and when this grey herringbone material is paired with black steel rods, the space is instantly updated. 
(MORE: 13 Renovated Terraced Homes Ideas) 
10. Go Bold When Choosing Hallway Flooring 
Strong contemporary materials such as concrete, natural wood or steel can sit confidently alongside interestingly pattered carpets or bright tiles. Choosing a more daring pattern for well-considered flooring will add instant personality and create a space full of fun and intrigue. 
(MORE: Types of Flooring)
11. Make a Modern Staircase the Focal Feature in a Room
This staircase both adds a statement feature in this open-plan space as well as cleverly dividing it to create a cosier area for watching TV with vertical spindles. 
12. Make a Statement Staircase with Pops of Colour
Staircases are often at the front of our homes as we open the front door, so choosing a unique decorating style or design for a new staircase makes immediate impact on guests. Also, creating spaces that have a bit of fun with colour or pattern makes a home feel welcoming and can bring a smile to your face when bringing in the shopping, or going to bed. 
Bright staircase ideas can include powder-coated steel, a pop of colour on a wooden balustrade or contrasting a strong hue on the walls with a neutral staircase for a warm welcome— this pink stairwell certainly does the job!
(MORE: How to Paint Stairs)
13. Create a Gallery Wall for a Personalised Stairwell
This staircase up to a converted loft ticks all the boxes — a rooflight to flood the lower landings with light, an eclectic selection of family photos on the walls and a dark, restored staircase that contrasts wonderfully with the statement pendant. 
These are all simple (and cheap!) tricks that can be applied to any renovation or loft conversion project but together the impact is undeniable. 
14. Use Glass in a Central Staircase for a Unified Space
The open plan kitchen layout is key for the small floorplan of this self build, so the homeowners opted for glass balustrades so that the house had clear views from the entrance hall through to the rear garden. 
15. Create a Useful Staircase using Oak and Glass
This U-shaped staircase with half-landing creates an enviable spot to relax in and makes the most of a double-height space before leading up to the mezzanine area. 
The oak handrail at the top matches the characterful flooring while the glass balustrade also means the room isn't divided up or interrupted. 
16. Install a Black Steel Staircase for a Contemporary Finish
Light, bright and airy, this room is the perfect blend between traditional materials and modern styling, in no doubt thanks to the handleless kitchen paired with the black steel staircase. 
17. Light Up a Glass and Metal Staircase
A good lighting design can transform any simple staircase, as this example shows effortlessly. Alternating recessed LED floorwashers illuminate the treads beautifully while the glass balustrade lets the warm light flow into the main dining area. 
Concealing LED lights under each step of an open tread staircase also creates a cost-effective yet etherial appearance.  
18. Keep it Classic with a White Wood Staircase
This white wood staircase design is anything but boring when paired with an on-trend shade of blush pink and rustic barn doors. 
19. Transform a Victorian Terrace Staircase with a Modern Treatment
Update a tired terrace staircase by painting in a contemporary shade of blue and adding an understated yet stunning grey runner. 
The perfect mix of traditional and modern, this staircase showcases everything that is special about the terrace house, while keeping it rooted in contemporary styles.
(MORE: Small Hallway Ideas)
20. Keep Costs Down by Renovating an Old Staircase 
Unless there is something physically wrong with a staircase during a renovation project, many simply need some attention and can be rejuvenated by some TLC. 
This pared-back design is made all the more interesting by the dark stained wood handrail which draws the eye invitingly upstairs. 
(MORE: How to Save an Old Staircase)
21. Make a Statement with a Pendent Light in a Staircase
Add a contemporary light fitting to instantly create wow-factor in a stairway.
This bespoke staircase revolves around the modern chandelier in this home, creating a focal feature that draws the eye up through the triple-height space. 
22. Create a Floating Glass Staircase
Make an instant statement like self-build's clever timber and glass floating staircase design. 
Finished with a modern glass balustrade, the wooden steps to have the illusion of floating. The simple straight flight has a hidden steel stringer (the housing either side of the stairs) behind the stone-clad plasterboard which supports the whole structure.  
(MORE: Ultimate Guide to Self Build)
23. Let Timber Take the Lead
The best modern staircase design let the materials speak for themselves — as this walnut structure demonstrates. 
The muted green of the front door and the polished concrete floors makes every element in this hallway sing. 
24. Add a Modern Central Staircase
This central spiral staircase was designed for the homeowners to transition from the quirky open plan living space (below) to the more rustic basement floor. 
Thick treads made from ash are stacked to hide the usually visible central column which supports the structure. 
25. Add a Contemporary Staircase to an Open-plan Space
While this terrace house was renovated, the homeowners chose to open up the previously enclosed and dark staircase. The replaced it with a timber and glass structure which leads right to the open-plan living space. 
The glass baluster doesn't feature a handrail (Building Regulations in England don't require one), making the staircase less visible. 
26. Think Outside the Box to Work to a Budget
This steel and timber staircase was designed by the homeowner using CAD software. The ply balustrades were installed as a cost-saving measure while he raises funds for a laser-cut metal profile in the future. 
27. Contrast Wood and Metal for a Trendy Staircase Design
Scandinavian-inspired pale woods matched with matt black finishes is one of the most popular styles in recent years. 
Here, simple and narrow balusters are beautifully complimented by oak treads and a stunning continuous handrail. 
28. Go Bold for an Industrial Staircase Outdoors
This bespoke steel staircase was designed to provide access from the open-plan living spaces down to the sleeping areas in the basement, while creating an industrial finish.
The open riser and mesh sheet balustrade design allows plenty of light in to make the downstairs spaces feel brighter.
29. Modernise a Traditional Staircase
The spiral staircase in this renovated Victorian school house was modernised with a contemporary sage green. 
The rejuvenated structure creates the perfect bridge between the history of the property and the it's new purpose to suit a modern family lifestyle. 
30. Go Big with a Modern Staircase Design
Leading gracefully down from a the new mezzanine area, the staircases either side of the kitchen area truly make an impact in this contemporary-styled barn conversion. 
Plus, the spandrel (the triangular space under the stairs) has been incorporated into the kitchen as extra storage. 
31. Keep it Simple to Make an Impact with a Modern Staircase
When designing this kitchen extension to a terrace property, Merrett Houmøller Architects kept a simple pallet of materials throughout the spaces. 
The result is a dramatic black steel staircase which takes centre-stage in the double-height space.
32. Add a Splash of Colour to a Contemporary Staircase
The simple glass and white painted timber staircase of this barn conversion has been accompanied by on-trend bold colours and styles to really make the feature come alive. 
33. Complete a Contemporary Staircase with Finishing Touches
Floor-to-ceiling glazing and concealed lighting make this staircase really stand out. 
34. Create an Air of Elegance with a Modern Staircase
When building an extension to their cottage in the Cotswolds, the homeowners decided to relocate their old staircase.  
Making the most of their new vaulted ceiling, the charming oak stairway now matches the kitchen (and includes valuable storage) while a mural adds delicately detailed decoration. 
35. Get Creative to Make a Modern Staircase Work Harder
Oversized balustrades, a gentle winder design and a deep navy steel structure mean this staircase packs a punch. 
Plus, freestanding, colourful under stair storage below with a DIY peg board creates a a handy place to kick off coats before heading upstairs. 
Assistant Editor Amy began working for Homebuilding & Renovating in 2018. She has an interest in sustainable building methods and always has her eye on the latest design ideas. Amy has interviewed countless self builders, renovators and extenders about their experiences for Homebuilding & Renovating magazine. She is currently renovating a mid-century home, together with her partner, on a DIY basis, and has recently fitted her own kitchen.
Homebuilding & Renovating Newsletter
Get the latest news, reviews and product advice straight to your inbox.
Thank you for signing up to Homebuilding. You will receive a verification email shortly.
There was a problem. Please refresh the page and try again.