Floating Staircases: How to Get the Design Right
By Allan Corfield published
A floating staircase can open up your home, let light in and create an amazing feature. Here's our guide to getting the design right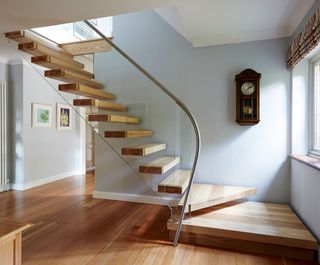 (Image credit: Bisca)
A floating staircase can be a stunning design feature that opens up even the smallest of entrance ways and landings. It's also a wonderful addition to a self build project.
A simple, straight floating staircase is often made from high quality oak, glass and metal, and appears to effortlessly float from the wall and floor.
While the primary purpose of a staircase is getting you from one floor to another, they are also an opportunity to create an eye-catching, wow-factor staircase design in your new home.
How Much Does a Floating Staircase Cost?
A floating staircase is not cheap: they are a striking design feature and a talking point and for that reason they come at a premium price.
For a a top-class contemporary staircase you will be looking at between £15k and £20k but you can get them cheaper with some clever planning.
You can save money if you decide to get everything made off site and then fitted by your tradesperson. However this means things have to be made to the exact millimetre so it's not without risk.
If you are building your own house then you may be able to factor in a floating staircase into your budget early on, and if the price doesn't put you off then there are a number of specialist companies, such as Angus and Mack (opens in new tab) and Bisca (opens in new tab), that can help you.
Floating Staircase Design
When it comes to designing your staircase remember that, as with most design features, it's often the case that the simpler it looks, the more complex it is to build.
Most staircases are located close to the front door and you should think about how your new floating staircase will work with natural light in your home.
When planning the design and the look, remember to check with Building Regulations as in the UK there are certain criteria's that you need to meet:
The maximum rise for each step is 220mm and the minimum is 150mm
The width of each step from nose to nose must be a minimum of 220mm and a maximum of 300mm
Flights should have a handrail on at least one side if they are less than one metre wide and on both sides if they are wider than this
Wooden stair treads tend to be the most popular design when it comes floating staircases, and you can add a handrail to make them safer for children and pets.
Circular brushed-metal handrails are also popular because they look and feel lovely and add an extra safety element.
What's more they limit the amount of cleaning that the glass would need which is an added bonus. Touching a glass balustrade every time you go up and down the stairs would leave lots of noticeable fingerprints!
(MORE: Modern Staircase Ideas)
How to Build a Floating Staircase
A standard staircase has treads spanning two stringer supports but a floating staircase has a single steel stringer that is hidden behind the plasterboard wall, supporting cantilevered metal treads. This is what gives the overall illusion of floating stairs.
The picture below gives you an example of a floating staircase being assembled and attached to the wall.
What is a shadow gap?
Shadow gaps are tiny 'flash gaps' or 'controlled gaps' designed to replace skirting boards and allow for movement between the two planes of the wall and the floor. They give a modern, contemporary finish.
Commonly each tread is fabricated out of two 120x60x6cm rectangular hollow sections, with an oak shoe slipped over the top to give a stunning, solid-looking finish that doesn't extend to the wall or glass, creating a shadow gap.
The treads also provide support for the glass balustrade, which is fixed in place using pre-stressed glazing bolts in predrilled holes.
The glass in these examples is 17.5mm heat-soaked toughened laminate. This robust specification is important, as the balustrade must be able to support itself and provide the necessary barrier loading required by the Building Regulations.
Expert Tips for Your Floating Staircase Design
Follow these expert tips and you should get your floating staircase spot on:
Make sure your design team has created such a feature before
Design this feature in from the start
Be sure to allow enough room for the hidden structure
Seek out local manufacturers to provide each individual element
Budget £15k to £20k for a high end product, it can be less with off site manufacturing
Check and double check your templates before ordering glass panels
(MORE: 12 Staircase Design Ideas)
Allan is a RIBA chartered architect and has overseen the design of over 350 low energy homes across the UK. He is one of the UK's leading experts on modern methods of construction including SIPs (structural insulated panels), is part of the Structural Timber Association, Passive House Trust and a member of the self build industry body, NaCSBA. He regularly contributes to Homebuilding & Renovating magazine and is a speaker and self build expert at the Homebuilding & Renovating Shows. Since 2009, Allan has grown his custom and self build architectural practice, AC Architects, to a team of 16, and recently created AC Structures, a leading engineering business for self build projects.
Homebuilding & Renovating Newsletter
Get the latest news, reviews and product advice straight to your inbox.
Thank you for signing up to Homebuilding. You will receive a verification email shortly.
There was a problem. Please refresh the page and try again.