Internal Timber Cladding Guide
By Natasha Brinsmead published
Internal timber cladding isn't just for period homes — this is a look that suits contemporary homes too, adding warmth and character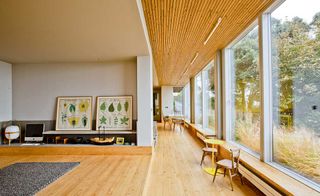 (Image credit: Silva Timber)
Recently, painted tongue-and-groove cladding has seen something of a resurgence, adding a touch of country-chic for those looking for a quick, cost-effective decorating solution.
This cladding comeback isn't just focused on traditional and classic design though — contemporary homeowners have got in on the act too, realising internal timber cladding provides the ideal solution for adding character and warmth to a modern home.
Why Should I Use Internal Timber Cladding?
Timber panelling is simple to install and to retrofit, is cost-effective and can be fitted on a DIY basis too. It is also easily adaptable — painted, stained, white-washed or left in its natural state.
"Contemporary interior timber cladding can be used in many different ways on any walls internally," says Andy Stevens, MD of Eclipse Property Solutions. "Cladding can be used to create a feature wall, bring an old wall to life or if you're really bold you can do a whole room. The great thing with timber is every piece is different so you will never get two pieces the same."
Which Timber Should I Choose?
There is not just one type of wood panelling: it actually comes in many different forms and can be bought off-the-shelf or custom made.
Unlike exterior timber cladding, there are no rules when it comes to the timbers you can use — your choice will more likely be dictated by your budget and the look you are aiming for.
The trend for classic and more traditional properties is to paint cladding, meaning softwoods and MDF products are wholly suitable. However, contemporary timber cladding tends to embrace the timber in its natural state and so the choice of timber is of the upmost importance.
"All types of wood can be used, from softwood to hardwood, from old pallets to fine American white oak," says Andy Stevens.
According to the experts at timber cladding specialists NORclad, it is not so much the species of timber that you opt for, but its moisture content.
"Within reason you can choose any wood you like the look of," say NORclad. "Internal moisture in the air can cause the timber to swell and crack so you want a stable timber — green oak, for example, would not be advised.
"We'd recommend using a species of timber that is easy to work with. You don't need to worry as much about the durability of the timber as it won't be put under the same environmental pressures as timber cladding used outside."
Softwoods, such as pine, are a cost-effective option and quite suitable for internal cladding. "Pine is a popular choice — as long as it is dry with a moisture content of around 10-12%," say NORclad. "It should also be finished with a suitable coating capable of absorbing and releasing a small amount of moisture."
Softwoods also tend to be lightweight and easy to work with, absorbing any finishes and preservatives more readily that hardwoods — plus they are more sustainable than hardwoods.
Engineered floorboards, as well as solid, are options. Engineered boards do tend to have greater stability than solid wood but can also cost more.
In terms of auesthetics, walnut, maple and cherry are all popular contemporary options, as are oak and teak.
OSB (oriented strand board), and plywood, are now also being used as cladding solutions.
It is important to ensure they are well-sanded. Also, a finish will be required to avoid 'flaking'. While some choose to paint OSB for some very striking results, others opt for a clear polyurethane finish.
How to Choose the Right Internal Timber Cladding
Most internal cladding comes in the form of tongue-and-groove boards that can be nailed and glued together or as straight edge boards. This is much the same as wooden flooring — in fact the majority of wooden flooring suppliers state that their boards can also be used on walls.
In the case of tongue-and-groove boards, the outer edges are often chamfered, forming a V-shaped groove where the boards meet.
In contemporary homes, a sleeker look is often preferable, so ensure the baords you choose are straight-edged if this is the look you are after. If using tongue-and-groove boards choose those with a 'shadowgap' or 'channel' profile'. These boards have a flat face and a clean, square-edged cut out and are usually suitable for secret nailing.
Split face timber cladding and randomly formed designs add a 3D element. Supplied in packs of varying sizes, textures and even timber types, these can be more time-consuming to fit than regular cladding, but are still often supplied with tongue-and-groove edges.
Other options include larger panels of wooden cladding. In this case, the cladding is supplied in sheets that are designed to fit up to one another for a seamless finish.
Whilst it is possible to order your timber cladding in the exact sizes you require, this will be a more expensive option than buying pre-cut packs and trimming them to fit. Standard lengths are usually 1800mm, 2400mm and 3000mm.
Perhaps the most commonly seen type of wood panelling, tongue-and-groove, is usually sold in packs and is designed to be fitted on a DIY basis, costing from £6/m². It is usually made of softwood planks.
There are also lots of tongue-and-groove look-a-like products on the market made from either timber or MDF. These have the appearance of panels that have been clicked together but actually come as continuous sheets, making them quicker and less fiddly to fit. They come ready to be primed and painted.
Choosing Period-Style Wood Panels
There are various styles of wood panelling out there, from those labelled 'Georgian' and 'Victorian' to sleeker, more modern designs. Most can be found in either MDF, MDF with a real wood veneer, or as solid timber. Aim to be true to your property when choosing the timber.
MDF panelling is designed to be painted
Hardwood panelling such as oak can be varnished or left as it is for a more natural look
If you are considering softwood, it will need to be treated with a primer and painted if you don't want issues with movement — particularly in bathrooms and kitchens
There is also the option for 'open-backed' panelling. This produces a square or rectangular panel design using sheets of MDF with the squares cut out — these panels are then glued directly to any flat surface and painted. This creates a traditionally panelled look at a fraction of the cost of timber, and it can be done easily on a DIY basis.
How Much Does Timber Cladding Cost?
Softwood tongue-and-groove cladding, is usually sold in packs and is designed to be fitted on a DIY basis, costing from £7-8/m².
However, bear in mind that a softwood such as pine will require the application of a knotting solution and either primer and paint, or a sealant or stain, which ultimately adds to its cost.
Hardwoods such as oak and walnut cost more, but usually come finished and require little to no maintenance.
How to Fit Internal Timber Cladding
In renovation projects, your walls may require a little attention before cladding is fixed, although cladding is actually a good way to deal with uneven surfaces. So long as the surface is sound and not falling away, there should be no problem.
In some cases, cladding can be fixed directly to the wall. This is a good option if you are very conscious of working with a small space, or if you have timber stud walls, where cladding can be nailed directly to these — just be sure you mark where the studs are before you begin.
In most cases, cladding is fixed on to 50 x 25mm softwood battens that have been nailed or screwed to the existing solid wall.
In the case of cladding fixed to the inside of an external wall, using a vapour barrier, placed behind the battens can prevent condensation or rot affecting the new timber. This is also a good opportunity to add in extra insulation in the case of renovation projects.
Battens must run at right angles to the cladding and be spaced around 400-600mm apart, depending on the size of the wall. The first and last battens should be at either end of the wall and further battens will be required around doors and windows, as well as under any joints between the ends of boards.
In a contemporary setting, skirting boards are often not required. If fitting your cladding vertically, simply finishing the bottom edge of the cladding off with a square edged strip of matching wood is a neat solution.
In order to reduce the risk of cladding splitting, warping or cracking, have it delivered or buy it at least two weeks before you plan on fitting it. Keeping the cladding in the room it will be used it will acclimatise it, reducing the amount of moisture in the wood. Store it laid flat.
Natasha is Homebuilding & Renovating's Associate Editor and has been a member of the team for over two decades. An experienced journalist and renovation expert, she has written for a number of homes titles. She has renovated a terrace and is at the end of the DIY renovation and extension of her Edwardian cottage. She is now looking for her next project.
Homebuilding & Renovating Newsletter
Get the latest news, reviews and product advice straight to your inbox.
Thank you for signing up to Homebuilding. You will receive a verification email shortly.
There was a problem. Please refresh the page and try again.