Stairway Wall Ideas: How to Design a Stunning Staircase
These stairway wall ideas include galleries, lighting, painting trends and everything in between. Plus, loads of interior design advice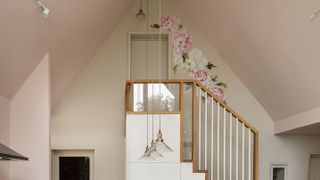 (Image credit: Simon Maxwell)
Decorating with stairway wall ideas can transform a purely functional staircase into one that reflects the personality and character of a home's inhabitants.
Good staircase design will connect the two floors so continue the effort and interior consideration put into the hallway and landing by finding a transitional style that works with both.
More than just popping some pictures up as an afterthought, decorating a stairwell the right way can open up an enclosed or tired spaces. Take a look below at our favourite stairway wall ideas with advice on how to implement them in your own home by design experts.
Stairway Wall Ideas
Once you've got your favourite modern staircase ideas lined up for the main event, it will be be time to think about what to place on the walls.
"Stairways are a great place to show off your decorative skills. You can spruce up these spaces by displaying artwork, wall sculptures and mirrors to give the area personality," explains Lou Petersen, creative director at dwell.
"We always recommend making the most of the empty space that's available, this can be done by creating a gallery wall with multiple pieces of artwork, or by opting for one large piece to create that instant wow-factor."
1. Illuminate Your Way to Bed with Low-level Wall Lighting
In addition to ambient lighting that will light up the space generally (think ceiling down or spotlights and statement staircase lighting ideas, such as dangling pendants), add accent or mood lighting for recesses, corners or angles.
"Hallway stairs and landings don't have to be bright but it is best to use discreet, recessed downlight for a change of direction or changes of level," advises Piero de Marchis, director of Detail Lighting.
"It's better to have an even illumination for any tricky corners, lighting up things such as hand rails and step lights. Low level lighting is perfect for stairs and hallways as they also double up as safety lights for family and guests."
2. Update Existing Staircase Walls
While it can be tempting to rip out a dated staircase and start from scratch, this will be a costly decision, and sometimes only the wall decoration and general interior scheme needs reassessing to save an old staircase.
"First of all, decide on what you like or dislike about the space," begins Ann Marie Cousins, founder of AMC Design. "If it is dark, adding light is a priority. Think about a large mirror or mirrored panels."
This staircase has been left bright an open for optimum airiness — even the pendant lights of the hallway design are transparent to let as much light into corners as possible.
3. Put up Some Personality with a Gallery Wall
"Hanging a gallery wall is one of the best ways to add detail to a stairway and showcase your collection of favourite art work, photos and personal items," comments Abbie Ireland, director at Patrick Ireland Frames.
"Decide what wall art you want to display before you start hanging them up. Find an open space and play around with your frames and try and create a flow by mixing up the sizes. The stairway is often the first thing you and your guests see when they walk in, so it is an important room in the house!"
This eye-catching space uses painting wooden staircase ideas to a masterful degree. While the contemporary blue of the balustrades anchors the design in modern tastes, the original ornate detailing is celebrated in the stripped back newel posts. Finally, the varying styles and sizes of items on the gallery wall means that no matter how many times visitors walk past the staircase wall, they will always have something of new and interesting to spot.
4. Remember That Less is More for Enclosed Stairway Walls
"The staircase wall is often an area of the home that is forgotten about, especially as the space is often smaller and more enclosed," says Lou Petersen from dwell. "When decorating, the key is to make sure that everything is perfectly to scale so that you don't overwhelm the space."
"It's important with a small and enclosed staircase to keep the passageway clear as much as possible, but that doesn't mean forgetting about the area design-wise," agrees Ann Marie Cousins.
"It's important to hang pieces like artwork and mirrors at the right height so that they look visually appealing as you walk up the staircase," Lou Peterson continues. "One statement piece of artwork is all you need to decorate a more compact area, as the last thing you want is to make the space feel overwhelming or cluttered. We would also recommend leaving one wall clear, so that the focus is directed to one key feature that you want to be the centre of attention.
5. Continue Interior Design Ideas Upstairs
"When designing your house, it is good to keep a common thread or accent colour throughout to add balance and cohesion — therefore don't forget the hallway and stairway when decorating," Abbie Ireland advises.
"If you're a fan of mixing colours, patterns and designs, choose to include these perhaps in your artwork or within the frames of your artwork for some subtle detailing. Choosing the right frame can totally transform the look and feel of your artwork and the room, and is a great opportunity for you to be creative."
Here, a cohesive interior design unifies clever hallway ideas, such as painting radiators, skirting boards and stairs in a dark colour with a fresh, but complementing wallpaper on the stairway wall.
Continuing painted stairs ideas like these up into the landing will ensure the space feels connected and well-designed.
6. Draw the Eye Up with Different Lighting
"Enclosed stairway walls can often be dark spaces within the home, so one of the best ways to give them a personality is by adding some beautiful lighting," says Ian Cameron, creative director at Empty State.
Ann Marie Cousins agrees: "Lighting needs to have several layers so a pendant light is great for having a feature, but you might want to add wall lights either side of the mirror, or a lamp on a console if space permits."
This renovated staircase is blessed with natural light, thanks to the central rooflights, but cleverly lets the landing lighting ideas infiltrate into the stairwell below.
7. Add Some Modern Interior Panelling
Wall panelling is not just reserved for period homes, but can be added to modern and traditional interiors alike. It can also add interest in often forgotten spaces when paired with the right landing ideas.
"If you feel like your hall lacks character, panelling can add interest — just make sure the style is in keeping with the house," warns Ann Marie Cousins. "Don't add detailed Victorian style panelling in a new build but opt for something sleeker, like a contemporary take on a shaker style or a contemporary fluted panel."
8. Play with Wall Paint Finishes on a Stairway
Before choosing the colour for your stairway walls, check which way the nearest window is facing. The amount of natural light the space receives should dictate the shade and undertones as well as the finish.
For northern aspect windows, or ones that suffer from no natural light at all, avoid anything with a grey or green undertone as this will make the stairway feel cold and uninviting. Instead, consider a warm, yet bold colour that will make the space feel welcoming, but not claustrophobic.
For spaces blessed with a lot of natural light, play around with softer hues, such as pale blues and creams.
When it comes to the finish sheen, a satin or semi-gloss will be most durable. Or, you could take a leaf out of this pared-back, but interesting staircase's walls and create a modern take on a dado rail by neatly dividing the wall with stain and matt finishes. Note also that traditional skirting has been swapped for powerfully bright tiles — a hard-wearing and stylish design point.
How Can I Make my Stairs Look Nice?
Rather than hanging pictures, choose a striking wallpaper or paint colour to add character," explains Ann Marie Cousins of AMC Design. "Update the handrail by painting it in a contrasting colour or choose a lighting scheme with layers – such as a pendant to draw the eye up but supplemented by low level plastered in wall lights, which cast a gentle glow of light up the wall."
What Do You Put on a Stairway Wall?
"Art or photographs are a great way to add interest to stairway walls," says Ann Marie Cousins. "The main thing here is to plan it, so that the size of the pieces is balanced. Best thing is to try out different sized pieces by cutting pieces of lining paper and then masking them onto the wall. Add at least one piece that is large enough to command attention and then link the other pieces to it."
Get the Homebuilding & Renovating Newsletter
Bring your dream home to life with expert advice, how-to guides and design inspiration, direct to your inbox.
Assistant Editor Amy began working for Homebuilding & Renovating in 2018. She has an interest in sustainable building methods and always has her eye on the latest design ideas. Amy has interviewed countless self builders, renovators and extenders about their experiences for Homebuilding & Renovating magazine. She is currently renovating a mid-century home, together with her partner, on a DIY basis, and has recently fitted her own kitchen.