Under Stair Storage Ideas — Smart Ways to Make the Most of an Awkward Space
By Amy Reeves published
Incorporating under stair storage ideas is a great way to maximise space — take a look at these great ideas for any size of house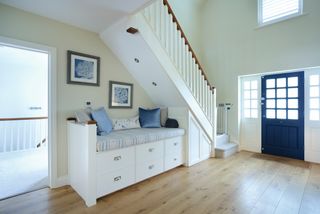 (Image credit: Nigel Rigden)
Under stair storage ideas can vary wildly. As they're generally awkward and unusually-shaped, the spaces under stairs lend themselves well to bespoke or built-in designs, but simpler or smaller options can also give them some much-needed purpose and identity.
If you're planning to add extra storage beneath a new staircase design, it's best to include ideas from the very beginning so you, your designer or manufacturer can incorporate drawers or shelving seamlessly. Alternatively, if you're working with an existing staircase lots of off-the-shelf choices can be adapted to fit unusual corners.
There's a design to suit every space so scroll down and take a look at the possibilities to transform an underused spot into a handy storage solution.
Build Versatile Storage Under Stair Storage Ideas
The majority of staircases are located in the hallway, making them both the perfect spot to display treasured items and a magnet for all manner of shoes, umbrellas and cleaning supplies.
When designing built-in storage units for under the staircase, consider splitting the usable area into shelving and cupboards or drawers so everything has a place without being too rigid.
(MORE: Hallway Design)
Create a New Home Office as an Under Stair Storage Idea
With more of us working from home than ever before, but with the majority without a dedicated room in which to spread out, carving out a spot for a home office with a desk under the stairs can make every inch of your home work for your lifestyle.
Mix and Match Under Stair Storage Ideas to Work for Your Lifestyle
It's great to shut away clutter with bespoke units, but also building in ways to showcase curios will fill a home with identity and character.
This ingenious design from Chiselwood includes descending sizes of pull-out drawers for maximised storage as well as a fabulous alternative to a wine cellar.
Keep Under Stair Storage Ideas Simple
If you don't want boxy units under the stairs, storage ideas like this modernist home utilises can be a handy way to keep clutter at bay, without interrupting an open-plan area.
Look for DIY Under Stair Storage Ideas
Simple drawer ply storage is all this self-build needed to not only create handy shoe storage, but also a convenient seat to put them on.
Build in a Pantry or Larder for Extra Kitchen Storage
Whether your stairs are located in an open-plan kitchen, as in this extension, or simply nearby installing shelves, spice racks or cupboards to hide away lesser-used appliances will help simplify crowded kitchen worktops and busy cabinets.
Keep it Open with Under Stair Storage Ideas for Small Spaces
Give compact floorplans and hallways a spacious feel by using open stair treads with a clear area beneath. Here, pegs, push-open cupboards and brightly colours shoe nooks are set back from the high-traffic area and give the hallway purpose.
(MORE: Staircase Ideas)
Build a WC or Cloakroom Under the Stairs
In this compact 41m2 home, smooth birch-faced ply had been used to clad the staircase while the concrete slab was stepped down underneath in order to accommodate the downstairs toilet, hot water tank and washing machine.
Add a Reading Nook with Under Stair Storage Below
This built-in storage-cum-seating area looks simple but has been ingeniously designed. Spotlights, cleverly installed beneath the slop of the staircase provide light for reading while the fabric and joinery give nod towards the New England interior design scheme throughout the rest of the house.
Include a Full Size Cupboard in Under Stair Storage Ideas
We all need a place to stow away taller, less glamorous items like vacuums, brooms and mops and this full-height cupboard is the perfect place.
Opt for Freestanding Units for Under Stair Storage Ideas
This staircase ingeniously wraps around the freestanding larder units, making use of the awkward transition space and providing the open-plan kitchen with extra storage.
Assistant Editor Amy began working for Homebuilding & Renovating in 2018. She has an interest in sustainable building methods and always has her eye on the latest design ideas. Amy has interviewed countless self builders, renovators and extenders about their experiences for Homebuilding & Renovating magazine. She is currently renovating a mid-century home, together with her partner, on a DIY basis, and has recently fitted her own kitchen.
Homebuilding & Renovating Newsletter
Get the latest news, reviews and product advice straight to your inbox.
Thank you for signing up to Homebuilding. You will receive a verification email shortly.
There was a problem. Please refresh the page and try again.