Staircase Lighting Ideas: 9 Statement Ways to Illuminate Your Stairs
By Hugh Metcalf published
Try these staircase lighting ideas to brighten up your space while creating a focal feature of your stairs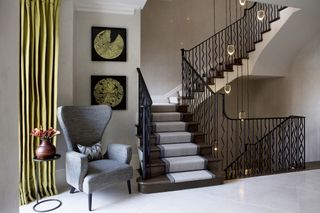 (Image credit: Rebecca Hughes Interiors)
Staircase lighting ideas are a little bit different than the lighting schemes you use in other spaces in your home. Not only does your staircase lighting need to be sufficient that everyone in your home can use the stairs safely, but it's arranged on a gradient in what's potentially the most narrow spot in your home — meaning many lighting ideas just won't work in the space.
This does, however, open your staircase up to a different world of lighting design. From dramatic drop pendants to modern strip lighting, your staircase offers a real opportunity to get clever with your lighting design.
Take a look at these 9 statement staircase lighting ideas as inspiration for novel ways to illuminate your stairs. Some of these schemes depend on specific configurations of your staircase design, but if you're working on a self build or renovation project, it's worth considering your lighting at an early stage. That way you can create a real statement design for an amazing first impression in the entrance to your home.
1. Staircase Lighting Ideas Over Multiple Storeys
Designing a staircase around a central volume to act as a lightwell across several storeys creates room for a dramatic, statement staircase lighting idea.
Chandeliers formed of multiple dropped pendants are the perfect solution, as you can stagger the pendants so that each storey gets sufficient light, while keeping the whole lighting configuration as cohesive as possible.
While this sort of design can work over two storeys, it reaches its full potential in a home design with three or more, such as this build project by XUL Architecture.
2. Use a Cluster of Pendant Lights Over a Staircase
A cluster of pendant lights isn't only a lighting solution for light wells — they work wonders for all kinds of staircase set-ups as they take into account the change from one floor to another, ensuring both benefit from the light of the pendants. Choose a lighting design that allows you to customise the drop of the pendant, and make sure it has enough cable to reach your desired height from the floor before you buy.
(MORE: Clever Lighting Design Ideas)
3. Use Wall Mounted Spotlights to Illuminate Staircase Treads
A brilliant example of lighting the staircase itself instead of the entire space, directional downlighting on stair treads is a great way to add atmospheric lighting to a staircase while keeping it a functional space to use.
With this staircase lighting idea, you may find the light isn't dispersed in such a uniform manner as LED strips for example, but they work well as a feature when tied in with other directional spotlights, both in the ceiling and floor, to create a layered lighting scheme across your interior space.
4. Under Stair Lighting Ideas for Floating Staircases
Floating staircases are a design statement in and of themselves, but combine that with under stair lighting and you've got a design with the wow-factor on your hands. This style of lighting can be designed into your staircase at the time of installation by a professional lighting designer, or on a DIY basis using easy to fix LED strips.
However, keep in mind that the lighting may be visible from below, so make sure it's recessed and no wires are left exposed for a safe and sleek finish to your staircase lighting.
5. Illuminate Your Staircase From Below
Or why not approach lighting a floating staircase from another angle? This clever idea from John Cullen Lighting offers another way to illuminate a floating staircase using uplighters to make an interesting architectural feature.
6. Use Flush Wall Lights on a Staircase
Wall lights can be tricky for a narrow staircase, as you'll need to find a design that doesn't impede using the stairs. It may be that a more traditional sconce can be carefully located in an area which means it won't get in the way, such as a corner in a staircase with a turn, but semi-flush wall lights, like these Umage feather wall lights, are a better idea for keeping the space light and bright without creating an obstacle on the stairs.
(MORE: Best LED Bulbs)
7. Use LED Strip Lighting to Illuminate the Walls in Your Stairwell
Another clever idea using LED strips is to illuminate the walls instead of the stairs. In this example, LEDs have been used in the corners, providing an even light throughout the space as the staircase ascends, while taking up no space on the stairs.
8. Try an Illuminated Hand Rail for Your Staircase
Another clever way to sneak extra lighting into your staircase, this LED hand rail looks like any other oak hand rail at first glance, but has an integrated LED for use in the evening, casting an ambient glow while also making sure your stairs are safe to use in low-light levels.
9. Layering Ideas for Staircase Lighting
The key to good staircase lighting? Don't just rely on any one of these ideas. Just like in a living room, think about how many light sources you've got in your hallway.
Functional task lighting is a necessity when cleaning and vacuuming the stairs, while low-level ambient lighting is best for setting an atmosphere in the evening, especially in an open-plan space. Aim for at least three light sources around your staircase area.
Hugh is Digital Editor of homebuilding.co.uk and has worked on a range of home, design and property magazines, including Grand Designs, Essential Kitchens, Bathrooms, Bedrooms and Good Homes. Hugh has developed a passion for modern architecture and green homes, and moonlights as an interior designer, having designed and managed projects ranging from single rooms to whole house renovations and large extensions. He's currently renovating a Victorian terrace in Essex, DIYing as much of the work as possible. His current project is a kitchen renovation which involves knocking through walls and landscaping a courtyard garden.
Homebuilding & Renovating Newsletter
Get the latest news, reviews and product advice straight to your inbox.
Thank you for signing up to Homebuilding. You will receive a verification email shortly.
There was a problem. Please refresh the page and try again.