10 Painted Stairs Ideas for a Staircase Renovation
By Hugh Metcalf published
These painted stairs ideas are perfect for giving a tired staircase a new lease of life — from simple painting makeovers to intricate statement staircases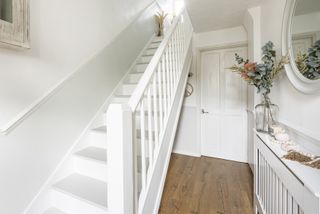 (Image credit: Pete Helme c/o Rust-Oleum)
If you're looking for painted stairs ideas, chances are you're looking to do more than just give your hallway a little refresh. Staircases actually present a good opportunity to get creative with paint, colour and pattern, adding character to these small spaces that first welcome you into your home.
With that in mind, we've found some of the best, tried-and-trust and most creative staircase ideas using paint to inspire your project. Plus, we've included expert tips to make sure you get the best from your project.
Painted Stairs Ideas
Before these painted stairs ideas set your mind racing, first up you better learn how to paint stairs to make sure you get a great finish on your project. Bear in mind that paint on stairs will need to be super hardy, so using a specialist floor paint is a good idea.
"For stairs, it's important to choose a product that is designed for woodwork rather than standard interior walls," says Helen Shaw, UK Director of Benjamin Moore. "[Look for] exceptionally high durability and coverage, with easy clean features making it perfect for high traffic, high wear areas."
1. Keep it Simple With a One-Colour Refresh
Whether you have wooden stairs that are in bad condition, or your old paint job is scuffed or dirty, repainting your stairs doesn't have to mean a dramatic change. A fresh coat of paint will be necessary every now and again, especially with lighter colours such as white, but the effect is a bright and inspiring hallway.
Renovating a staircase at this point is a good idea, as though paint can cover a multitude of sins, it's not a fix-all for damaged treads and creaky steps.
2. Make a Subtle Change With a Tonal Look
Before we get into the bolder painted stairs ideas, consider for a minute using a slightly tonally different colour for your stairs to your walls.
While the effect won't offer as dramatic a contrast as some of these ideas, it creates some extra depth and interest to your colour palette that works brilliantly for a more subdued, neutral scheme in particular.
This idea would work in both traditional style and contemporary minimalist homes, so whether classic or modern staircase ideas are your thing, it's a good allrounder.
3. Paint the Risers With a Clever Contrast
Painting the risers of your stairs in a contrast colour is an excellent way to add some detail to your hallway. Whether you opt for something bold, like this Farrow & Ball Breakfast Room Green, or a more neutral grey or taupe tone, this is a great way to add interest when you're not using a stair runner.
You could even think about painting the risers in different colours — rainbow or ombre stairs would make quite the first impression on people entering your home for the first time.
4. Or Repaint the Treads for a Dramatic Makeover
Flip the script and paint the treads instead for an inverted contrast. A darker colour on the tread with a light riser will help keep your hallway feeling bright and airy, while having a dark colour that stands up to dirt a little better for the treads.
If you're painting the treads, you'll want a really tough and durable paint. Consider using one of the best gloss paints for a finish that will stand up to some serious foot traffic.
5. Match the Bannisters With Your Painted Stairs
Go beyond the stairs themselves by painting the bannisters in a matching shade to your steps to unite the area and create a block of colour.
In this design created for Benjamin Moore paint, the dark wood of the bannister has been kept, while a matching dark blue paint has been used on the treads and spindles, giving what could have otherwise been a very traditional feature a modern twist.
6. Go All in on the Woodwork in Your Hallway
This painted staircase idea unites all the woodwork in a dark grey paint from Rust-Oleum. The resulting look gives a modern edge to this period property, with the contemporary colour complemented and enhanced by other hallway ideas such as the rustic floorboards and wooden stool.
The doors, architrave, stairs and bannisters can, fortunately, all be painted in your best skirting board paint, helping you keep to one finish throughout.
7. Create a Feature of Stairs With This Runner Design
You could also consider creating even more of a feature of your staircase design by painting it with a runner. This classic design is a great way to bring some character to your staircase without resorting to carpet.
Creating this look is really easy — all you need is some painter's tape. A small paint roller will work wonders here, while the best paint brush to use for the edges is a small detail brush.
8. Or go Bold With a Statement Pattern
This painted stairs idea, on the other hand, will require a little bit more skill. This creative and intricate design has been painted using a stencil, and the result is the highlight of this hallway design.
While your own painted staircase doesn't have to be as complex as this, it just goes to prove that the sky's the limit when it comes to what you can achieve when painting your stairs.
9. Combine Paint and Other Finishes
It's not all or nothing when it comes to painting a staircase, so consider how you can combine materials to enhance the looks of your stairs.
This wooden staircase idea, for example, is a brilliant mix of characterful timber and painted finishes, complementing the oak frame home while not becoming overwhelmed by wooden finishes.
This rustic shade of French grey perfectly complements the warm tones of the oak, for a beautiful finish to this staircase.
10. Use Paint on Other Steps too
If you have other stairs in your home outside of the main staircase, consider giving them the painted treatment too. Not only can this make a clever little feature out of a change in level, but it can also help draw focus, helping your house guests register the steps and avoid any trips or falls.
This brilliant bright yellow from Little Greene is the perfect accent colour for this space, and anyone who enters your house is hardly likely to miss it!
Hugh is Digital Editor of homebuilding.co.uk and has worked on a range of home, design and property magazines, including Grand Designs, Essential Kitchens, Bathrooms, Bedrooms and Good Homes. Hugh has developed a passion for modern architecture and green homes, and moonlights as an interior designer, having designed and managed projects ranging from single rooms to whole house renovations and large extensions. He's currently renovating a Victorian terrace in Essex, DIYing as much of the work as possible. His current project is a kitchen renovation which involves knocking through walls and landscaping a courtyard garden.
Homebuilding & Renovating Newsletter
Get the latest news, reviews and product advice straight to your inbox.
Thank you for signing up to Homebuilding. You will receive a verification email shortly.
There was a problem. Please refresh the page and try again.