Types of Radiator Explained: Keep Your House Cosy in Style
By Natasha Brinsmead published
There are many different types of radiator to choose from — our handy guide lays out your options and explains the differences between each.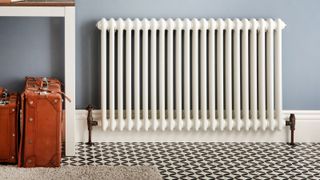 (Image credit: Big Bathroom Shop)
Choosing a radiator is not as simple as it might sound — there are various types of radiator on offer, each offering something a little different.
Despite the ever-increasing popularity of underfloor heating as a method of heating a house, radiators continue to be the heating source of choice for many, being easy to install, available in a number of different styles and suitable for all budgets.
They require little in the way of maintenance — providing you know how to bleed a radiator your radiators should remain running smoothly.
Here we take a look at the types of radiator on offer so that you be sure you are choosing the right one for you.
How to Choose a Type of Radiator
Before you get stuck in to selecting a type of radiator, take some time to consider how your radiators will be heated. There are three main options:
Plumbed Radiators: This is the most common type of radiator. It will be connected to your central heating system and rely on your boiler to heat hot water which will then be circulated through pipes around your home into the radiators.
Electric Radiators: These are a good option for those looking for a radiator to fit into a space where there is no central heating — for example a new garden office, or annexe. Rather than being controlled centrally, electric radiators are operated individually. Some can be plugged into to a conventional socket, while others need an electrician to fit.
Dual Fuel Radiators: This radiator type is usually a central heating radiator that has a mains-powered device inserted into it. This allows you to have the radiator heated even when the central heating elsewhere in the house is turned off (for example in the summer months) — it is a great option for heated towel rails.
What are the Types of Radiator?
There are several different types of radiator — they vary in size, shape, style and also in how much heat they emit.
Single Panel Radiators
Perhaps the most basic of all the types of radiator out there. These horizontal radiators run off the central heating and are wall-mounted.
The main advantage of single panel radiators is that they are slim in profile and fit close to the wall, so are great for compact or awkward spaces.
However, they give out less heat then double or tripe panel models.
Double Panel Radiators
Double panel radiators are horizontal-style radiators, made up of two single panels up against each other. They are also wall-mounted.
They emit around twice the heat of a single panel radiator but, as you might expect, are thicker and therefore stick out further from the wall. However, do bear in mind that their greater heat output means they can be smaller in width than a single model.
It is also possible to buy triple panel radiators.
Column Radiators
Column radiators are popular with those after a type of radiator for a period home and are a great way to add some character and charm — although it must be noted that there are also some contemporary column-style radiators on offer these days.
Made up of a series of tubes arranged in vertical rows, it is possible to buy classic cast iron column radiators, as well as more modern versions made from steel.
They offer great heat output and hold heat well too. In terms of size, they will take up more space than a slimline single panel model, but they are available with different numbers of columns and even as narrow vertical radiators — they are meant to make a design statement as opposed to blend into the wall.
Vertical Radiators

Vertical radiators are also sometimes known as 'upright radiators' and are ideal in smaller spaces or where a more creative solution to the more traditional style of radiator is required. They make a great design statement.
They are tall and narrow and perfect for thin wall spaces, freeing up wall space elsewhere. They come in all kinds of designs, from column-style to flush and contemporary and some even have little pegs attached for hanging tea towels and the like in kitchens.
Heated Towel Rails
Heated towel rails – or ladder rails as they are sometimes referred to – are radiators that are designed with drying and heating towels in mind, making them the best bathroom radiators. However, they will also give off useful heat into a room so are one of the best ways of heating a bathroom.
Heated towel rails can either run off the central heating, along with the rest of your radiators, or you might prefer to opt for an electric towel warmer instead.
Electric towel rails are useful in that they can still be warm even in summer when your central heating is switched off.
An alternative to both of these options is to go for a dual fuel towel rail which can run off the central heating system when it is on, or use the mains electric when it is off.
When it comes to choosing a heated towel rail, do try to go for the biggest you can — particularly in family bathrooms where there is likely to be numerous wet towels to hang.
Designer Radiators
Some radiators look like works of art rather than practical fittings that will heat the home. Designs come in all shapes and sizes from mirrored vertical radiators to those that look like waves.
While designer radiators can become a real focal point in the home, do remember to double check that their heat output will heat your room adequately.
What Size Radiator Do I Need?
In order to work out what size radiator you need in a room you will first need to calculate the required heat output of the space — which will be measured in BTUs (British Thermal Units).
This calculation will take into account the size of the room and what type of glazing you have. There are plenty of online BTU calculators you can use for this — all you will need to do is know the measurements of the room in cubic feet.
Do bear in mind that it is unlikely that any radiator will match the exact heat output required so just select the first size above the required heat.
Also, in rooms that are larger than 6m in any direction, it is a good idea to consider more than one radiator in order to get a good distribution of heat.
Natasha is Homebuilding & Renovating's Associate Editor and has been a member of the team for over two decades. An experienced journalist and renovation expert, she has written for a number of homes titles. She has renovated a terrace and is at the end of the DIY renovation and extension of her Edwardian cottage. She is now looking for her next project.
Homebuilding & Renovating Newsletter
Get the latest news, reviews and product advice straight to your inbox.
Thank you for signing up to Homebuilding. You will receive a verification email shortly.
There was a problem. Please refresh the page and try again.