Hallway Flooring Ideas: 9 of the Best Designs for Your Home
By Hugh Metcalf published
Choose one of these hallway flooring ideas to create a warm welcome to your home and transitional spaces that look their very best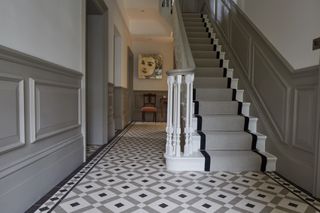 (Image credit: Original Style)
When it comes to hallway flooring ideas, there's such a variety of designs you could choose for your space. Of course, there are certain types of flooring that work best in a hallway — especially in the entrance which needs to be durable enough to cope with a busy home.
However, a hallway represents a unique space for experimenting with flooring — small enough to go bold with your choice without it becoming overwhelming, creating a brilliant first impression for your home.
Here's some of our favourite hallway flooring ideas for every style of home.
1. Try Victorian-style Floor Tiles for a Period-inspired Hallway Flooring Idea
Victorian-style tile flooring is a perennially popular choice for hallways, especially when renovating a house of a similar era, and for good reason. This style certainly flatters the proportions of a long, narrow space, while creating design interest that works well over a small area of your home.
When it comes to recreating this look, you have a few options. Faux-Victorian tiles that feature a 2D pattern on simple square tiles are super easy to install, but you won't get the intricate nuance of a design like the above, created using Original Style's Victorian tile range that allows for details to be included like following the shape of the room into doorways.
However, these authentic tiles are more expensive to buy and require specialist installers who charge a premium for the tricky work of installing these floors.
2. Create a Rustic Look Hallway with Natural Stone Flooring
Naturally tough and durable, stone flooring is a great idea for hallway flooring, but nowhere more than in a rustic, rural home. Look for styles such as limestone, travertine and slate and consider the size for your home. Large format tiles work well in a larger hallway space, and consider layout styles that incorporate different sizes for a varied and interesting look.
3. Go Scandi With This Rustic Wooden Flooring in Your Hallway
Whether you choose solid wood flooring or engineered wood flooring, there are types to to suit every style of home. Why not try this rustic, rough-edge style from Kahrs? Mixed with a light and airy colour palette, and touches like a woodburner in the hallway, this style of flooring creates a cosy, Scandinavian-inspired look.
4. Herringbone Flooring is a Good Idea for Hallways
When choosing to run flooring through multiple rooms off your hallway, it can be tricky to know which way to orient your layout when using rectangular tiles or timber planks, as what may suit one room best, may not be best for another. In hallways especially this is an issue, as flooring is largely laid in the direction of the longest wall in the room, which means that hallways usually always are laid the same way.
However, choosing a style such as a short herringbone style timber is a great way to mitigate this, as the shorter planks and less dominant horizontal and vertical lines make it easier to break this design rule without looking odd.
5. Get Creative With Luxury Vinyl Tile Ideas for Hallway Flooring
Luxury vinyl tile (or LVT) is the unsung hero of the flooring world, delivering good looks and practicality in abundance. Durable and super easy to clean, it will hold up better than wooden flooring in a hallway, and when continuing floor from the hallway into an area such as a kitchen, you'll find it's perfectly suited for both spaces.
(MORE: Kitchen Flooring Ideas)
LVT doesn't just dupe timber floors however, it's available in all kinds of looks and finishes, from parquet to concrete, patterned tile to plain colours.
6. Create a Luxe Look With High-Gloss Hallway Flooring
Hallways are often small and lack light, but your choice of flooring can play as much a part of improving this as your lighting design. Consider a glossy flooring style to help to reflect light, while also creating a high-end, luxe look that suits certain interior styles.
7. Use Mosaic Tile Flooring to Create a Feature Idea for Your Hallway
Mosaic tiles can be used in a hallway as it's a small space where this size of tile can work well. One small hallway idea that's a bit of a trend right now is using mosaic tile sheets, either square or circular 'penny' tiles, and cutting out a custom message in a contrast colour.
8. Make a Classic Black and White Chequerboard Floor Design for Your Hallway
Black and white chequerboard flooring is a classic for a hallway, but to give it a modern update, consider changing up plain tiles for more decorative options such as black and white marble.
9. What Kind of Rug Best Suits a Hallway?
Runner rugs are made for the proportions of hallways and add a softness underfoot. To ensure that the rug remains looking its best, especially in an entrance hallway, choose something durable, such as a sisal, jute or seagrass, that can stand up to shoes tracking in mud from outside.
Hugh is Digital Editor of homebuilding.co.uk and has worked on a range of home, design and property magazines, including Grand Designs, Essential Kitchens, Bathrooms, Bedrooms and Good Homes. Hugh has developed a passion for modern architecture and green homes, and moonlights as an interior designer, having designed and managed projects ranging from single rooms to whole house renovations and large extensions. He's currently renovating a Victorian terrace in Essex, DIYing as much of the work as possible. His current project is a kitchen renovation which involves knocking through walls and landscaping a courtyard garden.
Homebuilding & Renovating Newsletter
Get the latest news, reviews and product advice straight to your inbox.
Thank you for signing up to Homebuilding. You will receive a verification email shortly.
There was a problem. Please refresh the page and try again.