15 Hallway Lighting Ideas To Brighten Up Your Home's Entrance
By Hugh Metcalf published
Try these hallway lighting ideas for brilliant ways to illuminate your entrance hall and create a warm welcome home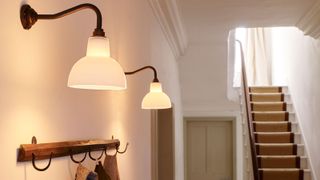 (Image credit: Davey Lighting)
Getting the right mix of hallway lighting ideas is particularly important in your home's entrance hall. After all, not only is this the first impression of your home, but also potentially a small, narrow and dark space.
Fortunately, there's plenty of ways that lighting can complement the rest of your hallway ideas and help to create a space that not only looks good, but is functional too.
We've pulled together 15 of the best examples of lighting design in entrance halls to inspire your project and make the very best out of your hallway, no matter what the shape and size.
Hallway Lighting Ideas
Before we get into our selection of hallway lighting ideas, it's handy to know about the different kinds of lighting you might use in your design.
Ambient lighting, for example, is the general lighting of your space - this creates the most light over the largest area.
Accent lighting is a type of lighting used to highlight features — this can be really effective in making a hallway have more depth and interest as it's often such a long narrow room.
Task lighting is lighting utilised to make doing specific things easier. It's often brighter, and directed into the area where you'll be performing a specific task.
1. Don't Forget About Your Hallway's Natural Lighting
Before we get into artificial lighting, let's not forget about natural lighting. If you're in the position where you're self building a home, or even extending to create a new hallway, you've got a rare opportunity to address any shortcomings in the natural light department with some clever hallway design.
If you have a hallway that extends from a porch or are building a single storey area, rooflights are incredibly effective at flooding a room with space, however, there are simpler options too often based around front door ideas. These include choosing a front door with glazing, or adding sidelights or a fanlight around a front door.
2. Get the Height Right With Overhead Lighting
There can be a bit of an issue when it comes to using overhead lighting in a hallway. Unlike in other rooms of the house, where dropped lights can sit above furniture, making sure they're never directly in the way of someone using the space, a hallway is likely to be such a narrow passage, that you have to make sure there's room for people of all heights to use it safely.
One option, if you don't have particularly high ceilings, is to use a flush or semi-flush light, ensuring the light doesn't drop too much, while still allowing for a creative light design.
3. Try This Clever Trick With a Pendant Light
Pendant lights do look effective, even in a hallway, and this clever design hack offers a way to use on in a different way. By extending the flex from the ceiling rose and dropping it down a wall next to a mirror, a clever design feature has been created with a bit of dramatic design flair.
Even better still, you create the effect of a wall light, without the major rewiring of re-positioning the light points from a ceiling to a wall.
4. Make a Good First Impression With a Statement Light
While you want a functional space, the last thing you want is your hallway lighting ideas to be underwhelming. After all, it's the first part you (and guests) walk into, so it's what gives the first impression of your home.
Don't limit yourself to perfunctory downlights for a hallway for this reason — even in a contemporary and minimal home, be more creative with your lighting scheme. A statement ceiling light is a great place to start.
5. Put Task Lighting Where you Need it
"The hallway also serves a functional purpose, so don't forget to introduce task lighting or brighter bulbs in areas where needed," explains Peter Legg, Lead Designer at där lighting. "There's nothing worse than having to tie your shoelaces in another room because you can't see them properly in the hallway!"
Task lighting could mean carefully located wall lights, or even spotlights or downlights when used in the right areas. Directional table lamps on a console table in a hallway are another way to add valuable task lighting even after your hardwired lighting has been arranged.
6. Place Wall Lights Over Furniture
Wall lights are a good choice of hallway lighting ideas for ensuring you've got lots of ambient light spread throughout your space. However, you do need to think about how obtrusive they are into your walkway. The last thing you want is people knocking into them when walking through your hall.
Choosing flush wall lights is a good idea, or where you do opt for larger, more protruding wall lights, consider placing them over furniture, whether that's a coat rack, a side table or a bench, to ensure that they stay out of the way of people using the hallway.
7. Add Low Level Lighting for Safety and Style
While it's not as common for many homes, using low level lighting can be particularly helpful as a hallway lighting idea.
"Low level lighting is perfect for hallways as they also double up for safety night lights for family and guests," says Piero de Marchis, Director at Detail Lighting. Not only this, but low level lighting is great for using if you wake up early or stir in the night and don't want to face the glare of overhead lighting.
Plus, it's not just practical, but looks great as a form of accent lighting too.
8. Choose Smart Lighting for Extra Home Security
Smart lighting is one of the pillars of smart home tech, and where better to use it than in the hallway. App-controlled lighting is a great hallway lighting idea for a few reasons:
1. It's actually useful. You can use it as you pull up the drive or are walking to the door, rather than fumbling in the dark with your shoes and coat, trampling over the day's post.
2. You can set automatic timers and schedules so that, during winter or if you work at night, the lights can be set to illuminate as you arrive home.
2. If you use smart lighting as a burglary deterrent when you're away from home, the most logical place to use it at the front of the house is the hallway.
9. Use Accent Lighting to Draw the Eye
Accent lighting is made for hallways. In a small narrow space, accent lighting not only adds interest and intrigue to what's often, in reality, not a very exciting space, but it also contributes to the overall ambient lighting.
Spotlights are great for use to highlight artwork in your hallway, for example, or consider uplighters to create dynamic shapes with lights and highlight key features of your space.
Consider accent lighting from both ends of the hallway When you first walk in, accent lighting should drawer the eye down the hallway, while when leaving, accent lighting highlighting the front door can also be incredibly effective.
10. Adding Lighting to Changes of Floor Level
Another two-for-one when it comes to hallway lighting ideas is to use LED lighting strips to highlight any changes in floor level in your hallway.
You get some brilliant accent lighting that displays this quirk of the space, but also a useful trip hazard warning that will ensure no guests find themselves falling over any unexpected steps.
11. Create the Effect of Daylight in Windowless Hallways
As hallways are often light-starved and with little to no natural light, try a clever design like this from Detail Lighting to bring a sense of light to your space.
The key to this design is two-fold. First up, use hidden or recessed lighting, ensuring you can't see the source from your hallway. This dropped ceiling panel is a perfect idea for doing this, and makes it feel as though natural light might in fact be creeping in from some high-level windows.
The other consideration is light temperature. Often in the cool light vs warm light debate, we opt for the latter for the design of our homes, but using a much cooler colour light creates the daylight effect in this case.
12. Don't Overlook Lamps for a Hallway
Where space allows, consider adding extra lighting to your space, whether that's floor or table lamps. These don't just have to be directional lamps for task lighting either.
"It's a good idea to use table lamps in darker or narrower spaces as this will help to lift through light," explains Piero de Marchis, Director at Detail Lighting. For this effect, consider traditional table lamps with shades that throw light up and down, as well as diffusing light across the rest of the hallway.
13. Use Lighting Cleverly on Your Staircase
As an extension of your hallway, don't forget to consider staircase lighting ideas. These can both complement your existing hallway lighting scheme and add extra safety features, ensuring your staircase is safe for everyone who visits your house to use.
Lighting stair treads and the handrail can be effective in terms of making the stairs easy to use in the dark, but they can also contribute to the good looks of your hallway, especially if you have a glass balustrade.
14. Combine Lighting Ideas for a Layered Look
"To avoid a gloomy, dark corridor ensure your lighting comes from several sources," says Peter Bowles, Managing Director of Davey Lighting. "A pendant hung at the beginning of the hallway will only throw light down onto that section, so consider the addition of wall lights to create a pool of light running along the corridor."
Basically, bringing all these hallway lighting ideas together will give you the most effective lighting solutions for your home's entrance. Just be mindful of how many circuits you use — getting it right can be a real balancing act.
On the one hand, the more lighting circuits you have, the more adaptable your space becomes and the more combinations of lighting you can make use of, but any more than three switches in a space, perhaps even less in a small space like a hallway, and you'll find yourself endlessly flipping switches to find the right ones.
15. Drop Pendant Lights Over Stairwells
Hanging pendant lights over a stairwell may straddle hallway and landing lighting ideas, but choosing a design which has some variation in height means that this can actually serve both spaces.
Keep in mind the basic rules of floor clearance over the stairs too, and this can be an incredibly effective idea for adding dramatic lighting to your space.
---
How Big Should My Hallway Light be?
It's all about choosing the right diameter for a light to look proportional to the space, as well as the drop. "Add the length and width of the space in feet, then change that sum from feet to inches to find the ideal diameter for an entryway ambient light," suggests Ben Marshall, Creative Director of Hudson Valley Lighting Group.
How Low Should a Hallway Light Hang?
So what's the rule of thumb with how long a hallway light should be? "Whatever kind of lighting you select, keep the base 7' (just over two metres) from the floor," says Ben Marshall.
Hugh is Digital Editor of homebuilding.co.uk and has worked on a range of home, design and property magazines, including Grand Designs, Essential Kitchens, Bathrooms, Bedrooms and Good Homes. Hugh has developed a passion for modern architecture and green homes, and moonlights as an interior designer, having designed and managed projects ranging from single rooms to whole house renovations and large extensions. He's currently renovating a Victorian terrace in Essex, DIYing as much of the work as possible. His current project is a kitchen renovation which involves knocking through walls and landscaping a courtyard garden.
Homebuilding & Renovating Newsletter
Get the latest news, reviews and product advice straight to your inbox.
Thank you for signing up to Homebuilding. You will receive a verification email shortly.
There was a problem. Please refresh the page and try again.