Loft Conversion Cost: These Factors Will Affect the Price You Pay
By Ian Rock
Loft conversion costs can vary quite drastically thanks to numerous key factors. Make sure you keep them in mind when planning your project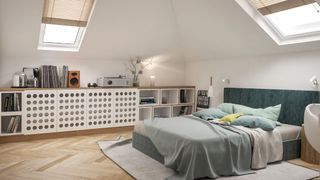 (Image credit: Getty Images)
Loft conversion costs can be surprisingly difficult to estimate as they can be affected by several factors including your location and the kind of loft conversion you want.
Costs will also be affected by how much of the work you are willing to take on yourself and whether or not you choose to hire an architect or other design professional to come up with a design.  
In this article, we highlight how much you can expect to pay for your loft conversion, the factors that can affect your loft conversion cost, as well as the hidden costs you'll need to consider. 
(MORE: Get a Tailored Quote for Your Loft Conversion Project)
How Much Does the Average Loft Conversion Cost?
Loft conversion costs can vary from around £18,000 to as high as £65,000.
A basic loft conversion would be likely to cost from around £18k to £25k for a straightforward double bedroom design
Adding large dormer windows and an en-suite bathroom can raise the total to around £40k
Most expensive of all, a full rebuild with a totally new roof could total as much as £65k
The biggest savings are likely to arise where you've already got a spacious loft which doesn't require the addition of bulky dormer windows, just some rooflights fitted flush with the roof. 
Online estimator websites can be rather hit and miss because they're a bit simplistic but some quote prices per square metre (for the existing loft floor area) which are typically:
Simple 'skylight' loft conversion: £1,000 to £1,350 per m2
Dormer loft conversion: £1,400 to £1,900 per m2
Editor's Note: Homebuilding.co.uk partners with the UK's best loft conversion specialists to match your requirements with their services. Simply answer a few questions on what you need from your loft conversion and we'll put you in touch with a suitable partner.
Extra Loft Conversion Costs You'll Need to Consider
It's not unusual for contractors' quotations to discreetly omit works such as decoration, supplying bathroom fittings, and they can also be a bit vague about design details such as Juliet balconies. 
Also VAT sometimes isn't included in the figures. So before placing too much faith in bottom line prices make sure you're comparing like with like.  
Another area to remember are the rules and regulations and their associated fees: 
Architects fees: £1,200 to £2,400 for planning drawings
Planning permission application (if required): £300
Building Regulations application: £400 (not including drawings)
Engineers calculations: £1,000
Party Wall Surveyor (in semis & terraces): allow £900 per neighbour
(MORE: Party Wall Act)
Your Existing Loft Size Can Affect Your Loft Conversion Cost
Loft conversion costs will be significantly lower where you've got a suitably spacious loft to start with. 
A generous height is the most important factor, and if the existing floor area is also a reasonable size it should make it easier to install large beams and loft stairs without major surgery. 
It also helps if your roof has gable end walls rather than sloping hipped roofs to the sides. And traditional timber roof structures are generally simpler to convert than more modern (post 1970) trussed rafters with dense W-shaped webbing obstructing the roof space.   
The Type and Age of Your Home Can Affect Your Loft Conversion Costs
Bungalows are generally the cheapest properties to convert because most (but not all) have super-spacious lofts. 
As a general rule, the higher the building the greater the cost due to all the extra fire-safety work and additional lifts of scaffolding. So where you're only adding a second storey there should be major savings.  
(MORE: Bungalow Loft Conversions) 
Another feature which can help keep costs down is where you've got a traditional entrance hall which can double as an escape corridor when it comes to complying with fire regulations.
The condition of the existing roof is a factor that's often overlooked because any necessary repair work will obviously bump up the price.
Then there's the question of whether your electrical and plumbing systems will be able to cope with the extra demand from the new loft rooms.
But perhaps the biggest unexpected cost is where foundations in older buildings are judged to be insufficiently robust to support the new loadings – thankfully this is very rarely turns into an issue.
The Complexity of Your Design Will Affect the Cost of Your Loft Conversion
As with all construction projects, costs tend to be lower with more straightforward designs. The complexity of a loft conversion will depend on the issues discussed above which will determine the optimum design. 
The four main types of loft conversion (from cheapest to the most expensive) are:
Basic rooflight loft conversion: By installing roof windows set into the roof slopes rather than building dormer windows it can be possible to create the desired space on a fairly slim budget since this retains the existing roof structure largely intact
Dormer loft conversions: The most common type of loft conversions involve extending the roof outwards with large box dormers to create more headspace and to increase the useable floor area
Hip to gable loft conversions: In homes with hipped roofs, the side roof slope can sometimes be replaced with a more substantial structure. This is achieved by building the main side wall straight up to form a gable end wall. The main roof is then extended towards the new gable wall, enclosing the space in between
Roof replacement loft conversions: Where an existing loft is too small or too shallow the 'nuclear option' is to demolish it and start again. A prefabricated loft room can be craned into place, or a new 'room in roof' structure can be constructed on site, such as a mansard roof. But even with recently the relaxed Permitted Development rights there are planning considerations that need to be considered before raising the height of roofs.
Your Level of Specification Will Affect Your Loft Conversion Costs
Costs will be lower where you just want to create a single new room in your loft. Price-wise, a lot will depend on the desired quality of fittings and finishes. And once you start adding en-suite bathrooms featuring acres of 'aqua-bling' costs will rapidly start to escalate.  
Your Location Can Affect Your Project Costs
As with all building work, loft conversion costs are a function of supply and demand in the local area. 
London and the South East tend to be dearest when it comes to loft conversions, along with major UK cities where demand tends to be stronger. 
What to Remember When Getting Loft Conversion Quotes
Getting prices from specialist contractors is normally the best way to get an accurate idea of your loft conversion costs. Normally you'd want to get three or four separate quotes based on a clear description of the new accommodation you want.  
But it's not unusual for contractors' quotations to discreetly omit works such as decoration, supplying bathroom fittings, and they can also be a bit vague about design details such as Juliet balconies. 
Also VAT sometimes isn't included in the figures. So before placing too much faith in bottom line prices make sure you're comparing like with like.  
(MORE: Loft Conversion Schedule)
Homebuilding & Renovating Newsletter
Get the latest news, reviews and product advice straight to your inbox.
Thank you for signing up to Homebuilding. You will receive a verification email shortly.
There was a problem. Please refresh the page and try again.