Renovation Insurance: Do I Need It?
By David Snell published
Renovation insurance should be seriously considered, especially as works may not be covered by, or even invalidate, your existing home insurance policy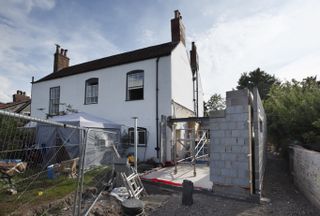 (Image credit: getty images)
Renovation insurance might seem like an extra you can do without if you have standard home insurance, but did you know that any works undertaken as part of a renovation project may not be covered by your existing policy?
Most homeowners carrying out work to their existing property incorrectly assume that any works will automatically be covered under their existing policies, risking being left in dire straights should the worst happen.
For peace of mind and to protect your investment, it's vital to have adequate renovation insurance in place before you begin.
(MORE: Self Build Insurance)
Won't My Existing Policy Cover a Renovation?
Important Note
In simple terms, anyone carrying out an extension or major remodelling project without contacting their existing insurer is in breach of their policy and at huge risk.
In most cases it won't, and to make things worse, any structural work that you undertake will often invalidate existing homes and contents policies.
Most policies allow you to carry out simple internal alterations and refurbishment, but any additional building work has to be notified. It is best to speak to your existing home insurer in the first instance and describe, in detail, the scope of the project.
(MORE: Renovating a House)
Most insurers feel better about you using builders under a JCT contract (Joint Contracts Tribunal) – although, given the large number of subtly different JCT contracts, you need to be clear about which one you're using – but it is down to the individual underwriters to take a view on each case.
For example, a homeowner carrying out a large extension and renovation project who is using a builder/main contractor for some but not all of the project may be required by their home insurer to agree to certain clauses on their policy.
These are likely to be that you will not be covered in the event of a flood if the property is at any stage where it is not wind and watertight, and a clause not covering theft of contents in the same instance. The insurer we spoke to about this situation did not require additional policy premiums.
The key, therefore, is to speak openly and honestly to your existing insurer. They are likely to be more queasy about insuring you if you're moving out while work continues, and if a lot of the existing house is being demolished in the process.
(MORE: Building Contracts)
What If My Existing Provider Won't Cover Me?
If your existing home insurer won't cover you – particularly if you are planning to take on the builder's role yourself – then some insurance providers can provide a home improvement policy which will provide cover for all normal builder's risks, together with public and employers' liability.
The existing building is covered up to 110% of its value and the proposed works, up to 125% of their value or contract price. It is quoted according to the job and the costs of the proposed works.
Don't forget that your homes and contents policy will need updating once you have completed the work to reflect the additional space and, presumably, rebuild value of the home.
Editor's Note: Homebuilding & Renovating has partnered with leading self build and renovation insurance provider Self-Build Zone to create bespoke insurance products for those wanting to build, renovate or extend their own home.
Get a quote now to protect your renovation or extension (opens in new tab)
What About Insurance for Conversions?
Essentially working on a conversion project (i.e. turning an existing building into a home) is not that different to working on a new build, and the same problems can occur.
Conversion insurance policies are available from the dedicated providers and they follow similar lines to the home improvement policy, covering up to 110% of the value of the existing structure and 125% of the proposed works or contract value, together with employers' and public liability insurance.
Once again, as you'd expect, each policy is priced according to the nature and scope of the works and their value.
For both renovations and conversions the premium may have to be assessed by reference to a survey.
The author of Building Your Own Home, David is a serial self builder and has been building homes for 50 years. He has just finished his fourteenth self build project.
Homebuilding & Renovating Newsletter
Get the latest news, reviews and product advice straight to your inbox.
Thank you for signing up to Homebuilding. You will receive a verification email shortly.
There was a problem. Please refresh the page and try again.