The best integrated dishwashers: The ultimate round-up
We've gathered together the best integrated dishwashers currently on the market to take the guesswork out of choosing. From cheap and cheerful to super stylish, we have you covered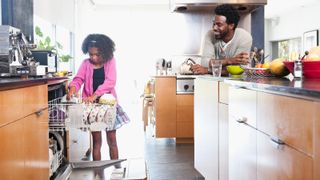 (Image credit: Getty)
Best integrated dishwashers: Quick menu
1. The list in brief ↴
2. Best overall:
3. Best value dishwasher:
4. Best for large households:
5. Best for quiet operation:
6. Best for compact kitchens:
7. Best smart dishwasher:
8. How to choose
9. Energy efficiency labels
10. How we test
Like all kitchen appliances, choosing the best integrated dishwashers has the power to transform how your kitchen runs on a day-to-day basis. If you've already decided to opt for a built-in dishwasher, selecting the right model is next on your agenda. But this task can be overwhelming due to the enormous range of models available and tempting Black Friday dishwasher deals.
From small and slimline options to those with eco settings and quick washes, the right integrated dishwasher can make a sleek and stylish addition to your kitchen design, while taking the elbow grease out of clearing up.
So, where do you start when choosing the best dishwasher? We've pulled together the latest built-in dishwashers from the top brands for different types of homes, routines and budgets to make the process of selecting your new kitchen appliance as pain-free as possible.
Black Friday Dishwasher Deals
You can trust Homebuilding & Renovating. Our expert reviewers spend hours testing and comparing products and materials in order to help you choose the best for your home and garden. Find out more about how we test.
Black Friday 2023 takes place on Friday 24th November and it's the perfect opportunity to find your dream dishwasher at an exceptional price. Over the past few years, we've brought you brilliant deals from quality brands like Hoover, Bosch, and Candy, and this year is no exception. New discounts are announced every day, so keep an eye on our buyer's guide for the best Black Friday dishwasher deals that can save you money on your favourite brands.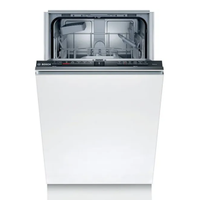 Black Friday Deal: Bosch SPV2HKX39G Series 2 Fully Integrated Dishwasher Was £498 | Now £429 at Amazon
This budget-friendly dishwasher by Bosch rates highly on our buyer's guide and boasts a variety of smart features. When purchased during Black Friday you can save £69 on this top-rated model.
The Quick List
Haven't got a lot of time to spare? Here's a quick overview of the integrated dishwashers on this list, along with quick links that allow to you skip down the page to get into a more detailed review of the dishwasher you would like to learn more about:
Best overall dishwasher
This integrated dishwasher offers excellent value with 6 program settings and 13 place settings. It features smartphone control and an intensive 75°C programme for sterilisation, but it's noisier than some competitors.
Best Value Dishwasher
This budget-friendly smart dishwasher boasts plenty of useful features to make light work of your dirty dishes, including an Extra Dry Option and an EcoSilence Drive for quite cycles. You can also use the Home Connect App for troubleshooting and the DosageAssist feature to completely dissolve dishwasher tablets.
Best for Larger Households
This is a top contender, offering energy efficiency and a massive 16-pace setting capacity, ideal for big families. Its eco wash setting conserves energy, and the automatic door promotes hygienic drying. The 15-minute quick wash is great for busy schedules.
Best for quiet operation
While its high price tag makes this dishwasher a bit of an investment, this model is by far the quietest on our list. It has a number of innovative energy-saving features that set it apart from its competitors, including an 'AutoDos' function that automatically detects how dirty your plates are.
Best for compact kitchens
5. Bosch Series 2 Slimline
Despite its compact dimensions, this dishwasher has ample inside space. It boasts adjustable racks, glass holders, five program and wifi-enabled remote controls. Users commend its cleaning performance but it loses points for having no cutlery rack.
Best Smart Dishwasher
6. Candy Brava Dishwasher
This dishwasher is exceptionally quiet and can accommodate up to 16 place settings. It offers remote control via a smartphone app, as well as a rapid 24-minute cycle, and a special eco program. Additional features include an adjustable top rack and anti-flood safeguards.
The best overall integrated dishwasher
Image 1 of 1
1. Hoover H-DISH 300 HDI 1LO38SA
Mid-priced and choc-full of handy features
Specifications
Dimensions:
82 x 59.8 x 55cm
Reasons to buy
+
Can be controlled remotely via an app
+
Air dry automatic door opening
+
Intensive wash program
+
Budget-friendly
Reasons to avoid
-
Noisier than other models
Sitting at a comfortable position on the price spectrum, this integrated dishwasher offers great value for money with six program settings and space for 13 place settings.
The ultimate feature for modern living, the machine can be turned on via an app on a smartphone when you're away from the house and will automatically open when it finishes so you come home to clean and dry crockery.
Another stand-out feature – and one that those with babies may well be interested in – is the intensive 75°C program, designed to sterilise dishes, pans and baby bottles and guarantee protection from germs and bacteria.
On the downside, it is noisier than some of the other models here.
The best value integrated dishwasher
Image 1 of 1
2. Bosch SMV2ITX18G Series 2 Fully Integrated Dishwasher
Reasonably priced with good energy-saving features
Specifications
Dimensions:
1.65 x 23.54 x 32.09cm
Reasons to buy
+
Lots of useful features
+
Quiet operation
+
Remote control possible via app
+
Targeted water distribution and higher pump performance can save on water and energy
Reasons to avoid
-
Fewer place settings than some full-size models
This smart dishwasher has a very reasonable price tag considering the number of useful features it comes complete with.
Notable features include the Extra Dry Option and the EcoSilence Drive that uses a brushless, energy-saving motor to reduce friction noise. In addition, buyers of this model can enjoy using the Home Connect app that allows you to see how to fix any faults that might crop up or, in the event that further assistance is required, directly connects you to an engineer.
This dishwasher is ideal for anyone who has become frustrated by detergent tablets not dissolving properly, as the DosageAssist feature is designed to dispense the tablet or pod into a special tray to ensure every last bit is used in the wash.
The best integrated dishwasher for larger households
Great for energy efficiency and larger households
Specifications
Dimensions:
81.7 x 59.6 x 55.6cm
Reasons to buy
+
16 place settings
+
Air dry automatic door opening
+
Quick Wash programme
+
Energy efficient
Reasons to avoid
-
Not the most consistent cleaner
A very viable contender for our top spot, the Hisense HV661D60UK is not only a very energy-efficient appliance, it can also fit a whopping 16 place settings in at once, making it the perfect addition for larger households.
With a D rating (formerly A+++), this Hisense model features an eco wash that uses cooler temperatures and less energy to clean pots. Plus, when the wash cycle has finished, the door will automatically open by up to 10cm to allow a natural flow of air and ensure more hygienic drying.
There's also a 15-minute Quick Wash setting you can select if you're short on time.
The best integrated dishwasher for quiet operation
4. Miele G7460 SCVi Integrated Dishwasher
Roomy, sturdy and quiet — but expensive
Specifications
Dimensions:
87 x 60 x 57cm
Reasons to buy
+
Super quiet
+
Adjustable racks
+
Remote control
+
Senses how dirty dishes are
+
Energy efficient
This is definitely an investment and perhaps not a buy for anyone thinking of selling their home any time soon, given its comparably high price tag when compared to the other models here.
That said, it is well-made, sturdy enough for even the heaviest of pots and pans and cleans like a dream. It is also the quietest model we've looked at here.
The features offered by this 14 place setting dishwasher include some really useful energy and time-saving ones, such as AutoDos which detects how dirty your plates are to make sure you never use too much detergent, water or energy in each cycle.
The best integrated dishwasher for compact kitchens
5. BOSCH Serie 2 SPV2HKX39G Slimline Fully Integrated WiFi-enabled Dishwasher
Surprisingly spacious interior and lots of features
Specifications
Dimensions:
81.5 x 44.8 x 55 cm
Reasons to buy
+
Ideal for small kitchens
+
Large capacity for a small machine
+
Remote monitoring and control
Despite its compact dimensions – that make it ideal for anyone with a small kitchen extension or someone who doesn't create much washing up – this dishwasher is pretty tardis-like, offering plenty of space internally.
It also comes with some really nifty features, such as adjustable racks and glass holders, five programs and remote monitoring and control.
Users praised it for its cleaning abilities and for ease of loading, but some were not so impressed by the lack of cutlery rack and noted that they felt there was no super rapid program.
The best smart integrated dishwasher
6. Candy Brava Fully Integrated Standard Dishwasher
Quiet operation and spacious interior
Specifications
Dimensions:
82 x 59.8 x 55cm
Reasons to buy
+
Very quiet
+
Smartphone control possible
+
16 place settings
+
24-minute quick wash option
One of the quietest dishwashers on this list, the Candy Brava is a machine you can have on late at night without worrying about waking the kids.
It can hold up to 16 place settings and, to make life even easier, can be controlled remotely via an app on your smartphone — perfect for those times when you realise you left home without setting it off.
Although there is no half-load option, the rapid 24-minute cycle or eco program makes up for it.
Other handy features include an adjustable top rack, delay timer and anti-flood devices.
How to choose the best integrated dishwasher