Best Integrated Dishwashers: Top-Rated Models to Ensure a Clutter-Free Home
By Amy Reeves
Find the best integrated dishwasher for your kitchen and get the most for your money with this buyer's guide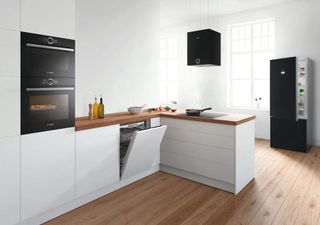 (Image credit: Bosch)
Choosing the best integrated dishwasher can be a tough task. From small and slimline options to eco settings and quick washes, integrated dishwashers are a space-saving and sleek way to incorporate all the latest mod-cons in any sized kitchen — but how do you pick the best one for you and your home? 
We've got our hands dirty – so to speak – and collected the latest built-in dishwashers from the top brands for different homes, lifestyles and budgets to make the process of buying for your kitchen as pain-free as possible. Take a look below to find our top-rated models in this essential buyer's guide. 
(MORE: Keep clutter at bay with these brilliant kitchen storage ideas)
What is the Best Integrated Dishwasher? 
1. Electra C1760S Freestanding Dishwasher
Dimensions: (H)85cm x (W)60cm x (D)59.8 | Energy rating: A++ | Noise level: 49dB | Place settings: 12
Budget friendly
Adjustable racking
Active drying feature
Controls could be more intuitative
In our eyes, this is the best integrated dishwasher you can buy. Fitting up to 12 place settings and including handy time-saving and energy-conscious features, this model ticks all the boxes — all without breaking the bank! 
The handy 30-minute quick wash is great for busy weeknights when you need to clean dishes in a hurry, and it's cheap to run thanks to the impressive A++ energy efficiency. 
Active Drying 
The clever Active Drying feature uses a fan to remove moisture, meaning dishes are left totally dry and ready to use again straight out of the dishwasher.
Adjustable Racking
Adjustable racking means you can make room for larger items.
More of the Best Integrated Dishwashers
2. Bosch SMV68MD01G Full Size Integrated Dishwasher
Best for family-oriented and open-plan households
Dimensions: (H)81.5 x (W)59.8 x (D)55.0 | Energy rating: A+ | Noise level: 39dB | Place settings: 14
SuperSilence Plus feature
Child lock
Digital display (easy to clean away sticky fingerprints)
Automatic door opening not ideal for young children
Easily the quietest integrated dishwasher on the list, the SMV68MD01G from Bosch combats every issue of a busy modern lifestyle in an open-plan house. 
The whisper-quiet SuperSilence Plus design, ExtraDry function and room enough for 14 place settings makes this integrated dishwasher the perfect solution for a busy household where disturbing sleeping children or having to dry off wet glasses is a no-no. Also, the gentle Glass 40ºC setting is the perfect programme for getting ready to entertain. 
Flexible and Intuitive Design
The VarioFlex basket makes loading and unloading larger pots and pans easy so nothing gets left out for the next cycle.
An LED light projects the remaining cycle onto the floor while a child lock prevents little ones from opening too soon, but be cautious of the automatic opener when the cycle has finished as some report hot air being expelled into the kitchen. 
3. Hoover H-DISH 300 HDI 1LO38SA Full Size Integrated Dishwasher
Dimensions: (H)82.0 x (W)59.8 x (D)55.0 | Energy rating: A+ | Noise level: 53dB | Place settings: 13
Can be controlled remotely via an app
Air dry automatic door opening
Noisier than other models
Fixed hinge
Sitting at a comfortable place on the price spectrum, this integrated dishwasher offers great value for money with six program settings and space for 13 settings. 
Get Smart with App Control
The ultimate feature for modern living, the machine can be turned on vian an app on a smart phone when you're away from the house and will automatically open when finishes so you come home to clean and dry crockery. 
4. Indesit DIE2B19UK Full Size Integrated Dishwasher
Best integrated dishwasher for budget
Dimensions: (H)82.0 x (W)59.8 x (D)55.5cm | Energy rating: A+ | Noise level: 51dB | Place settings: 13
Affordable
Push&Go setting
Quick wash option
Noisier than other options
As built-in dishwashers go, the Indesit DIE2B19UK is an affordable way to tick all the boxes with a large capacity for place settings, an easy user-interface and a good energy rating. 
Keeps Up with Busy Lifestyles
The Push&Go function offers an efficient clean with minimal fuss. The 85 minute cycle just needs a push of a single button so everyone in the family can help out. 
Quick Wash
Forgot to set a cycle going? Don't worry, the Fast&Clean setting delivers a thorough clean in less than 28 minutes. 
5. Neff S513K60X0G Integrated Dishwasher
Best for bigger households
Dimensions: (H)81.5 x (W)60 x (D)55cm | Energy rating: A++ | Noise level: 48dB | Place settings: 13
Quiet
Energy efficient
Plenty of features
More expensive than other similar models (although it could be worth it!)
This model is super-efficient and bursting with all sorts of different settings for anything a busy lifestyle throws at it while still remaining easy to use. 
Full of Features
Including an AquaSensor which automatically assesses the amount of water required, a time remaining indicator, quick wash setting and a detergent awareness ability, every feature of this dishwasher is designed to make life as easy as possible for a large family without wasting unnecessarily. 
How to Choose the Best Dishwasher
There are several things to consider before purchasing your integrated dishwasher. 
Budget is an obvious factor, and the next consideration is do you want it to be freestanding or integrated? Freestanding units are generally no wider than 60cm and are positioned just below your kitchen worktop. Integrated models tend to sit behind a façade that matches your kitchen cupboards. Slimline models are available too for smaller kitchens. 
Speed is important too. For families, knowing how quickly a wash will take can be invaluable on school nights, but it can also be useful to ensure you are economical with your washes. 
Ensure you look at a dishwasher's noise too. Louder models may wake up younger children. And look at capacity so you know you'll have enough space before you buy.
Homebuilding & Renovating Newsletter
Get the latest news, reviews and product advice straight to your inbox.
Thank you for signing up to Homebuilding. You will receive a verification email shortly.
There was a problem. Please refresh the page and try again.