Hip to Gable Loft Conversions: How to Add Extra Space
By Ian Rock published
Hip to gable loft conversions help properties with space-inhibiting hipped roofs add extra room for new loft accommodation. Here's what you need to know.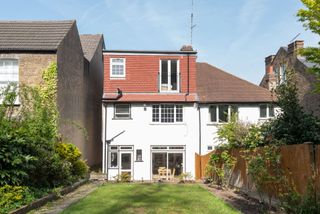 (Image credit: Simply Loft)
A hip to gable loft conversion offers a solution for a property with a hipped roof that affects the internal headroom of a loft space, even if otherwise spacious.
Most roofs are constructed in a simple 'A' shape comprising a pair of roof slopes infilled with a triangular gable end wall. However, there are many properties, commonly semi-detached houses and bungalows built from the 1930s to the 1950s, that have more complex pyramid-shaped roofs with additional roof slopes instead of gable end walls.
By undertaking a hip to gable loft conversion, you can extend the headroom available in line with building regulation requirements to allow you to make better use of the loft's floor space.
What is a Hip to Gable Loft Conversion?
A hip to gable loft conversion is an option to pursue where a hipped roof effectively shrinks the usable floor area – something that can be particularly challenging when it comes to positioning the new staircase.
Although Building Regulations allow a certain amount of leeway with loft stairs, you still need clear headroom of 1.9m above the middle of the flight so that people entering the new loft accommodation don't bang their heads.
The location of the new loft stairs depends on a number of factors, including the layout of the floor below, but in most cases, positioning them directly above the existing main flight (often parallel to a main side wall) can provide the optimum space-saving solution.
In properties with conventional dual pitched roofs there's normally sufficient headroom in the loft to easily accommodate the stairs, yet when converting a loft under a hipped roof, this may prove an issue.
Expert Tip
Pure hip to gable loft conversions may be regarded as an inefficient way to extend in terms of cost versus space gained.
Instead, a hip to gable conversion is often complemented by also adding a new rear dormer.
If your main aim is to maximise the available interior space, the best option is a hip to gable conversion where the hipped roof section is replaced with a standard gabled roof. This involves building up the existing end wall to form a new gable and enclosing the space where the roof hip used to be.
New gables are often built in masonry to match the existing house, or sometimes in lightweight timber frame, perhaps clad with traditional weatherboarding or tile-hung.
How Much Does a Hip to Gable Loft Conversion Cost?
The works involved in hip to gable loft conversions are comparatively intensive in terms of both labour and materials.
Most of the tiles and underlay need to be stripped from the roof before the timber structure is cut away to completely remove the original hipped roof slope. The end wall is then built up to form a new gable and the remaining roof slopes extended towards the new gable to reclaim the full height space in between.
As well as installing new rafters, battens, underlay and matching tiling, a steel ridge beam will often need to be installed in accordance with approved drawings and a structural engineer's calculations.
Cost-wise, the added complexity of a hip to gable conversion may make it comparatively expensive, with prices averaging around £50,000 depending on size and specification.
Estimated costs per square metre vary quite widely but you'd typically be looking at a price range for new loft accommodation of around £1,600 to £2,500 per square metre.
Do You Need Planning Permission for a Hip to Gable Loft Conversion?
It is very likely that a hip to gable loft conversion will require planning permission.
The majority of loft conversions are carried out as Permitted Development without the requirement for a formal planning application. Even bulky full-width dormers are normally permissible when on the rear of the property.
However, when it comes to extending in a way that is visually prominent front or side elevations, anything more than a discreet smattering of rooflights will normally need planning permission.
In most cases, adding side dormer windows (or even a couple of smaller front-facing ones) shouldn't be a particularly contentious issue for the planners. It helps that the added volume of even quite large dormers will normally fall within the stipulated size limits whereby the total volume of additions to roofs mustn't exceed 50m3 (or 40m3 for a terraced house) including any existing roof extensions.
Hip to gable loft conversions on the other hand are likely to exceed these limits. They also have a powerful visual impact on the property's kerb appeal and, unless done well, can sometimes appear extraordinarily bulky.
This is particularly the case where one of a pair of semi-attached properties is converted, often resulting in an awkward and imbalanced appearance (unless both are converted in tandem).
This makes getting planning consent more contentious, but a good designer should be able to come up with some possible variations on the hip to gable theme to reduce bulk.
Examples of these designs include:
A half-hip design where a new gable wall is built up to about two-thirds height with a small triangular hipped roof added on top.
A baby gable conversion where the lower roof slope is retained intact, with the upper slope converted into a small gable end wall.
These sorts of modified designs have the advantage of retaining some of the original aesthetic while still gaining a significant amount of internal headroom.
Alternatives to Hip to Gable Loft Conversions
Where the available headroom is constrained by a hipped roof there are other routes you may also consider.
The most obvious solution is simply to move the stairs somewhere with more plentiful headroom. The trouble is, that usually means having to sacrifice valuable living space in the loft, as well as carving up an existing bedroom below.
You can also raise the height of the obstructing roof slope by adding a new projecting dormer window to it.
Dormers come in a wide range of shapes and sizes, but large 'box dormers' are widely used in loft conversions to create generous amounts of headroom internally.
However, whereas dormers on rear elevations are often built at a similar height to the existing roof, dormers on a smaller hipped roof that has not been converted to gable roof generally needs to be lower or smaller. This is because the width of Toblerone-shaped hipped roof slopes becomes increasingly narrow towards the top.
Of course, much will depend on the dimensions of the roof space you're converting. In some cases just a small dormer, or even a simple roof window may be all that's needed to create the necessary extra headroom, particularly if the interior layout lends itself to a flight of stairs with a quarter turn leading inward to the new accommodation.
Chartered surveyor Ian is the author of eight popular Haynes House Manuals and is a director of Rightsurvey.co.uk. He is also in the process of adding a large extension to his home.
Homebuilding & Renovating Newsletter
Get the latest news, reviews and product advice straight to your inbox.
Thank you for signing up to Homebuilding. You will receive a verification email shortly.
There was a problem. Please refresh the page and try again.