How much does a kitchen renovation cost?
As one of the key rooms in your home, it's worth taking the time to consider kitchen renovation costs and find ways to make your budget go further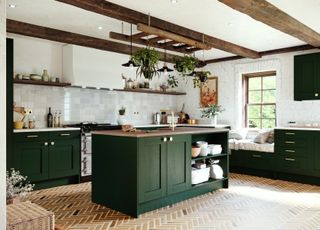 (Image credit: Smile Kitchens)
Getting to grips with kitchen renovation costs is key to unlocking the potential of one of the most utilised rooms in your home. Our kitchens serve as the heart of daily activities, and have evolved into multifunctional spaces, accommodating not just cooking but also socialising, relaxation, and entertainment.
Whether you're considering a full-scale renovation or simply upgrading your kitchen unit doors and worktops, getting it right the first time is crucial. The cost of a kitchen renovation depends on several factors (primarily the extent of the changes you wish to make). However, your budget should also account for additional disruptive costs, such as replastering, redecoration, and potentially relocating services.
While there's no one-size-fits-all answer to the cost of a kitchen renovation, this article can provide a general range to give you an idea of what to expect, helping you make informed decisions when it comes to designing a kitchen.
Average kitchen renovation costs
With careful planning and budgeting it's possible to complete kitchen makeovers on a budget. On the lower end of the scale, a basic kitchen renovation may cost around £5,000. This option typically involves simple upgrades, like new cabinet doors and worktops, or a flat pack kitchen, while keeping major appliances and the kitchen's general layout intact.
If you're aiming for a more comprehensive transformation and would like high-quality materials and finishes, the cost can escalate to £25,000 or more. "A high-end kitchen renovation may include bespoke cabinetry, premium appliances, luxurious countertops, and other sophisticated design elements," says Michelle Williams of Darlun Design Studio.
Renovation vs new-build kitchens
If existing services such as plumbing, electrical wiring and gas are in good condition and can be used without major adjustments, it can save money on a kitchen renovation. In contrast, in a self-build project, all of these services will need to be implemented from scratch, which will increase the entire cost. Unforeseen issues can dramatically increase the cost of the renovation, however, when compared to a self-build where everything is done according to plan.
Kitchen renovations sometimes reveal concealed water damage, mould behind cabinets, or other structural issues. These unforeseen issues can increase the cost of the renovation and need budgeting for in the form of a contingency sum of circa 15%.
The key kitchen renovation costs to consider
The key costs involved in a kitchen renovation are materials and labour. The biggest percentage of the material cost will be the purchase of the kitchen units, worktop and appliances. I always buy just the kitchen units and doors/drawer fronts from the kitchen company before purchasing the granite/stone worktops from a third-party company, who will template, supply and install.
Buying kitchen units and worktops separately will save approximately 25% on costs rather than buying direct from the kitchen company. Consider buying your knobs and handles online too, rather than the typical specification from your kitchen supplier. A 38mm chrome knob feels and looks better than a 32mm equivalent and can make a standard kitchen appear a lot more expensive than it is. From experience I never buy appliances directly from kitchen companies, due to cost and quality. The appliances will be brands who aren't well known, have a basic specification and short warranties.
Spend some time shopping online and you can save up to 35% by buying well known branded appliances from different suppliers. These appliances typically come with a longer warranty and upgraded specifications (e.g. digital timer on your single fan oven, as opposed to an oven with no fan and no timer). Plus, you could spend the money you save on appliances paying a carpenter to install your kitchen units.
Remember, if your budget is a problem there are alternative methods to fitting a £1,100 tap that produces 100°C boiling water, filtered chilled and sparkling water, and regular hot and cold all from the same tap. It's called a normal tap and they are usually circa £60 upwards. We've been using them for years and boiling our kettles for hot water.
Another cost to consider is labour for fitting the kitchen. I always recommend asking a carpenter for a price to fit the kitchen units, doors and worktops, as they will be more competitive than kitchen companies. Expect to pay approximately £450 for a standard kitchen fit. Also, they will be time-served as opposed to the kitchen company, who may use the delivery drivers to assemble and fit your dream kitchen, as opposed to a tradesperson.
How to cut costs and save money
A cheap kitchen doesn't have to mean compromising on style or function. There are plenty of ways to make your budget stretch further and still achieve a high-end finish. Here are a few suggestions to consider:
1. Swap your kitchen worktops: An easy kitchen remodel idea is to overlay your existing laminate worktops with stone. This usually starts from around £2,000 for a typical kitchen, it also saves any damage caused to wall tiles by the removal of existing worktops. Furthermore, most installations take less than a day.
2. Fit new doors, drawer fronts, knobs and handles: On average, replacement doors will cost £35 with drawer fronts starting at £18. Chrome knobs and cup handles should cost £3.50. Most carcasses are made of melamine faced chipboard (MFC) so if your carcasses are in good condition, this could be an option for you.
Whether your kitchen is imperial or metric, there are replacement doors and drawer fronts online which you can measure yourself and order. If you're not that confident with DIY, then you can contact numerous companies to measure and fit for you, or a local carpenter could help to template it, and then fit it in a day.
4. Introduce statement tiles: If you can afford wall tiling instead of painting, this will ensure adequate wall protection, as well as enhancing the appearance of the kitchen. Wall tiles can start from as little as £22/m2 for popular Metro tiles, increasing up to £200/m2 for Botella mosaics.
5. Swap your flooring: Kitchen flooring costs vary depending on the material you choose, with possibilities including vinyl, laminate, hardwood, and tile. Expect to pay between £20 and £100 m2 on average.
6. Lighting can transform a mediocre kitchen into a showstopper: Try under pelmet lighting to lighten your work surface and combine it with led plinth strip lighting tape to make it really stand out. A 5m strip can cost as little as £95.
7. Shop sales: If time is on your side for your renovation, then make use of Bank Holiday sales to grab a kitchen renovation bargain without comprising on quality. A saving of up to 30% could enable you to have those granite worktops instead of laminate.
8. Change existing sockets: Swap out white plastic sockets and switches for chrome as part of your renovation, it will really make a big difference and add a touch of class to your finished kitchen for a small outlay.
Additional costs to consider
There are some additional factors that can influence the cost of a kitchen renovation, particularly when compared to a new kitchen, so make sure you consider these when finalising your budget:
Relocating key items: I've relocated kitchen sinks as part of a renovation on many occasions. Generally, it's not an expensive or time-consuming exercise, your plumber can reroute the waste pipework and water supply and it should take less than a day to carry out the work.
Replastering walls: Quite often your kitchen splashback area will be either tiled or have the worktop surface carried up the wall. Inevitably when removing these you will disturb the background surface. If the background is solid render, then quite often you can fit your new material (tile, granite, glass splashback) with minimal repairs. If the background is plasterboard, then this could require reboarding if parts of the plasterboard come away with the removal of existing tiles, etc. Consider using Aqua board in the kitchen as quite often it can be exposed to humid conditions.
Rewiring and/or adding new circuits: If you've bought a fixer upper or haven't renovated for 20+ years, then you are going to have to upgrade your existing electricity supply. Start by getting quotations for upgrading your existing circuit board. In a typical kitchen, appliances such as an oven will require a 32amp fuse whereas a microwave, fridge and other simple plug top appliances can run off a standard board.
Large kitchen islands: An island unit will require services, always electricity and sometimes water and gas too, depending on what appliances you're fitting into it and if you're housing a sink. Your services will have to be hidden and will usually be routed through the floor and into the island unit. Make allowance for this when changing your flooring. Remember cutting up concrete floor screed can be a dusty as well as time consuming task.
Getting the perfect fit: Your existing kitchen may be imperial, but now all standard kitchen units are metric. If you're employing a kitchen company who offer a design service, then make sure they visit your home to fully understand your requirements and can see where existing services are. Filler panels may be required to accommodate the new units. As well as maximising the usable space of the new units.
Structural alterations: You could take the opportunity to make some structural changes to room layouts to accommodate your new kitchen renovation. This might include adding a new doorway or expanding two rooms into one. Check with a structural engineer what changes you can make before knocking any walls down.
Renovating your kitchen can breathe new life into your home and significantly improve its functionality and aesthetics. Understanding the cost factors involved and setting a realistic budget will help you embark on your kitchen renovation journey with confidence. Remember to consider your unique needs and preferences to strike the perfect balance between cost and design, resulting in a kitchen you'll cherish for years to come.
Get the Homebuilding & Renovating Newsletter
Bring your dream home to life with expert advice, how-to guides and design inspiration, direct to your inbox.
Tim Phillips is an experienced senior quantity surveyor and estimator and has worked in the construction industry for over 35 years. He has worked on many varied projects in this time, for corporates, public bodies and private residential clients, managing multi-million budgets.
For the past 13 years, Tim has worked on a freelance basis, whilst managing his rental property portfolio. He has extensive experience of undertaking his own full-scale house renovations. He is also a speaker and expert at the Homebuilding & Renovating Shows.