Painting a Bathroom: A Step-by-Step Guide to a Great Finish
By Steve Jenkins published
Painting a bathroom can instantly transform the smallest room. Get essential advice on how to prepare and start painting the right way with our guide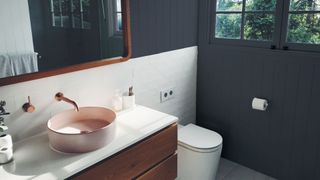 (Image credit: COAT)
Painting a bathroom with a fresh new coat of paint will instantly transform how your space looks.
Bathrooms arguably require more care than other rooms in the home, as they can be prone to damp and mould if not properly looked after. Get your prep right and choose the correct paint, and the result will be a long-lasting finish.
Our expert guide to painting a bathroom will explain the best paints to use, how to prep walls, troubleshoot difficult areas (such as painting around the toilet), and how to apply an even coat throughout the space.
Painting a Bathroom: What Tools Do I Need?
To paint a bathroom successfully, you will need to have the following tools and products to hand:
Paint suitable for a bathroom
Paint brush
Roller
Roller tray
Masking tape
Sandpaper
Sugar soap
Dust sheets
How to Paint a Bathroom: A Step-By-Step Guide
Do remember that your bathroom walls and ceiling need to be dry before painting can begin. Avoid using the shower or bath for 24 hours ahead of the job's commencement.
1. Clear and Cover
First, remove as much furniture and fittings – towel rails, mirrors, etc. – as possible from the bathroom area, so you have enough space to paint the walls.
Drop dust sheets over the sink, toilet, bath and radiator, before adding painters' tape to any trim you don't want to get paint on, i.e. light fittings and skirting boards.
2. Prep the Walls
If your walls have any traces of soap, toothpaste, shampoo, etc. on them, wash down with sugar soap and then warm water to remove any sugar soap residue, before leaving to dry.
Fill any cracks, and patch plaster if areas are missing. Also remove any flaking paint with a paint scraper and rub down with 120 grit sandpaper to get a smooth surface. Next, hoover up any dust and wipe down the walls with a damp cloth.
If you have any mould on the walls, you need to deal with this before you start painting. Learning how to paint over mould effectively will also help ensure your finish is as good-looking and long-lasting as can be.
If you are painting windows or your woodwork as well as the walls, do these first, as they are comparatively less time-consuming.
3. Cut in With a Paint Brush
Use a two-inch brush – try a specialist cutting-in brush if not confident – to cut in round all the edges in your bathroom, i.e. wall corners, the ceiling, door frames, skirting boards, windows and fittings.
Start at the top of the room, i.e. the ceiling, and work down and across, typically one wall at a time, before leaving to dry.
4. Finish With a Roller
Fill your roller tray with paint and load up your roller with it. Use a 4 inch or 9 inch roller and don't overload with paint.
Start in a top corner and work in one-metre square sections going across and down. Apply using angled strokes in a V or W shape.
Finally, go back over the painted area lightly with the roller to remove any ridges.
5. Repeat and Finish
Leave the paint to dry according to the manufacturer's instructions. The typical re-coat time is an hour or two.
Cut in all areas again and add a second coat of paint. Leave the paint to dry for 30-60 minutes.
When the paint is dry, look to remove all painters' tape, clear away the dust sheets, tidy up and put back all fittings.
What Kind of Paint Should I use When Painting a Bathroom?
Be sure to select the best bathroom paint you can afford for your budget. As a rule, you will need a paint that repels any moisture – as well as mould – to keep your bathroom looking good for longer.
Dulux Easycare Bathroom paint and Johnstones Bathroom Paint are two good options, as they are both moisture and mould resistant and available in a host of contemporary colours.
Alternatively, if white is your preferred colour choice, try Zinsser's Perma-White Anti Mould Paint.
How Much Bathroom Paint Is Needed?
The first question of any painting project is how much paint do I need? Your bathroom is no different.
Again, this depends on the size of your bathroom, but if you have an average-sized bathroom (around 4 square metres) you should only need around a litre of paint. This should be enough for just over two coats. Obviously, if you have a bigger bathroom, you will need more paint.
What is a Good Paint Colour for a Bathroom?
The choice is all yours, but this will largely depend on the bathroom area. Bathrooms are typically more compact than other parts of the house, which means a light colour or shade is a good choice to give a sense of space.
White is a colour that never goes out of style, and it will work with almost any existing colour suites and tiles that you already have. It naturally works well with an entirely white suite, too, and helps lend a crisp, clean look to your bathroom.
Alternatively, try a darker colour – such as a nautical blue, black or a contemporary grey – as a contrast. To give your bathroom a light summer fresh feel, consider yellow or orange. Or, for a more tranquil, back to nature feel, you can't go wrong with a good shade of green.
"Whatever paint colour you opt for, ensure it ties in with your floor and wall tiles," says Claire Lloyd, editor of Homebuilding & Renovating. "Neutrals such as white and grey painted walls tend to work with most tiles, and often allow for vibrant coloured or patterned tiles."
"Grey bathroom ideas remain on trend, but colours such as dark blues and dusty pinks are making an appearance in our homes — particularly in en suites and cloakrooms, where we're perhaps a little bolder with our choices."
How Long Does it Take to Paint a Bathroom?
This will depend on the size of your bathroom and how much of it needs to be painted.
Typically, parts of a bathroom will be covered by tiles or half wall panelling, a bath and/or shower and a basin, which means less walls to paint. An average-sized bathroom (around 4 square metres) should therefore only take a couple of hours to paint.
Add in prep time and a second coat of paint and you should have the whole job done in four to five hours. But when planning, don't forget you will need to include drying time for the first coat.
Add in prep time and a second coat of paint and you should have the whole job done in four hours. But when planning, don't forget you will need to include drying time for the first coat.
Should You Prime a Bathroom Before Painting?
You will need to take into account the conditions of the walls, if they have been painted with primer previously, and whether you are going from a dark colour to a light colour. If your walls have been primed previously and are in good condition, then you won't need a primer.
If you need to fill cracks and remove flaking paint, a primer like Bulls Eye® 1-2-3 Plus is definitely a good idea. This will provide a strong base for the top coat.
If you are painting over a dark colour, a primer (use white) will help to cover the current colour quicker and better than a standard emulsion or bathroom paint.
Finally, if you're painting new plaster, you will need to apply a mist coat before painting the walls and ceiling with a suitable bathroom paint.
How Do You Paint Around a Toilet?
This depends on how closely fitted to the wall it is. Your options include:
Painting Behind the Cistern
If there is enough of a gap between the cistern (sometimes known as the tank) and wall, you can use a paint pad or small roller to paint behind the cistern.
Before doing so, first, clean behind the toilet. Remove the tank lid and run a cloth or rag – make sure it's long enough for you to hold both ends – behind the cistern, moving it side to side as you go up and down. Do this a few times to ensure any dust is cleared.
Place a bin liner over the tank and pull tight — use tape to secure the excess in place, then put a dust sheet on the floor. Now, load up your paint pad or roller and start painting.
Painting Around the Cistern
If there is no gap, you can paint around or remove the toilet tank; the easier option is simply to paint around it.
Remove the tank lid and clean all edges of the tank and surrounding areas, before adding strips of painters tape to each edge. Repeat until two or three strips deep.
Next, put a dust sheet on the floor. Use a 2 or 3 inch brush to create a paint border around the tank, then paint the rest of the wall. When dry, add a second coat. Leave for 15-30 minutes and you can remove the tape.
Remove the Cistern and Paint Behind
The ideal solution for the best finish is to remove the toilet cistern to paint behind it, but this is not always possible without the aid of a plumber. Removing the cistern is the most difficult and time-consuming option.
Switch off the water at the mains – or an isolation point if you have one – and flush until the tank is empty. Disconnect the water pipe from the tank and then unscrew from the wall.
Finally, clean and paint the wall.
How Long After Painting a Bathroom Can You Shower?
Baths and showers can create a lot of moisture, so you should leave any paint to dry (cure) completely before using them again.
Allow for a minimum of 24 hours, ideally 48 hours, to make sure that the paint is fully dry.
Steve is an avid DIYer with over 20 years of experience in transforming and renovating homes. He specialises in painting and decorating, but has strong all-round building skills, having previously worked in the industry for 10 years.
Homebuilding & Renovating Newsletter
Get the latest news, reviews and product advice straight to your inbox.
Thank you for signing up to Homebuilding. You will receive a verification email shortly.
There was a problem. Please refresh the page and try again.