How to Tile a Kitchen Wall: The Step-by-Step DIY Guide
By Emma Downer published
Learn how to tile a kitchen wall with this guide from our DIY expert and enhance your kitchen design with attractive, durable tiles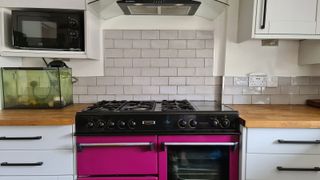 (Image credit: Emma Downer)
Learning how to tile a kitchen wall is the perfect project for any DIYer to save on labour costs and to build a new skillset.
Tiling a kitchen wall behind a sink, cooker, around food preparation spaces or by bins is not only a beneficial kitchen design choice because it protects the wall from from water and grease, but also because tiles are much easier to clean than a painted wall so it increases the longevity of your space.
You can begin at the worktop and opt for tiling just a single tile high or continue all the way to the ceiling, depending on your preference.
This is your step-by-step guide covering everything you need to know about tiling a kitchen wall.
How to Tile a Kitchen Wall: Tools List
Follow these lists of the best tiling tools and materials you'll need to tile a kitchen wall effectively.
Tools
Bucket
A mixing paddle and drill
Laser level/spirit level
Tape measure
Permanent marker
Notched trowel
Grout float
Sponge
Tile cutter (manual or electric)
File
Roller and tray
Tile saw
Silicone gun
Materials
Tile adhesive and grout
Tiles
Spacers
Surface primer
Tile edging
Silicone
Step 1: Prepare Your Space
TOP TIP #1
Pick up the tiles shortly before you are due to undertake the work to benefit from the return window if you have any surplus boxes at the end.
Use an online tile calculator to work out how many tiles you need, and remember that it's better to over-order by about 10% extra to account for wastage and return what you don't need. This ensures that all the tiles are from the same manufacturing batch (so more likely to be the same colour).
Make sure before beginning that you cover your worktops, units and appliances with a protective cover.
Prepare the walls surface by removing any dust, wallpaper and repair any holes or uneven surfaces. You'll want to work from a flat surface; you may have to patch plaster if there are any large holes.
If the wall is not completely flat then it can be more forgiving to use smaller tiles.
Step 2: Where to Start
A good place to start is at the centre of the cooker or another distinguishing feature that your eye is drawn to as you enter the room. Alternatively, start in the centre of the room; you may like to start slightly off-centre so that you don't end up having to make difficult cuts in the corners.
Step 3: Add the Tiles
If your worktops are level than you can tile directly from the worktop. But if they aren't level then start one tile above the worktop and cut in the first row at the end, to give it the appearance of it being level.
Mix the tile adhesive and use the trowel to apply enough to the wall, for around 1ft of tiles at any time — this way you can work before it dries.
Place a spacer in-between each tile, and when placing the tiles give them a slight wiggle so that the tile adhesive spreads underneath the tile.
Step 4: Work Around Sockets
If you have sockets to navigate, turn off the electrical supply and unscrew the face plate from the back box.
Mark on the tiles where you need to make cuts with a marker pen. If you are using a manual cutter then score along the L-shaped line.
Use a tile saw to cut the shorter line and snap the longer line with the tile cutter. Try to avoid overtightening the faceplate as this may crack the tile.
If you find your screws are now too short then try picking up some extra-long screws.
Use the tile cutter for especially awkward corners and file the edges for a smoother finish.
Step 5: Grout the Tiles
Leave 24 hours for the adhesive to dry before grouting - try our guide on how to grout tiles to do it effectively and professionally.
The grout should be pushed into the gaps with the grout float using a pumping action to make sure the gap is full, wash off any excess with a sponge.
Lying a wet towel over adhesive or grout can help soften it if it does dry unexpectedly.
Step 6: Finish the Edges and Apply Silicone
Finish the edges with metal or plastic edging, and make sure to pick up the right depth for your tile. Between the tiles and the worktop apply a bead of silicone and run a wet finger across to finish.
A house has natural movement due to temperature and humidity changes, so use a silicone that is designed for the kitchen which will be flexible and mould-resistant.
Can I tile over existing tiles?
It is possible with just some simple prep of the surface of the tile with a primer like Eco Prim Grip or by sanding down the tile face. Keep in mind the weight of the surface that you are tiling as the wall will need to be strong enough to hold the weight of the new tiles.
Do I need to prep the wall?
If you are tiling on fresh plaster or plasterboard it's a good idea to prepare the surface with a primer such as Everbuild 503 SBR, this stops the surface from socking up too much water from the adhesive which could affect the bond.
Emma is a UK-based DIY educator and director of the social media brand ''DIY With Emma'' whose primary mission is to help more people get into DIY through sharing DIY Hacks, How-to's, and Follow-Along projects.
Homebuilding & Renovating Newsletter
Get the latest news, reviews and product advice straight to your inbox.
Thank you for signing up to Homebuilding. You will receive a verification email shortly.
There was a problem. Please refresh the page and try again.