Types of cooker hood explained: Which will be best for you?
With so many different types of cooker hood to choose from it can be hard to know where to begin when selecting the right one for your kitchen — luckily we are here to help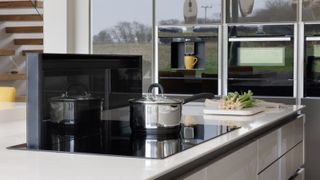 (Image credit: Searle & Taylor Kitchens)
Choosing the right types of cooker hood to suit your needs and the way in which you use your kitchen is hugely important when it comes to your enjoyment of this space — pick the wrong model and not only could it jar with the overall look of your kitchen design, but it will also mean it could be full of steam and cooking odours.
Certain kitchen appliances are non-negotiable — and cooker hoods most definitely fall into this category. Selecting from the array of models now available and understanding all the various optional extras and special functions that will be offered can be pretty confusing.
This is where our guide to types of cooker hood will come in handy. We are here to take you through the most common designs and explain what each variety could offer you, so you can feel confident that the final choice you make will fulfil all your needs.
Types of cooker hood: Ducted or recirculation?
The first choice you will need to make when choosing a cooker hood will be whether a ducted cooker hood or a recirculation model will be best for you.
Both styles come in a range of designs and are suitable for all kinds of kitchens, but they do work in quite different ways, with each having their pros and cons.
Ducted cooker hoods: This style of cooker hood is installed along with a run of ducting fitted within the ceiling, wall or the floor and leading to outside. They suck up steam and stale air and expel it externally.
Recirculation cooker hoods: These take the steam, grease and odour-filled air in your kitchen and run it through an integral filter before returning the purified air back into the room.
Note that some of the best kitchen extractor fans can be used as both ducted or recirculation models. Both types also contain a grease filter which will require periodic cleaning, but recirculating cooker hoods will also require an additional carbon or charcoal filter, which will need replacing from time to time.
So, which is right for you?
Recirculation cooker hoods tend not to be quite as effective at removing stale air as quickly as ducted models and are often a little noisier too. That said, they are easier to install and usually cheaper to buy.
Ducted models might be the more effective of the two, but buying the necessary ducting (which can be either flexible or rigid) will add to costs — plus you will need to figure out where to run it to outside.
Once you have decided whether a ducted or recirculation model will be best for your needs, it is time to choose from the various designs around, of which there are quite a few.
Integrated cooker hoods
Also known as built-in cooker hoods, this style is great if it is a sleek, minimalist look you are aiming for in your kitchen design.
Integrated cooker hoods can be built into the cabinets above your hob to match the rest of your units, or within a decorative cabinet. It is possible to find this style in both recirculating and ducted models.
Due to their often more compact size, they are not always suitable for those with very large hobs, although a range of sizes are available.
Visor cooker hoods
Despite falling from favour a little in more recent years, visor cooker hoods are a great, affordable option that are ideal for those after small kitchen ideas, often being more compact in size and easily fitting under wall units — something you will need to bear in mind when fitting a kitchen if you opt for this model.
They are wall-mounted, usually slotting in beneath an overhead kitchen unit, and come with a visor section at the front which can be pulled out to extend their size — often, sliding out this visor turns the hood on.
They come as both recirculation and ducted models.
Chimney cooker hoods
Chimney hoods are incredibly popular, available in styles that suit both those after modern kitchen ideas as well as anyone aiming for a more classic look. Many manufactures offer chimney hoods that match their cookers too.
Sometimes referred to as wall-mounted hoods, they come in all kinds of sizes — ensure that the hood you buy is either the same size or larger than your hob.
This style of cooker hood has a wider section at the bottom and a chimney hood that usually rises up into the ceiling and conceals ducting within. They can either fit between wall units or sit alone on the wall.
Island cooker hoods
When designing a kitchen island that will incorporate a hob, it is crucial to think about extraction.
Also known as freestanding (although free-hanging might be more appropriate) cooker hoods, this style is designed to be suspended from the ceiling above your hob.
They are often designed to make a real statement, commonly looking more like pendant lights than a kitchen appliance. If opting for a ducted model, a suspended ceiling will need to be put in place to conceal the pipework.
Ceiling mounted cooker hoods
Similar in many ways to island hoods, these are designed to be integrated into the ceiling above the hob for a sleek, seamless look.
Sitting completely flush with the ceiling, they come in all kinds of sizes and, when colour matched to your ceiling paint, become all but invisible. As with an island cooker hood, a false ceiling will usually be required.
Downdraught cooker hoods
Downdraft cooker hoods are one of the newer kids on the block and something you should definitely consider alongside your kitchen worktop ideas.
Built into your kitchen worktop, they disappear down and under your work surface when not in use, rising up at the touch of a button. They pull steam and stale air across your hob then downwards through ducting within your units to outside. They are available as both ducted and recirculating models. If you decide to go for a ducted model you will need to consider where the ducting will exit — if your hob is against an external wall this shouldn't be too troublesome, but if you are fitting this style of hood into an island, you will need to take the ducting through the floor which can be tricky in retrofit situations.
This style of hood is not recommended with gas hobs.
Integrated hob extractors
These do away with the need for a cooker hood entirely. Also known as venting hobs, these include extraction vents within the hob itself. The vents are designed to be protected from spills and mean you can position your hob anywhere you like without thinking about where the hood will go.
"Integrated hob extractors are a good choice in open plan spaces where a streamlined look is desired," says Jo Sargent, sales and marketing director at Franke UK. "These models offer powerful localised extraction that quickly removes cooking odours and condensation before they have a chance to rise and permeate the kitchen, and at the same time they blend seamlessly into a kitchen design because everything is kept at hob level."
The latest innovations and designs in cooker hoods
Of course, the world of cooker hoods cannot escape the latest kitchen trends and this is a fast moving sector with new innovations cropping up all the time. The most recent and popular models are concealed cooker hoods and integrated hob extractors, but there are also some other special features to look out for.
"After all the focus on pendant cooker hoods in the kitchen, there is now a significant trend towards hidden extraction, in which the cooker hood appliance forms part of the overall kitchen design," says Sean Drumm, MD of Falmec UK. "Concealed hoods often have more power than other types of cooker hoods and offer stronger recirculating and ducted out efficiencies.
"So many new kitchens are now open-plan spaces where the whole family congregates throughout the day, so it's even more important to install powerful extraction to ensure effective removal of unwanted odours. Not enough people ask about this aspect when they are choosing a cooker hood on looks rather than efficiency."
So what other special features and advances in cooker hood technology should we be aware of?
"The growth of open plan living and the time spent at home during the pandemic have driven demand for quieter cooker hoods," says Jo Sargent. "Look out for models with a decibel level of 55db or less for a more peaceful cooking experience."
And, of course, cooker hoods have not escaped smart home technology. From those with air quality sensors that monitor VOC levels, to models that can be connected to devices such as Amazon Alexa — perfect for following along with a recipe as you cook.
Get the Homebuilding & Renovating Newsletter
Bring your dream home to life with expert advice, how-to guides and design inspiration, direct to your inbox.
Natasha is Homebuilding & Renovating's Associate Content Editor and has been a member of the team for over two decades. An experienced journalist and renovation expert, she has written for a number of homes titles. Over the years Natasha has renovated and carried out a side extension to a Victorian terrace. She is currently living in the rural Edwardian cottage she renovated and extended on a largely DIY basis, living on site for the duration of the project. She is now looking for her next project — something which is proving far harder than she thought it would be.