Staircase Ideas: 17 Excellent Solutions for Every Home
By Amy Reeves
Step up your interior with these beautiful staircase ideas, including inspiration for new flights or updating old ones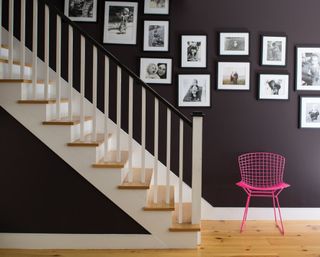 (Image credit: Benjamin Moore)
If you're searching for staircase ideas, look no further. This list is full of inspiration and ideas to kick-start your creativity for a great first impression. From compact stairs for small spaces and clever staircase storage to lighting up steps and DIY flight updates, find it all below with this gorgeous image gallery suitable for any project, big or small.
If you're looking to take the next step - so to speak - make sure you check out our guide to staircase design for practical advice to take your design from ideas to reality. But first, here are our favourite staircase ideas to help you get inspired.
1. Create a Bright Entrance
A staircase can create a great first impression so getting the design right is key. Painting a staircase a fresh colour can elevate a dark and dated hallway, making it feel bright and welcoming. Blues, mid greys and greens in invite a calmer environment while yellows and even pinks will perk up anyones day after coming home.
2. Open Up an Enclosed Staircase
Where an enclosed stairway is unavoidable, a great staircase idea is to lead down into an open plan space to enhance the idea of moving between private and public spaces — but be sure to check the building regulations before making any changes!
Including a turn in this staircase creates an inviting environment and incorporates the staircase into the design of the house, rather than as an after-thought.
3. Think About Staircase Ideas which Inspire a Welcoming Entrance
For staircases near a front entrance hallway, a staircase idea which blends together the living and sleeping areas, as well as functioning a porch, can be achieved by choosing complementing materials, lighting and how the spandrel - space under the stairs – will be used.
Here, light-coloured decoration is matched with downlights and accent lighting for an inviting approach while the practical design offers a space for outdoorware.
4. Decorating a Staircase with Carpet
A key decision to make when looking at wooden staircase ideas is whether you will carpet the steps or leave the timber on show.
Warm underfoot, the are infinite choices in different types of carpet you can choose, so ensure you take care to pick on that can handle heavy foot traffic (as well as looking beautiful, of course).
Alternatively, a happy in-between is a stair runner, which has recently come back in vogue and is inspiring lovely modern twists on the classic look.
5. Add Some Drama with a Bold Staircase Idea
Unleash your inner DIY style by going bold with a dark and dramatic staircase idea. Black, dark grey and deep navy can all make a dated staircase feel sophisticated when contrasted with wood tones and white accent features.
6. Get Creative with Staircase Ideas for Small Spaces
Where space is an issue, eking out the potential of every inch is paramount and with more of us working from home than ever before, the awkward under the stairs can be full of opportunity.
From tiny fold out desks, freestanding units and fully built-in storage, like this beautiful grey example from Sharps, there is a solution for every small space.
7. Keep it Staircase Decorating Ideas Timeless
A simple, straight-forward design, this staircase is elegant and will most definitely stand the test of time. Treasured memories can be showcased on a gallery wall, while DIY decorating means the walls can always be refreshed when in need of an update.
(MORE: How to Paint a Room)
8. Make an Impact with an Architectural Feature
Incorporating architectural details when designing a modern staircase is a wonderful idea to make any home feel special. Here, elongated sapele spindles and internal glazing create a stunning throughview to the garden while a feature wall draws the eye upstairs.
Other small forward-thinking details which make a huge impact on the overall finish could choose shadow gaps instead of skirting boards, feature pendant or chandelier lighting, a recessed handrail and a complementary mix of materials.
9. Factor Storage into Your Staircase Idea
In spatially challenged rooms, functional features might have to be thoughtfully design to be versatile and multipurpose. This clever stair storage has a built-in bookcase, cupboards and even around the corner houses the kitchen.
10. Use Metal to Create an Industrial Theme
If you're renovating a house or converting an existing property, reflecting the building's heritage through similar materials is a great way to capture an authentic build finish. This curved metal staircase in a converted water tower carefully navigates the elevation's windows while expertly mirroring their dramatic arched steel-frames.
11. Incorporate Exposed Brick in an Enclosed Staircase for Extra Character
An exposed brick staircase can work wonders when designing for a new home or building an extension. Bursting with charm when paired with an exposed oak frame, this new build's staircase gives the illusion of being a period property.
12. DIY Renovate an Old Staircase
As the old saying goes, if it ain't broke, don't fix it. Wooden staircases can last decades if properly cared for or renovated. Saving a old staircase is an achievable DIY task, and it can become a statement piece in a renovation, as this pared-back cottage reno goes to show.
13. Add Atmospheric Lighting to Your Floating Staircase Idea
Adding LED strip lighting under each stair tread in a floating staircase with a glass balustrade gives a sleek and polished impression. Planning your staircase design ideas in conjunction with designing your lighting system in any project will provide cohesive finish.
(MORE: Lighting Design Guide)
14. Blending Old and New Features is a Great Staircase Idea
This industrial glass and metal staircase is just one incredible addition that saved this modern home that was once a Georgian ruin. The original exterior wall and the glass balustrade create a fabulous contrast between restored building and the contemporary additions.
15. Achieve a Timeless Look with a Solid Oak and Glass Staircase
Character in modern homes is difficult to come by so choosing something as simple yet elegant as a solid oak staircase with glass balustrade can never go wrong.
The oak frame of this self build is combined with clean lines and a neutral palette of the staircase in the open plan living space for the perfect blend between contemporary and traditional.
16. A Staircase Idea to Maximise a Small Space
Compact shouldn't be a negative word when dealing with spaces in small houses. Designing a staircase that is discrete yet thoughtfully decorated can be essential to ensure space is saved rather than wasted.
This tiny home of just 42m2 utilises smooth birch plywood timber cladding to hide away under-stair storage while a studwall between the staircase and the front door provides a lobby space, a coat rack and shallow drawers.
17. Brighten Up an Enclosed Staircase with a Skylight Above the Stairs
Introducing natural light into your staircase design is a great idea for small spaces or loft conversions. Due to Building Regulations a covered staircase might be required so creating a transition area which feels light and airy is paramount.
(MORE: Great Ideas for Bringing the Outside In)
Editorial Assistant Amy began working for Homebuilding & Renovating in 2018. She has an interest in sustainable building methods and modern rustic interior design. She is on the lookout for a potential step onto the property ladder in the form of a budget renovation project, but for now settles on filling her Pinterest board with ideas for the future.
Homebuilding & Renovating Newsletter
Get the latest news, reviews and product advice straight to your inbox.
Thank you for signing up to Homebuilding. You will receive a verification email shortly.
There was a problem. Please refresh the page and try again.