9 Incredible Semi Detached House Extensions
By Amy Reeves published
Semi detached house extensions can transform a dated or small space — get inspired by our gallery real project designs and ideas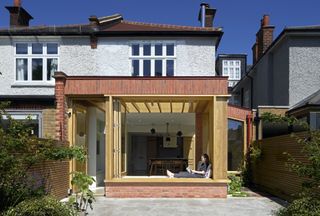 (Image credit: Edmund Sumner )
Well-designed and well-considered semi detached house extensions can take dated exteriors and often awkward-layouts and rejuvenate then into something exciting that is fit for modern lifestyles.
When approaching a designer or architect, it's best to have an idea of what will suit the existing house in terms of proportions and the impact it may have on your neighbouring properties.
Also, consider what you will use the new space for: will it be a sociable kitchen-diner? Does the house need a new home office? Or is an indoor-outdoor sitting area the space missing from your home? Once these essentials are nailed, you're that bit closer to the home you've been dreaming of.
After looking at what designs are possible with inspiration and ideas from the gallery of real projects below, make sure you take the time to read our comprehensive guide to building an extension. This will explain all you need to know about planning permission, building regulations and how to project manage.
1. Play with Materials in a Semi Detached House Extension
Adding a single storey semi detached house extension is a great opportunity to create a modern contrast to the traditional external appearances with new materials.
Complementing warm red brick with a rust-coloured corten steel cladding, or opting for black render against a white pebbledash will give the entire house a new lease of life, not just the new single storey extension.
Using beautiful single storey extension ideas like a timber cladding and black aluminium windows meant that although the homeowners simply added a new kitchen-diner to this classic semi, the entire house feels refreshed.
2. Go up Into the Loft When Garden Space is Precious
While loft conversions offer the chance for extra rooms without encroaching on any outdoor space, loft extensions can be a little trickier when it comes to getting the proportions right on the roof and taking into account overlooking neighbouring properties.
Dormer windows are especially helpful when adding an extra bedroom, bathroom or home office in the attic and can blend seamlessly into many styles of home.
This loft extension in Leeds added a new bedroom to the once cramped semi-detached house. The wrap around extension on the ground floor has also transformed the way the family use the house, linking the open-plan ground floor living area with the decked patio and garden.
As the new addition wraps around the side, it has also created extra space for a large, flexible kitchen.
3. Go out to the Side to Rearrange the Floorplan
While it may be tempting to add an entirely new room at the back, sometimes reorganising the interior spaces with small house extension ideas is the best way forward. Look to the side of a semi detached house where there is often wasted space and focus on solving problems with the existing house for fantastic value for money.
This innovative 'Russian doll' side extension (designed by Selencky///Parsons) provides the ground floor with a broken plan layout as the zones of the kitchen, living and dining areas are defined by the stepped design.
(MORE: How much does an extension cost? Get an idea of a realistic budget for a house extension in 2021)
4. Add a Rear Extension to Connect to the Garden
Semi detached homes aren't known for being especially connected to the garden but it's top of the wish-list for many modern families.
Including bifold doors, picture windows and roof lights are all great ways to create a space better connected to the outside during an extension, plus all that natural light should permeate through into the rest of the internal spaces.
Rear extension design ideas can come in all shapes and sizes, depending on the style of the original house. Here, an overhang has been used to both shield the new kitchen and dining space from overheating as well as to enable to homeowner to open the doors come rain or shine.
5. Build a Two-Storey Extension for Maximum Impact
Although it may seem like more work, adding a two storeys instead of one is actually a fairly cost-effective alternative when you consider that the building foundations, tradespeople and roof all have to be hired and completed regardless.
When reorganising this home's internal layout, Studio 30 Architects designed a large kitchen-diner-lounge at the back of the house to replace a dated conservatory, while two en suite bedrooms were added to the first floor.
Clever double-storey extension ideas were incorporated into the plan, including mirrored recessed and protruding picture windows on the two storeys.
6. Take the Opportunity to Give the Whole House a Makeover
A sure-fire way to make a new extension feel like a seamless addition is to undergo a whole-house makeover for a dramatic transformation.
During their 1930s house renovation, the homeowners added two extensions under permitted development — one, a 4.5 metre vaulted kitchen-diner (pictured) and the other a two-bedroom loft extension. The windows were replaced throughout with black units while house's original render has been mirrored on the extension.
The attention to detail is what sets this project apart as the orientation of the wooden flooring inside the house is flawlessly continued out through the bifold doors and onto the decking, creating the ultimate connection with the garden.
7. Have Some Fun with a Building Project
Once a traditional Edwardian semi, this house has been radically changed into a fun, characterful home for a young family.
Incorporating glass box extension ideas into the design was only the beginning for this project which features a mountainous roofline, half-demolished brick kitchen walls and bright pops of colour throughout. Plus, the kitchen and exterior lintel facings and made from recycled chopping boards and milk bottle tops.
However, practicality is at the centre of this build as a simple reconfiguration of the first floor has produced a new bedroom and the existing fabric of the building was thermally upgraded throughout – win, win!
8. Transform Your Garden During a Semi Detached House Extension
Although building projects work wonders on a house itself, the process of access to machinery and foot-traffic from tradespeople can be a nightmare on the immediate garden area.
Consider how to save money and reuse materials from an extension in a new garden design. Use soil dug for the foundations for landscaping, bricks from knocked-down walls for hardscaping and save established plants where you can in greenhouses or more secluded area of the garden.
When extending this semi detached Victorian house, the homeowners made the most of inspiring sloping garden ideas and designed a series of levels and terraces.
The top patio features fantastic outdoor kitchen ideas, like a barbecue egg, sink and worktop. The middle section includes a built-in seating and dining area while steps down to the garden area are punctuated by raised planters.
9. Choose Building Materials Wisely in a Contemporary Extension
Although brick and block is traditional for houses in this country, including those with new extensions, there are a variety of building materials and construction system options that can offer different qualities when adding some extra space to a semi detached house.
Timber frame is popular for those who want quick construction times and improved efficiency, while natural building materials are a great, healthy alternative.
The three contemporary oak frame extensions to this Arts and Crafts-inspired semi were designed by Proctor and Shaw. Stacked brick cladding and timber surrounds the mock bay windows and gives a warmth to the new space while a reorganisation of the interiors has provided a new en suite shower room.
Assistant Editor Amy began working for Homebuilding & Renovating in 2018. She has an interest in sustainable building methods and always has her eye on the latest design ideas. Amy has interviewed countless self builders, renovators and extenders about their experiences for Homebuilding & Renovating magazine. She is currently renovating a mid-century home, together with her partner, on a DIY basis, and has recently fitted her own kitchen.
Homebuilding & Renovating Newsletter
Get the latest news, reviews and product advice straight to your inbox.
Thank you for signing up to Homebuilding. You will receive a verification email shortly.
There was a problem. Please refresh the page and try again.