Natural Building Materials: What are Your Choices for an Eco Home?
By Hugh Metcalf published
Choosing natural building materials for your project can improve your home's eco credentials and create a healthy environment. Here's what you need to know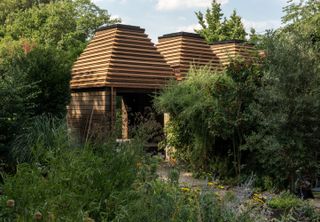 (Image credit: Ricky Jones c/o RIBA)
Natural building materials are widely used in construction already, but while some are commonplace for self builders and the housebuilding industry alike, other construction methods and uses of naturally occurring materials in building are more niche — the preserve (at present anyway) of those looking to create an eco house with holistic green credentials.
However, as interest in building an environmentally friendly, healthy home grows, so do the reasons to look at the sustainable alternatives to traditional building materials.
What are the Benefits of Natural Building Materials?
There are a multitude of reasons to use natural building materials, including:
Natural building materials on the whole have less embodied carbon and less embodied energy used in their production.
They're less likely to emit toxic VOCs than non-natural materials, ensuring indoor air quality is preserved.
Natural building materials are more likely to be recyclable, re-usable or even bio-degradable, at their end of life.
Using natural materials for internal and external finishes can help foster a connection to nature, one of the key principles of biophilic design, that is linked to myriad health benefits, including improved mental health.
(MORE: Advice for Building a Healthy Home)
What Types of Natural Building Materials can You Build a Home With?
Timber
Sustainable timber is, by far, the most commonly used natural building material, whether used as part of the internal structure when building an extension or self build, or left exposed as part of the build design as with oak frame builds.
Timber is incredibly versatile — plastic meets its match in how widespread its application are beyond the timber frame of your build. It can be used for cladding and joinery, as well as all kinds of internal finishes and furniture.
It is durable, structurally strong and surprisingly fire resistant as a material. Carefully specifying the timber for your build will ensure it's sustainably sourced from responsibly managed forests. Also bear in mind that some timber is treated with toxic preservatives that can off-gas, but this is far less of an issue with modern timber than it has been in the past.
Cob
Cob building is, in essence, building a home with mud. Cob is a type of sub-soil that contains clay and straw, binding it together into a material which can be used to sculpt a home. It's an incredibly labour intensive process, but can be used to create eco-friendly, highly individual builds. It's virtually a zero-carbon home build, with the only emissions coming from fuel for the digger. Cob walls are super thick, meaning it's not an ideal build method for a small plot, but it does yield a thermally efficient home, especially where passive solar gain is taken into consideration. "Cob is the most comfortable of any material I have ever lived in, well insulated and regulates humidity as well as temperature," says Kevin McCabe of Build Something Beautiful, a specialist in building homes with cob.
Straw bale
Straw bales are a surprisingly versatile natural building material. Not only can they be used as an infill material working alongside a timber frame to provide highly efficient insulation (which exceeds Building Regulations standards) and a wall surface for the build, but also as a load bearing material capable of supporting the roof of the structure. According to Straw-bale Building UK, the UK produces enough straw to build 600,000 houses each year, but much of this goes to waste. Straw bale buildings are generally finished with lime render and lime or clay interior finishes, creating a breathable fabric that regulates the internal air quality and keeps damp at bay.
"Whatever size and complexity you are aiming for, the mantra for straw bale design is the same as for all natural buildings: 'a good hat, a good pair of boots, and an overcoat,'" explains Barbara Jones, an expert in building homes with straw bales.
(MORE: How to Build With Straw Bale)
Cork
A naturally occurring material that is sustainably produced, cork is already used for many internal applications, such as flooring, as well as eco-friendly cladding. However, its applications as a building materials are just starting to be explored. Matthew Barnett Howland's award-winning Cork House, built in 2019, looked at how cork could be used as a singular material to build solid walls and a roof as an alternative to the layered building envelope that defines modern house building. The cork blocks used for the structure were completely dry-jointed, meaning no mortars or adhesive used, ensuring that the cork could be reclaimed and repurposed at the end of the building's life.
Innovations With Natural Building Materials
Many forms of construction using natural building materials have been around for as long as we've been building houses; however, new developments are propelling these materials into the 21st century, ensuring that they not only meet modern standards, but also simplifying the construction process.
The CobBauge project, for example, is a research project led by the University of Portsmouth looking to create and test new cob mixes to improve the thermal efficiency of the material and ensure it meets modern building regulations.
Likewise, innovative EcoCocon panels adapt the benefits of straw bales as a natural and sustainable building material into a pre-fabricated form, making construction using straw bales quicker and easier, while ensuring that the panels can still be recycled or composted at their end of life.
What Natural Building Materials Exist as an Alternative to Concrete?
While concrete may be made up of plenty of natural materials, it also contains chemically-manufactured cement, which also contributes to concrete's huge CO2 emissions. Concrete also requires large volumes of water and sand in its production.
Hempcrete
Hempcrete is a material made with fibres from fast-growing hemp plants mixed with lime, resulting in a strong, but lightweight alternative to concrete. This lightweight nature makes transporting the blocks easier.
However, hempcrete, at present, is only used for specific applications in housebuilding, largely in blocks used for walls, floors and roof structures. It can't be used, for example, to replace concrete for building foundations. Its strength doesn't match up to concretes either, and hempcrete isn't used for structural elements of the build, instead acting as a replacement in non-structural areas where concrete is used.
Limecrete
Limecrete is a combination of natural hydraulic lime and sharp sand. It's often used in old buildings where breathability is important, especially when considering flooring slabs, as water vapour can escape through this material. Limecrete also has some applications as part of insulated foundation systems.
Are There Options for Natural Insulation?
Many natural materials are useful for insulation, thanks to their natural thermoregulatory properties. There are different options for natural insulation depending on the application:
Solid insulation includes boards made from wood fibre and cork.
Semi-rigid insulation includes hemp, wood fibre and flax.
Flexible insulation includes sheep's wool, flax and cotton.
Wood chippingsand wood pulp can also be used as a loose fibre natural insulation
Hugh is Digital Editor of homebuilding.co.uk and has worked on a range of home, design and property magazines, including Grand Designs, Essential Kitchens, Bathrooms, Bedrooms and Good Homes. Hugh has developed a passion for modern architecture and green homes, and moonlights as an interior designer, having designed and managed projects ranging from single rooms to whole house renovations and large extensions. He's currently renovating a Victorian terrace in Essex, DIYing as much of the work as possible. His current project is a kitchen renovation which involves knocking through walls and landscaping a courtyard garden.
Homebuilding & Renovating Newsletter
Get the latest news, reviews and product advice straight to your inbox.
Thank you for signing up to Homebuilding. You will receive a verification email shortly.
There was a problem. Please refresh the page and try again.