Sloping Garden Ideas: 10 Genius Ways to Landscape on a Gradient
By Hugh Metcalf , Paul Hervey-Brookes published
Garden less than level? These sloping garden ideas will help you make the most of what can be a daunting plot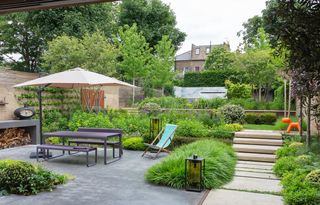 (Image credit: Belderbos Landscapes)
Looking for sloping garden ideas? Fear not, though a sloping garden can be a challenging landscaping project, they can also be some of the most effective gardens.
The perception is of a windy exposed site that is difficult to work with and expensive to change. So it will come as a pleasant surprise that a sloping garden can be both visually attractive and, with clever design and planning, an amazing space that feels much larger than a flat, open garden.
A well-considered new house on a sloping site can easily take advantage of the terrain and maximise privacy, views out to surrounding countryside, and make the most of the natural light available, especially the way that light moves across the site.
If you've got a sloping garden, try out these 10 ideas to get you started on your landscaping project.
1. Creating Terraces for Sloping Gardens
One of the best ideas for making a sloping garden into a more useable outdoor space is to create terraces by building retaining walls. Flattening a garden on a slope is an unlikely prospect, just from the sheer amount of earth that you'd be required to move.
Building terraces instead creates a tiered design with multiple flat spaces throughout your garden.
However, there's no escaping that good quality work in this area is expensive. It's crucial to use an experienced contractor, and get a warranty on any structural retaining materials.
If you're undertaking a major renovation or a self build, plan creating terraces into your project, as you'll be able to save time and money by building these while the mini digger and dumper are on site.
"If the garden has a severe slope, a structural engineer may be advisable," says Claire Belderbos of Belderbos Landscapes. "Costs can mount if foundations and concrete walls are required."
2. Garden Steps are a Great Idea for Sloping Gardens
Whether you're creating retaining walls, or sticking a little more with the natural gradient of the garden, creating steps is a great transition between spaces in a sloping garden.
With any high traffic area that is to be used year round, textured hard-wearing paving is a better solution over wood and other materials that move or prove slippery in wet or cold weather.
Steps and level changes should always have good lighting built in, even at a low level, to avoid the risk of slipping or missing a step. On very steep rises it's also always worth considering a hand rail for when the weather is particularly icy or wet.
(MORE: How to Build Garden Steps)
3. Lighting Ideas for Sloping Gardens
The journey through a garden design is even more important in a sloping garden, and this extends to your lighting scheme too. Always adding lighting to steps for a safety conscious approach, and then use lighting to guide you through the garden. Accent lighting for key trees and shrubs or landscaped elements will help your eye travel up a sloping design. Finish your design with an accent at the end of the garden which is a real focal point. This could be a sculpture, water feature or even your garden office.
(MORE: Garden Lighting Ideas)
4. Use Water in Your Sloping Garden Scheme
Sloping gardens open up a world of opportunities for using water, from simple and elegant rills which travel the site with short waterfalls to the replication of natural streams. Such features can make the space feel either more relaxed or much more wild and rugged.
One of the special qualities of water and slopes is the speed at which water can travel across the site. This means that if you have found the house of your dreams but it is slightly nearer a road than you may first wish for, careful planning with water can create background noise which deadens outside sounds, creating a haven of tranquillity.
5. Create Zones Across a Sloping Garden
When building terraces or generally moving up or down a sloping garden, there's a great opportunity to create clear cut zones for its use. A comfortable seating area is always great to have near the patio doors to enhance indoor/outdoor living, while a dining space might be well-located on a second tier — away from the hubbub of the kitchen, but not too far to carry plates in and out.
Anything recreational, from children's playsets to hot tubs, is best located at the end of the garden, keeping noise further away from both your own home, and your neighbours.
An outdoor kitchen will likely be nearer the house because of the requirement of services, but if you're planning to move these, it could be even more effective on a different terrace further away from the house.
(MORE: Outdoor Kitchen Ideas)
6. Planting Tips for Sloping Gardens
Sloping gardens, especially those at a steep gradient, have some issues when it comes to plant selection. Soil conditions can be sandy and poor as it's prone to soil drying out quickly.
Choosing plants that thrive in quick-draining soil is the best idea, but there are ways to help retain more moisture in the soil. Planting through coconut matting is one way to help retain moisture on a slope better, while mulching the area will not only help keep the soil wetter, but also prevent weeds from growing in these tricky to manage spots.
7. Is Grass a Good Idea for a Sloping Garden?
Close-mown grass lawn isn't a practical choice for sloping gardens, as it's difficult and potentially dangerous to maintain. However, larger ornamental grasses left to grow wild can be a great choice for sloping banks.
A wildflower turf is also a great choice for a sloping garden. Not only is it a quick way to establish flowers on a slope, but it's quick to establish with deeper roots than grass turf, which can help anchor the soil and prevent soil erosion in your garden.
8. Play With Planting Height in a Sloping Garden
A sloping garden plot has some interesting scope to play around with height of planting. On one tier of the garden, you might find yourself under the shade of a tree, while on the next, you'll see over the canopy.
This play on levels allows you to use climbing plants and structures in a way that is far more dynamic and design-led way than that which can be achieved in a garden resting on purely one level.
9. Low Maintenance Planting is the Perfect Idea for Sloping Gardens
Maintaining plants on a slope is a difficult task for obvious reasons, so look for plants that suit the soil conditions that don't require a lot of tidying up, such as pruning and dead-heading, or drop leaves or petals.
Try the follow flowering plant, to name a few, to add colour and interest to a steeper sloping garden:
Primrose
Cowslip
Clover
Winter jasmine
Creeping honeysuckle
10. Using Screening Tactically for Privacy in Sloping Gardens
If your sloping garden is overlooked, it can feel particularly intrusive; however, upward sloping gardens lend themselves particular well to easy screening. The gradient means that you can use taller trees and shrubs on lower terraces to effectively screen the upper areas, where you may locate a seating or dining area, from view of the lower property.
Choosing established trees and shrubs to plant is a good idea for a garden that's ready to use, and they can be located cleverly to ensure that the view from the neighbours' upstairs windows are blocked, while retaining beautiful sightlines and not casting unwanted shade on areas of the garden.
Hugh is Digital Editor of homebuilding.co.uk and has worked on a range of home, design and property magazines, including Grand Designs, Essential Kitchens, Bathrooms, Bedrooms and Good Homes. Hugh has developed a passion for modern architecture and green homes, and moonlights as an interior designer, having designed and managed projects ranging from single rooms to whole house renovations and large extensions. He's currently renovating a Victorian terrace in Essex, DIYing as much of the work as possible. His current project is a kitchen renovation which involves knocking through walls and landscaping a courtyard garden.
Homebuilding & Renovating Newsletter
Get the latest news, reviews and product advice straight to your inbox.
Thank you for signing up to Homebuilding. You will receive a verification email shortly.
There was a problem. Please refresh the page and try again.