Garden Design: A Guide to Planning a New Landscaping Scheme
A garden design worthy of your new home or extension is a tall task. Start out with our complete guide to help you plan and execute your dream outdoor area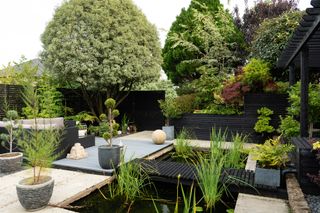 (Image credit: Jeremy Phillips)
Garden design is one of the biggest challenges facing anyone building a new home or undertaking a largescale renovation. After wrangling with endless internal design considerations, it's easy to let fatigue tempt you into forgetting that a home's garden is crucial to its visual impact and can add serious financial value.
Gardens serve a number of functions: they set the visual tone of your home; they are quite literally the first insight visitors have into your world; they have practical uses like car parking; they provide us with a place to relax and entertain visitors; and may even feature vegetable gardens to feed us.
To serve these functions well, a garden needs to offer one or more well-defined areas within its boundaries, while relating to the house itself. By following a few simple design rules, expensive mistakes can be avoided and a new garden created that meets both practical and aspirational design needs.
How to Design a Garden
As a general rule there are two routes you can follow to design a garden: you can employ a designer or implement your own design. Both routes have their pros and cons, so be clear from the outset what you want to achieve.
If you choose to engage a designer, be prepared for them to propose layout and design solutions you had not thought of, and give those ideas some serious consideration.
A clear idea of how you want to use your garden will help your designer to develop a design that works for you — more so than preconceptions about the exact layout and plant choices you want. A designer will listen to your ideas about the experiences you want to create and the kinds of activities you have in mind. They will then provide a practical design, complete with layout, plant choices and materials, calculated to suit you from a practical standpoint, cater to your tastes and work with your new home and its surroundings.
An initial site visit should include written notes, ideas of key plants to consider, and not-to-scale drawings of proposed layout ideas. This should give you a taste of whether the designer is right for you and your project. If you're happy, then the next step is to engage them to create to-scale, detailed plans.
It's also possible to engage a designer for a specific task, too; maybe you want them to create the planting for a garden you have already designed, or perhaps you simply want a masterplan that you can fill with your own planting ideas. The options are as endless and varied as your ideas for the project.
If you prefer to engage a contractor directly to implement your own design, then you'll need to be well prepared with a clear layout drawn to scale and a good idea of the volume of materials needed.
Remember that a landscaper will implement your design, but they won't generally offer a design. If asked to give advice, bear in mind they may offer the most direct or easy build option, as they normally have a lot of projects lined up to be completed in a tight timeframe.
How to Design Your Own Garden
If you prefer to engage a contractor directly to implement your own design, then you'll need to be well prepared with a clear layout drawn to scale and a good idea of the volume of materials needed.
Remember that a landscaper will implement your design, but they won't generally offer a design. If asked to give advice, bear in mind they may offer the most direct or easy build option, as they normally have a lot of projects lined up to be completed in a tight timeframe.
Costs
How Much Will a New Garden Design Cost?
How Much Does a Garden Designer Cost?
A good designer will charge for an initial site visit, so be prepared to pay up to £250. If you decide to use them, detailed plans will cost roughly 10% of the garden's overall construction and implementation.
There are two ways to go about this: you can either set a budget for the designer to work to, or you can have them give you an idea of costs against your wish-list. In both cases be realistic. Expect a garden of 10m x 25m to cost in the region of £40,000 for a complete redesign and its implementation including plantings, trees and hard landscaping.
This design fee might seem expensive, but you are employing someone with a wide range of knowledge and skills, which will save money further into the project by ensuring the selection of site-suitable plants and futureproofing the design.
Boundaries
How to Design Garden Boundaries
Once you've settled on a design route, it's important to consider the following key components when designing your new garden, such as establishing boundaries.
Suitable boundaries for urban environments include brick, stone and rendered block. Supplementing these with carefully planted trees can obscure low level surrounding buildings and other unattractive views, while creating natural frames to capture interesting architectural details outside of the garden.
This strategic use of a garden's surroundings can make them feel like a part of your own space and lend a sense of size and freedom.
For gardens outside town centres, native mixed hedging is always a good choice. It reduces both wind and noise, offers a habitat for small birds and will provide a good mixture of flowers, fruit and autumn colour. It's also an economical option starting from as little at £1 per plant.
Again, trees and hedging can be used to capture neighbouring views, although in this case the local points of interest are (hopefully) more likely to be things like fields, church spires and hills. The principle of extending the garden's feel beyond its defined boundaries remains the same, however.
As a rule of thumb, a 2m-high brick wall will cost roughly £250/m to build. Fencing with wooden slats will cost around £160/m and hedging will set you back in the region of £300/m for substantial and mature hedging between 10 and 15 years' old.
(MORE: How to Fit a Garden Fence)
Garden Layout
How to Design a Garden Layout
Once you've worked out how your garden's boundaries will be demarcated, it's time to think about the layout. This will be directly driven by what you intend to use the garden for, ideally both in the short and long term. Think about the next five years with a view to avoiding costly re-landscaping or other expensive changes down the line.
If working with a garden designer, all the hard work will be taken out of this, but if you're designing it yourself, there's certain things you'll need to define before you create your layout.
The first thing you'll need to establish is the garden's aspect — whether it faces north, south, east or west — as this will determine not only the best planting, but also the best layout for your garden. You can do this with a compass, or compass app.
North-facing gardens are largely shady throughout the day, so seating areas may be best pushed further away from the house.
South-facing gardens get sun all day, climate permitting.
East-facing gardens get sun in the morning, but shade in the afternoon, while west-facing gardens get the opposite. You'll need to think about what time of day you'll use certain areas, and almost certainly two different seating areas will be useful in these spaces.
Spend time assessing where shadows fall throughout the day too, as well as examining how overlooked certain areas are. These all play into the potential location of areas such as seating and dining spaces, but can be remedied with the addition (or removal) of trees and shrubs, or other methods of screening.
Think of your garden in terms of zones, and creating a journey through the space with linking paths between each zone. Defining the zones by what the space will be used for practically is a good place to start. Changes in level will add interest and help to better define these zones too.
(MORE: How to Build Garden Steps)
You'll need to create a plan to scale for your landscaper to follow. This can be done on paper, or using a digital programme or garden planner app.
Driveways
If you're going to need space to park a car, choose a permeable surface to allow water run off to seep back into the water table or be temporarily stored; this will likely be a condition of your planning permission and in heavy rain situations this can prevent flooding.
You'll also want to make sure you allow enough space, not just for the car, but also for simple-but-easy-to forget considerations like opening its doors to full extension and getting around it without hindrance, as well as loading and unloading.
(MORE: Complete Guide to Driveways)
Paths and Paving
Generally paths in a garden fall into two categories: primary and secondary routes:
Primary routes, such those to the main entrances and exits of the house, should normally be wide enough for two people to walk side-by-side comfortably — a minimum of 1.3m width as a rule of thumb.
Secondary paths are normally the comfortable width of one person — around 0.6–0.8m.
Paving for terraces and paths varies tremendously in price, so it pays to shop around. Depending on your build specifications, think about selecting a mixture of natural stone, cast stone and concrete.
(MORE: Garden Paving Ideas)
Expect to pay about £120/m2, including installation for a good, medium-range natural stone. Bricks can look fantastic but are an expensive option. If you're watching your budget, one good option is to use more expensive materials near your house, while using gravel and budget pavers around service areas and other out-of-the-way places to keep costs down.
With these practical layout decisions, a good design tip is to think about the shortest routes between important areas, entrances and exits. This will avoid unused paths on the one hand, and 'desire lines' (the tracks left by people taking shortcuts) across lawns on the other.
Materials
How to Choose Materials for Your Garden Design
A useful trick when creating new paths, walls or other hard landscape elements is to select the materials for them based on the building the garden serves.
If you are building a new house then the same batch of material can be earmarked for two functions at the design stage — this makes life much easier. With renovation projects, it can be harder to elect which materials to use as a jumping-off point.
Window sills and lintels could provide inspiration, eaves might have interesting contrasting band work, maybe part of the house could have a timber frame.
These elements can be an invaluable cue to help you decide what colours and materials to use for new additions to your home and garden to allow them to sit harmoniously with its existing fabric.
This same rule can be applied to retaining walls or raised beds that allow level changes across the garden.
(MORE: Sloping Garden Ideas)
Wood is an economic option that is often used to retain soil at level changes. Hardwood will last longer than pressure-treated softwoods, but you should still be prepared to replace it within 15 years.
More expensive materials for building hard landscaping features include stone and brick, the latter of which can be dressed or natural. The benefit of these is not only their lifelong durability, but also the sense of unity they create between the house and the garden.
Plants
How to Pick the Right Plants When Designing a Garden
Existing gardens usually come with at least a few mature plants. If you have engaged a designer they will be able to tell you which of these are in good health and work to incorporate them into the new design. If you are designing your own garden, resist the temptation to remove everything right away.
Give the plants at least one growing season to see if they have good blossom, berries in the autumn or other desirable features.
Existing large plants in particular can be a boon as they create a sense of maturity and are pricey to bring in. For example, a 2m-high Hazel (Corylus maxima) will cost you £600 from a nursery. If you have inherited large trees, then it will pay to have a tree surgeon inspect their health and identify any potential work needed. They will suggest the removal of any trees that are going to be a problem and provide an indication of the cost of removal.
Plants are the key to success with any garden, new or inherited. If you are unsure about what plants will do well, the first thing to do is order a soil pH kit. This will tell you how acid or alkaline your soil is, with the ideal being very slightly acidic — a pH between 6.5 and 7 (neutral). The result of this test will unlock a host of informed plant selections at good garden centres and independent nurseries.
(MORE: Organic Gardening: How to Grow Without Chemicals)
If you have a gardening friend or relative they will be more than happy to offer good advice and knowledge of plants that will work well for you. This method is a low-cost route to selecting appropriate plants but will often come with the unintended influence of your adviser's tastes, so edit accordingly to bring your own personality to the fore.
The best route is once again to engage a designer. They will be able to suggest planting combinations that are suitable for your site and, if you feel so inclined, draw up detailed planting plans.
Most garden designers will make a visit to give suggestions. Be clear that this is all you require, or that you are unsure whether you will want further work from them. Expect to be asked whether you want plants that are easier to care for, plants for pollinators or plants selected according to some other criterion, and be prepared with your answers.
Ask about including a few winter flowering shrubs, as these can make an amazing difference on long winter days. The garden designer's visit will be good value for money in the long run, as you will be tapping into years of professional knowledge to arrive at plant choices based on your needs ahead of any personal preference.
Lastly, as with any project involving living materials, be patient. You won't see the most rewarding results instantly. Herbaceous perennials can take up to three years to really mature, while even fast-growing shrubs take up to five years. Factor these timescales into your expectations.
Water Features
Designing in a Water Feature for Your Garden
Including water in your garden isn't something to overlook. Not only does water provide habitat and a drinking supply for local wildlife, making your garden more eco-friendly, it's also an important part of your garden's soundscape.
(MORE: 11 Ways to Make Your Garden More Eco-Friendly)
Including bubbling or splashing water features or waterfalls creates a pleasant, tranquil sound that blocks out periphery noise from neighbours and road traffic. Be sure to specify a quiet pump, and ensure that the water feature is designed with the resulting sound in mind. A high drop may make for an impressive look, but it could be too loud when trying to use your outdoor space.
Water features are good to plan in early in the design process, as you'll likely need to run an electricity source to power them. Under Building Regulations, water pumps should be fitted with a residual current device (RCD) which will automatically cut off if a fault is detected. There are other regulations that apply to electrical sources in gardens, which we'll cover in more detail.
As well as small water features, you can introduce water into your garden through ponds and pools. To keep a large body of water safe for animals, always ensure you design in a route in and out for them to use, such as a small platform of rocks.
Services for Gardens
Adding Electricity and Running Water to a Garden
The services required for your garden should be thought of early on, as retrofitting these can be disruptive. Largely, electricity is the most important consideration for your design, as this may be required for:
(MORE: Garden Lighting Ideas)
As well as the essential RCD use for electrical equipment in the garden, they must also be maintained safely. This includes being protected against the weather and buried deep enough in the ground to prevent accidental damage by garden tools.
When using outdoor plug sockets, they must be weatherproof designs that are protected from ingress of water.
Using a qualified electrician is vital for outdoor electrical equipment, so look for an electrician registered with the likes of NICEIC. They will also need to sign the work off to ensure it meets requirements of Part P of Building Regulations.
Running water may also be required, especially for outbuildings, or when locating an outdoor kitchen away from the main house. It may be possible to use a rainwater harvesting system more effectively for these purposes, however, if you want to persevere with running water from the mains supply, you'll need to consider both where to run a pipe and drainage at the source.
(MORE: Best Water Butts)
Planning Permission
Will I Need Planning Permission When Designing a New Garden?
Implementing a new garden scheme largely doesn't require planning permission, however, there are some elements that are potentially subject to planning consent. This includes increasing boundary heights, whether that's fences or walls, adding retaining walls to create terraces in certain circumstances, installing decking platforms over 30cm from the ground and garden buildings over certain sizes.
Before cutting any large trees be sure to check there are no relevant tree protection orders (TPOs), as you will be fined for carrying out any work to trees with TPOs without the approval of a tree officer from your local council.
Submitting a Planning Proposal That Includes a Garden
A word of caution: if you are submitting a largescale planning application, don't be tempted to use the architect of the building to design the proposed layout of the garden — that takes a completely different skill set.
Also avoid submitting too much detail regarding the landscape in early submissions of this type. Exterior details can be limited to simple drives, terraces and structures such as garages or garden offices.
Get the Homebuilding & Renovating Newsletter
Bring your dream home to life with expert advice, how-to guides and design inspiration, direct to your inbox.
Paul is an award-winning landscape designer. An experienced designer, his diverse range of work has included everything from small courtyards to large country gardens, as well as public spaces, both in the UK and internationally.
He studied at The Royal Botanic Garden Edinburgh, giving him the opportunity to learn about plants and plant habitats from some of the most knowledgeable and inspiring plantsmen in the world. He created his first show garden at Malvern Autumn Show in 2008, and has since created show gardens at the Chelsea Flower Show and Hampton Court, alongside being invited to exhibit internationally in United States, France, New Zealand, Japan and Australia. (In 2022, he designed The Brewin Dolphin Garden at the Chelsea Flower Show.)
Since 2015, he has been a RHS Gardens Judge and chaired judging at all of the RHS Flower Shows including RHS Chelsea Flower Show. He has also worked with Marks & Spencer and Bradstone to create garden products, and has written for The Telegraph and Homebuilding & Renovating magazine.