1930s House Renovation: How to Maximise Potential
By Natasha Brinsmead published
Considering a 1930s house renovation? Our guide offers some great tips on making the most of the humble inter-war semi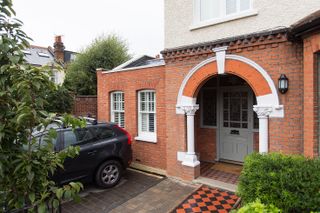 (Image credit: Architect Your Home)
A 1930s house renovation offers so much to the modern-day homeowner. Although there are semi-detached houses from many different eras in the UK, those built during the 1930s are arguably more prevalent than any other — in fact, according the The University of Nottingham, there are more than three million 1930s houses in the UK.
There's no single reason that there are so many 1930s houses scattered throughout the country, but one of the biggest factors was that they were a relatively cheap way to build lots of new homes quickly after the depression in the early 1930s and the destruction wrought by WWI. As the economy recovered and employment began to rise again in the first half of the decade, people were easily able to afford these properties.
While 1930s house renovations are not always seen as desirable as a Victorian house renovation project, they actually have an awful lot going for them.
Those taking on a 1930s house renovation will often be faced with a layout consisting of a front hall, two reception rooms and a kitchen at the rear. On the first floor there are usually three bedrooms, two larger and one much smaller, along with a bathroom — often with a separate WC.
Other common features of 1930s semi-detached homes include:
Generous plot sizes
Garage
Bay windows — often at both ground and first floor levels. These were commonly bowed
Wood panelling
Parquet or wood floor boards
Chunky tiled fireplaces
Half timbered or pebbledash exteriors
Diamond pane windows
False beams
Here, we look at some of the best design solutions out there for anyone renovating a 1930s house, showing just how to transform a dull and dated semi-detached house into a bright, open home.
Replace a Tiled Fireplace
Fireplaces in 1930s semis often took their design influences from the Art Deco trends of the time. Many in place today are bulky in form and are feature tiles in shades of light brown, pale yellow and beige. If this isn't your thing, replace it with either a fireplace you prefer from the same era (there are some great Modernism-inspired designs out there) or remove it to create a crisp opening for a new log burning stove.
Create Contrast
The architectural lines of many 1930s semis are actually quite distinctive and strong, so it makes sense to echo this in the design of any extensions you add. This doesn't mean matching the original, but rather creating something that complements it visually.
Create a Split Level Layout
Split-level layouts don't just add architectural interest internally to a home; they also help to define separate zones within open-plan spaces. As well as creating novel living spaces, in some cases this can actually be the most practical solution. In the case of extensions, it can make sense to step the new addition down so that it sits more in line with the garden, creating a better connection. This can also help to set the new and old sections apart.
Highlight Original Features
Stained glass is a common find in 1930s house renovations — it often featured in sections of windows or front doors. If you still have any original stained glass in place, ensure it stands out by creating a neutral backdrop around it, as has been done here. Other original features to highlight might include arched openings, curved windows and wood panelling.
Broken Plan Makes Sense
The generous room sizes of 1930s semis mean that an open-plan remodelling or extension scheme often makes sense. However, for many people, what works better is a semi-open-plan – also known as broken plan – layout.
Broken plan layouts are only partially divided up, employing half-walls, screens, changes in floor level and ceiling height as well as larger items of furniture.
Bring Wood Panelling Up-to-date
Dark wood panelling was popular in the 1930s. If you are wondering what to do with it, a lick of paint can refresh it and bring it up to date. Wood panelling and timber cladding can really bring a room to life with the right finish.
Add a Full-width Extension
With their generous plot sizes and large room proportions, 1930s semis can handle large, full-width extensions easily.
If you are thinking about building an extension to increase space in your 1930s house renovation, aim to include plenty of glazing in the form of bi-fold doors or sliding doors and combine these with rooflights or roof lanterns. By doing this you will ensure the original sections of the house will benefit from the extension, as opposed to it cutting off their source of light.
Create a Large Loft Conversion
Many 1930s semis are crying out for a loft conversion. However, there are many different types of loft conversion so be sure to choose a design that makes the most of the space you have available.
Consider Metal Windows
Steel windows were all the rage during the 1930s, particularly on Art Deco houses, where they were often seen curving around corners. Why not embrace this feature, by incorporating a modern interpretation as part of your renovation?
These days, industrial style windows are available in materials other than steel — consider aluminium or painted timber instead.
Incorporate the Garage
If, like many other houses built in this era, your 1930s semi has an integral or attached garage, think about whether you are currently making the most of it. If it has become a dumping ground then it could be worth carrying out a garage conversion so that it can be used as living space, a home office or spare bedroom instead.
Natasha is Homebuilding & Renovating's Associate Editor and has been a member of the team for over two decades. An experienced journalist and renovation expert, she has written for a number of homes titles. She has renovated a terrace and is at the end of the DIY renovation and extension of her Edwardian cottage. She is now looking for her next project.
Homebuilding & Renovating Newsletter
Get the latest news, reviews and product advice straight to your inbox.
Thank you for signing up to Homebuilding. You will receive a verification email shortly.
There was a problem. Please refresh the page and try again.