Outdoor Kitchen Ideas For Year-Round Alfresco Fun
By Hugh Metcalf , Natasha Brinsmead published
On the hunt for some stylish outdoor kitchen ideas? Our inspiring round-up is guaranteed to take your garden entertaining to the next level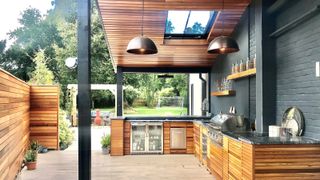 (Image credit: Outdoor Kitchen Expert)
If you are on the hunt for outdoor kitchen ideas then you are not alone — this is one hugely popular garden design trend right now.
No longer content with a bog-standard BBQ and outdoor dining set, homeowners are now after fully-equipped alfresco cooking spaces that can be enjoyed whatever the weather — and the best news is that there's an outdoor kitchen idea for every style, size or garden design.
In order to work well, most outdoor kitchens will, as standard, incorporate some form of cooking appliance, such as a grill or a wood-fired pizza oven, and worktop space to prep. Additionally, there is a massive variety of extras that can really enhance an outdoor kitchen space — from sinks and storage, to heaters, seating and fridges.
So what are you waiting for? Now is an excellent time to get going. Take a look at our pick of the best outdoor kitchen ideas around to help inspire your own space.
Outdoor Kitchen Ideas: Where to Start?
There are several things to consider when designing an outdoor kitchen — and this is something that should be look at as part of your garden and patio ideas as a whole.
"The first thing to think about is what you want from the space. Will it be for year-round use? Who will be using it most often? Will its main purpose be daily use or will it be an occasional entertaining space for parties and get-togethers?" says Duncan Aird, Founder of Outdoor Kitchen Expert (opens in new tab).
"These factors will drive all of the planning decisions, so it's essential to be clear from the outset on what you want and need."
You also need to consider where to site your outdoor kitchen. "The outdoor kitchen's location is another major decision and one that should be addressed early on," says Duncan.
"The space will require water, drainage, power, lighting and, most likely, internet connectivity, so creating an outdoor kitchen that is connected to the main house may prove easier and more cost-effective than creating a 'satellite' that isn't in such close proximity."
You also need to think about how you want to be from the house. Too far, and it can make transporting food and running back for drink top-ups a pain. However, if you have a large garden, you may want to make the most of your favourite spot with the best views — in which case consider investing extra appliances and storage for a more convenient entertaining space.
1. Use Outdoor Kitchen Ideas to Extend Your Home
Carefully thinking through the design of your new outdoor kitchen will not only enhance your entire garden, but can also improve your interior spaces. By ensuring that your patio doors lead out to your exterior kitchen area you effectively provide an extension when the doors are flung open — plus, locating your new kitchen in this way is very practical, making it easy to nip inside to fetch any extra supplies you might need or to dash for cover should the heavens open.
This simple yet stylish set up is from CENA Outdoor Kitchens (opens in new tab) and features a pizza oven, gas grill and fridge.
2. Zone Your Outdoor Kitchen with this Clever Idea
Creating zones in your garden will help your layout, and this outdoor kitchen idea does it with style.
Not only is the cooking area, created by Kitchen Architecture (opens in new tab), designated by a modern pergola and raised platform, this zone is wrapped in a dark colour to unite it. This helps to separate the different function of this area of the garden, but it also reduces the 'visual noise' of this outdoor kitchen's various appliances and fixtures.
This garden screening idea also provides shelter, allowing you to cook alfresco even during the occasional sun shower.
3. Choose a Glass Roofed Outdoor Kitchen For Shelter
Again, providing some shelter for your outdoor kitchen is a brilliant idea if you want to continue enjoying your new space should the weather take a turn for the worse. It also makes it easier to incorporate outdoor heaters and garden lighting ideas.
If you want to take the space to the next level, building an outdoor kitchen under a glass roof will ensure the space is not only sheltered but also full of natural light, with an orangery feel.
4. Create a Canopy for Your Outdoor Kitchen
Whether it's a pergola, overhang or gazebo overhead, the right canopy over your outdoor kitchen will provide privacy, shade and shelter for whoever is using it, meaning you can still fire up the BBQ even if the weather isn't playing ball.
Life Outdoors (opens in new tab) used a Renson louvred canopy across this exterior kitchen, dining and lounging area, which can also be specified with automatic solar shading, LED lighting, audio and even heating elements.
5. Use An Oak-Framed Gazebo for an Outdoor Kitchen
Not only will an oak-framed gazebo create character in your garden, it is also the perfect spot under which to fit an outdoor kitchen.
Providing shelter from the elements, this kind of structure is also ideal for incorporating an alfresco dining room — opt for the best patio heaters you can find and use brilliant outdoor lighting to ensure the fun can continue long after the sun sets.
6. Use Part of a Garden Room For Your Outdoor Kitchen
If you are after some great garden room ideas that incorporate an outdoor kitchen then this one is for you.
Keeping one section of you garden room partially open to use as a cooking and dining space. Protected from the wind and rain, this outdoor kitchen within an outbuilding will offer greater use from spring through to autumn. Inside the oak frame outbuilding by Oak Designs Co (opens in new tab), there's an outdoor kitchen with a sink, fridge and grill.
7. Plant a Living Wall For An Eye-Catching Backdrop
Living walls really bring a space to life, drawing the eye and creating a lush, botanical feel to previously stark areas.
In this outdoor kitchen from CENA Outdoor Kitchens (opens in new tab), a living wall has been created not only as a garden boundary, but also as a way of defining the space as separate from the rest of the landscaping scheme.
8. Use Modular Systems For Small Outdoor Kitchens
An outdoor kitchen doesn't need to be huge to be useful so if it is small garden ideas you are after then this one's for you.
"An area as small as 10m2 can accommodate an entry-level outdoor kitchen, but those looking for an entire outdoor living area, incorporating a bar, seating, canopy, fire pit and hot tub, may need as much as 150m2 of space or more," advises Duncan Aird.
This compact modular system, created by WWOO and available from Garden House Design (opens in new tab), incorporates a Green Egg outdoor cooker, a small amount of worktop for prep and a sink, and takes up only a small amount of space.
Outdoor kitchen surfaces can double up as potting benches when not in use for entertaining too.
9. Protect Outdoor Kitchen Units From The Elements
This luxurious outdoor entertaining space created by Humphrey Munson (opens in new tab) has all the amenities you'd expect from an indoor kitchen, including Wolf cooking appliances, a fridge and plenty of storage.
The cabinetry is situated under a permanent timber gazebo to protect it from the elements, but hardwearing Iroko wood was chosen for the cabinetry to help withstand the weather.
10. Pick Durable Work Surfaces For An Outdoor Kitchen
Outdoor kitchen surfaces need to be hardy to deal with the variety of British weather. Natural and composite stone brands are now marketing their surfaces for outdoor kitchens and other surfaces.
Look for a material that is resistant to water, heat, UV rays, stains and scratches such as this from Caesarstone (opens in new tab), which has launched its first outdoor quartz surface.
11. Blend Indoors With Your Outdoor Kitchen
Where an outdoor kitchen is connected directly to your home, or even to a garden room as in this example by Paul Archer Design (opens in new tab), this clever idea helps to blur the boundaries between the indoor and outdoor spaces.
By running matching cabinetry on both sides of your patio door glazing, you can create the effect of extending your living space when the doors are open in the summer.
12. Add Character to Your Outdoor Kitchen with Tiles
This outdoor kitchen has become the focal point of the garden scheme thanks to bold chevron tiles from Artisans of Devizes (opens in new tab). The tiles also provide a practical, low-maintenance surface which can be wiped down after food prep and cooking.
The kitchen incorporates a built-in BeefEater outdoor BBQ, as well as a tabletop pizza oven.
13. Incorporate a Fireplace For Warmth
While outdoor log burners are a brilliant way of warming up brisker evenings, so too are outdoor fireplaces. Not only can they also be used for cooking as part of your outdoor kitchen set up, they also negate the need for electric garden heaters.
The set up here features Grillo's (opens in new tab) Vantage cabinet, with a BBQ that allows you to control the temperate across all four different areas. In addition, the built-in fireplace ensures the entire spaces feels a pleasure to spend time in.
14. Save Money With a Simple Freestanding Kitchen Unit
Don't let a limited budget put you off the idea of an outdoor kitchen. Even a simple outdoor kitchen unit can transform a your patio into a useful cooking space.
Choosing freestanding pieces for your outdoor kitchen is a brilliant way to make the most of your money. The Rowlinson Barbecue Outdoor Kitchen Unit shown here, from Naken Interiors (opens in new tab), features a metal work top zinc coated for rust resistance, hooks for hanging cooking tools, a height adjustable high level shelf and two storage shelves under worktop. It costs £237.60.
15. Use An Island Unit For a Sociable Outdoor Kitchen
Your outdoor kitchen should be a social space in which you enjoy spending time with family and friends — so make sure your design takes this into account.
Incorporating bar seating or a kitchen island so that friends and family can congregate and chat while you prepare the meal is a brilliant idea. This sheltered outdoor kitchen set up, from CENA Outdoor Kitchens, is packed full of useful features, including a sink, large island unit, and outdoor grill.
16. Use Outdoor Lighting To Enhance The Space
Your choice of patio lighting ideas can make or break an outdoor kitchen. Get it wrong and the space will feel dreary and dark — but get it right and your new cooking space really will shine.
This funky design is from Grillo (opens in new tab) and features fun neon lighting in the kitchen and bar areas along with a spray of tiny over lights in the more intimate seating spot.
Hugh is Digital Editor of homebuilding.co.uk and has worked on a range of home, design and property magazines, including Grand Designs, Essential Kitchens, Bathrooms, Bedrooms and Good Homes. Hugh has developed a passion for modern architecture and green homes, and moonlights as an interior designer, having designed and managed projects ranging from single rooms to whole house renovations and large extensions. He's currently renovating a Victorian terrace in Essex, DIYing as much of the work as possible. His current project is a kitchen renovation which involves knocking through walls and landscaping a courtyard garden.
Homebuilding & Renovating Newsletter
Get the latest news, reviews and product advice straight to your inbox.
Thank you for signing up to Homebuilding. You will receive a verification email shortly.
There was a problem. Please refresh the page and try again.