The 22 Biggest Kitchen Trends of 2022
By Hugh Metcalf , Natasha Brinsmead published
From sustainable designs to bold finishes, these are the top new kitchen trends to inspire your project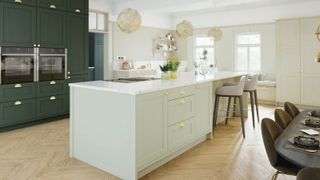 (Image credit: LochAnna Kitchens)
If you're planning a kitchen project, get ahead of the bandwagon with the newest kitchen trends. Not only will this help make sure your kitchen doesn't fall behind the times when it comes to materials, colours and appliances, but also that you're making use of the latest innovations for the kitchen.
We've polled kitchen design experts for what they think will be the next big thing in kitchen design and some of the results may surprise you. From kitchen offices and sustainable materials to creative mesh cabinet fronts and app-controlled taps.
But, while these may point you in the right direction of the kitchen trends to come, don't forget to make sure your kitchen is a space you really enjoy. Trends come and go, but when investing in a new kitchen, you'll want to love it for years to come.
What Are the Newest Kitchen Trends in 2022?
The latest kitchen trends come from a number of sources. Kitchen designers, for example, may notice that more and more of their customers are requesting certain styles, finishes or colours, which can also lead to more investment in new ranges around those themes.
Trend forecasters are another source of new kitchen trends. 'Colour of the Year' predictions happen in autumn and winter every year, and other forecasts feed into what retailers stock in their stores, and how they photograph and promote their latest lines.
Our list of the the newest kitchen trends takes all these into account for a comprehensive round-up of what's hot in kitchens right now.
1. Bold Kitchen Unit Colours
The trend for using bold, dark colours in the kitchen has been rumbling around for some time now but there has definitely been an expansion in the shades being used— with forest green and burgundy joining navy as top ranking colours.
"Consumers are definitely becoming more experimental with colour and their use of raw materials within kitchen design, which is great to see," says Alex Main, Director of The Main Company (opens in new tab). "Green has continued to increase in popularity — whether used as an accent or across the cabinetry, this bold colourway is becoming a key element in many industrial-inspired spaces."
"2022 will bring a re-introduction of more heritage shades at the darker end of the palette such as jewel-like blues, greens and metallics," agrees Graeme Smith, Head of Retail and Design at Life Kitchens (opens in new tab). "We'll also see softer, muted, mid-tone greens and earthy tones. To add interest to a scheme, pair these hues with statement features, such as large-scale patterned or textured worksurfaces, smoked glass cabinets or statement shelving, along with metallic accents for an opulent design statement."
2. Herringbone Floors
Parquet and herringbone flooring is hot news in homes right now — a trend that is set to continue into next year. Perhaps the room that it is most commonly being seen in at present it the kitchen, where it adds texture and warmth to even contemporary schemes.
A herringbone floor doesn't have to be timber either — there are many other types of flooring it comes in, such as LVT and porcelain.
3. Recycled Kitchens
There has been growing interest in the second hand kitchen market for some time but right now this interest really seems to be at its peak.
From a sustainability perspective, buying second hand or ex-display kitchens makes a lot of sense, recycling products that are usually in pristine condition.
Buying second hand is also a purse-friendly option that can save buyers up to 70% off rrps.
4. Marble, Marble Everywhere
Not only does marble shout luxury and high-end quality, but it is also the perfect partner to metallic finishes such as brass and gold. Choose white or creamy shades of marble and you also have a great contrast with bold greens and blues.
Richly veined marbles are set to be a particularly big kitchen trend in 2022.
5. Kitchen Wallpaper
Yes you read that right — kitchen wallpaper really is a good idea. Often thought of as being about as practical as carpet in a bathroom, there is a new wave of wallpaper now on the market, specifically designed with kitchens in mind.
"What we are seeing is plucky homeowners using wallpaper to counter the minimalism of white cupboards and neutral worktops," says wallpaper designer Elizabeth Ockford.

"While many might be afraid of using wallpaper in the kitchen due to its humidity, a non-woven paper combined with good ventilation will ensure wallpaper remains in great condition."

Elizabeth recommends a coat of matt water-based varnish over the wallpaper once its hung and dry to seal all edges and joins for additional protection.
6. Kitchen Home Offices
The need for more home working has meant a rise in homeowners searching for space to carve out office areas.
The kitchen is the ideal spot (now that homeschooling is behind us) and kitchen designers have caught on to this by coming up with all kinds of solutions, from units which conceal neat little office set-ups within, to layouts that allow for offices to tuck away in a quite corner of the space.
7. Wooden Kitchens
Wooden kitchen ideas might not be anything new, but the way in which designers are now celebrating the beauty of wood within the kitchen and in the units they are producing is.
From finishes that really draw out the textures within the wood, to new treatments, 2022 is certain to be full of wooden kitchens that exude style and encourage a connection with nature.
8. Smart(er) Appliances
Just when you thought that kitchen appliances were doing as much as they possibly could to make life easier, they just got even smarter — and that is something that is only set to grow in 2022.
From ovens that carry out recipes on your behalf and even take on the role of intuitively adjusting temperature, to fridges that order your shopping — the possibilities are endless.
The boiling water taps we were all in awe of a couple of years ago have seen an upgrade too — most smart taps now also dispense boiling, chilled, filtered and sparkling too (some even allow you to select exactly how carbonated you like your water).
9. Mesh Fronted Cabinets
Linking in nicely with the metallic touches that are such hot news right now, mesh-fronted units are on the rise. They offer a pleasing compromise between glass and solid-fronted units, disguising messy contents without appearing heavy or overbearing.
10. Minimalist Kitchen Design
Clutterphobes rejoice — 2022 will see a plethora of sleek, minimalist kitchens hitting the showrooms.
With straight lines, fuss-free details and clean polished details, the new ranges of minimalist kitchens offer a serene retreat from our busy lives.
11. Sustainable Kitchens
Sustainability is important to us all in our homes and 2022 is set to see a sharp rise in green kitchens. There are lots of steps you can take to ensure an eco-friendly kitchen, whether that is taking small measures such as fitting an efficient recycling bin or buying only A-rated appliances.
Some sustainable kitchens are greener than others — look out for those made from responsibly sourced materials and recycled elements (such as worktops), along with those where the production process has used renewable energy.
12. Mix and Match Furniture
Perhaps it has something to do with a keen desire to make the most of what is already available (as opposed to buying new) or maybe it is a need to put a very individual stamp on our homes, but mix and match kitchens that combine furniture from different sources and ranges, many with a very different original purpose to the one it ends up having, are definitely on the rise.
You need to get creative to make this look work — look at furniture a new a way. Could that old pine wardrobe be fitted with mesh fronts to start a new life as a kitchen armoire, or is that workbench from the garage crying out to become a butcher's block?
13. Statement Kitchen Lighting
Lighting used to be a bit of an afterthought in the kitchen — remember those dreadful plastic encased fluorescent strip lights full of flies?
Not anymore — kitchen lighting is recognised as one of the most important elements of this space now. But 2022 will see a shift in how lighting is viewed in the kitchen — yes it needs to be practical first and foremost, but there is no need why practical cannot also equal design wow.
Think enormous pendants, great big dangling statement pieces and shades that glimmer internally thanks to their metallic coatings.
14. Built-in Dining Booths
The trend for built-in joinery ideas has really taken off this year and it is set to become even bigger in the kitchen in 2022.
Bespoke built-in dining booths in particular are one to look out for. They not only make the best use of the space and proportions of a kitchen – an especially good small kitchen idea – but they also add a sense of intimacy and conviviality.
15. The Lived-in Look
Want a kitchen that screams "come in, relax, make yourself at home"? Then the kitchen trend of 2022 that you'll love is the lived-in look.
This is a trend that really embraces the idea of the kitchen being a multi-functional space — not just one that cooking happens in. You can get the look by fitting a woodburning stove in the kitchen, a seating area, plenty of shelving and lots of cosy nooks and crannies within your kitchen design.
Think about the finishes you use too — limewash, distressed paintwork and natural materials will all add to the look.
"As the kitchen increasingly becomes a living space in its own right, kitchen furniture design is changing to follow suit," agrees Graeme Smith, Head of Retail and Design at Life Kitchens (opens in new tab) "Multi-functional furniture that blends the kitchen with the rest of the house will be more prominent in our kitchens going forwards. Stylish stand-alone pieces such as dressers, glass cabinetry and wooden shelving will be key, rather than the standard, built-in concepts."
16. Pantries With Glass Doors
If you are anything less than supremely organised then this is one particular pantry idea kitchen trend that may make you want to look away.
But whether you love or loathe the idea, pantries with glass doors are set to be a firm fixture in the kitchen trends of 2022 list. Pantries are now top of the wish list for many people designing a new kitchen — and internal glass doors, particularly those with industrial-style metal frames, are also desired interior fittings right now. Put the two together and what do you have...?
Still terrified? Consider using pantry doors with frosted or fluted glass instead.
17. Walnut Kitchens
Warm and full of character, walnut kitchens are the ideal way to ensure contemporary spaces feel modern yet never sterile — hence their place on the kitchen trends 2022 hot list.
Walnut kitchens also tick the trend for a natural finish in the kitchen — plus they sit brilliantly well alongside metallic and burnished finishes, as well as crisp white.
18. Gold Finishing Touches
First it was copper, then brass and now gold — these luxury metal touches have slowly been creeping into the kitchen for a few years now and are set to overtake the tried-and-tested stainless steel and brushed nickel finishes we have all become accustomed to (although it must be said these will remain popular).
They are basically the missing piece in the marble, forest green, dark herringbone flooring jigsaw.
19. Drawer Appliances
Tying in nicely with the kitchen drawers that have forced traditional kitchen cupboards on to the sidelines, drawer appliances are a fast-growing trend.
It started with freezer drawers but has now progressed to include dishwasher drawers — which just seem to make so much more sense than a dishwasher that pulls down then out.
20. Metallic Kitchen Unit Fronts
What started as a timid tiptoe into the world of brassy and bold metallics in the kitchen became a light jog and now we're full on galloping through this gleaming burnished world.
Gold taps and unit handles were just the tip of the iceberg and kitchens in 2022 are set to combine all kinds of shiny elements, including metallic unit fronts.
"Textures and materials are constantly evolving in kitchens, and with homeowners growing in confidence with their design choices, the finishes are becoming bolder," says Graeme Smith. "2022 will see more expressive tactile materials such as metallics, concrete and textured doors featuring heavy wood grains as well as marble-effect and stone finishes.
"Originally only used in industrial kitchens or very contemporary spaces, metal framing is growing in popularity. An eye-catching design element, the framing can be a great option for open shelving — with the metal finish carried through to features such as taps, and spindle island/table legs."
21. Chequerboard Flooring
Chequerboard flooring is set to be a big trend next year, but instead of the traditional black and white plain ceramic tiles, look at using interesting patterned tiles for a new twist on the look.
Marbles, even beyond black and white into browns and reds, add a sense of luxury to this classic kitchen flooring idea.
22. Antique and Smoked Glass
"The use of glass in kitchen design has always been a popular choice, however, over the past 12 months, we are starting to see it used more decoratively and dramatically as splashbacks or backdrops for open shelving," says Richard Davonport, Managing Director of Davonport Kitchens. "Clear glass has been usurped by the faux patina of antique and smoked styles that bring more of a unique and vintage addition to a kitchen."
Hugh is Digital Editor of homebuilding.co.uk and has worked on a range of home, design and property magazines, including Grand Designs, Essential Kitchens, Bathrooms, Bedrooms and Good Homes. Hugh has developed a passion for modern architecture and green homes, and moonlights as an interior designer, having designed and managed projects ranging from single rooms to whole house renovations and large extensions. He's currently renovating a Victorian terrace in Essex, DIYing as much of the work as possible. His current project is a kitchen renovation which involves knocking through walls and landscaping a courtyard garden.
Homebuilding & Renovating Newsletter
Get the latest news, reviews and product advice straight to your inbox.
Thank you for signing up to Homebuilding. You will receive a verification email shortly.
There was a problem. Please refresh the page and try again.