Picture Windows: How to Incorporate One into Your Design
By Hugh Metcalf published
Picture windows are a brilliant way to frame your view of the great outdoors. Here's what you need to know about them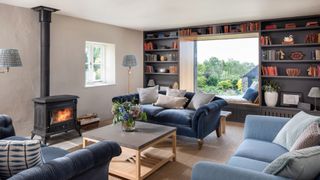 (Image credit: Dave Watts)
A picture window is a clever way to create a connection between the indoors and outdoors of your property. While it's not necessarily a separate style of glazing, the term picture window has become popular because it perfectly describes how the window is used — to frame a clear, unobstructed view as if it were a picture.
In modern self builds, renovations and extensions, picture windows have become a popular addition, helping to deliver those wow-factor moments that really make a home feel special.
(MORE: Window Styles)
Want to know more about picture windows? Here's the lowdown on everything you need to know, from how much they cost to how to best utilise them in a design.
What Exactly is a Picture Window?
"From a glazing perspective, technically a picture window is simply a large window," explains ID Systems' Edward Stobart, Head of Projects. Picture windows tend to be made from one large glazed pane with minimal framing or frameless. Picture windows are usually fixed, meaning that they're not windows that can be opened.
However, these characteristics don't have to be a limitation to choosing a picture window — they're better defined by their quality of framing a view simply, and allowing the outside environment to be the primary feature.
Where is a Picture Window Best Used in a Home?
Because they are so minimal in design, picture windows suit both traditional and contemporary properties. "They are best used in countryside or coastal environments," says IQ Glass' Carly Coren, "where the outside views can be maximised for the homeowners to enjoy. As structural glass is used to create windows of this nature, there are no restrictions on shape, size or structure — allowing large sizes to be achieved for the best result."
In these homes with outstanding views, picture windows can be used anywhere, from bedroom to living room and kitchen.
In urban areas, picture windows are more commonly specified for open-plan living spaces and kitchens, providing a view out into the garden and helping to draw natural light deeper into the structure of the home.
"For a real wow-factor creating a 90-degree frameless glass-to-glass corner offers panoramic views and a stunning appearance, whilst incorporating a window seat alongside a picture window has proven to be a hugely popular option for some," says Edward from ID Systems.
How Much Does a Picture Window Cost?
Typically a fixed frame window would cost from around £500 (ex VAT) per square metre on a supply only basis although the size and glass specification will impact this. This is a guide price and would vary depending on location, building structure and fixing details.
What Sizes do Picture Windows Come in?
It's unlikely that your picture window will be bought off the shelf, so they don't come in standard sizes as such. Most picture windows are made to order to exact specifications.
They can be manufactured in huge frames over 8m2 in size – although typically they are more often designed in 2-4m2 apertures.
"There are no 'max sizes' as such for our picture windows," explains IQ Glass' Carly Coren. "We can use multilane panes of glass with structural silicone to combine large panes for an oversized glazing finish whilst maintaining the frameless design.
How Energy Efficient are Picture Windows?
Though picture windows are large expanses of glass, they're typically energy efficient by design with impressive U values because they're fixed and sealed within the frame.
Of course, it depends entirely on the glazing specification used. "Opting for triple glazing will provide better thermal performance but will increase the weight of the sealed glass unit, meaning it wouldn't necessarily be possible to go for the largest sizes," explains Edward.
Hugh is Digital Editor of homebuilding.co.uk and has worked on a range of home, design and property magazines, including Grand Designs, Essential Kitchens, Bathrooms, Bedrooms and Good Homes. Hugh has developed a passion for modern architecture and green homes, and moonlights as an interior designer, having designed and managed projects ranging from single rooms to whole house renovations and large extensions. He's currently renovating a Victorian terrace in Essex, DIYing as much of the work as possible. His current project is a kitchen renovation which involves knocking through walls and landscaping a courtyard garden.
Homebuilding & Renovating Newsletter
Get the latest news, reviews and product advice straight to your inbox.
Thank you for signing up to Homebuilding. You will receive a verification email shortly.
There was a problem. Please refresh the page and try again.