Ceiling Lighting Ideas: How to Light Every Room From Above
By Amy Reeves published
Ceiling lighting ideas will make-or-break any home improvement project, so take the time to get inspired by these projects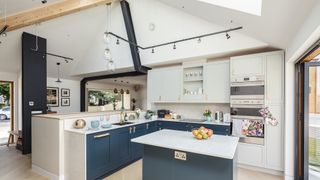 (Image credit: Simon Maxwell)
A mix of ceiling lighting ideas is essential for any good home lighting plan — from spotlights and downlights to striking pendants and dangling chandeliers.
Lighting design is the underrated hero of any home. It can take a dull, uninviting space and turn it into a welcoming room full of interest — but there's more to a lighting plan than meets the eye, particularly when lighting vaulted or tall ceilings.
Find out what it takes to create an effortless lighting scheme with our ideas and expert advice below.
Ceiling Lighting Ideas: Where to Start
"Lighting generally falls into three types: task, accent and overhead [also known as ambient or general], and considering the different ways in which you use the room will help you decide what's needed," explains Natalie Mann, new product development coordinator at Iconic Lights (opens in new tab).
"Each space will have a different purpose, for example the kitchen will most likely require more task lighting as you'll need this for food preparation, whereas the living room will require more ambient lighting for a cocooning feeling."
Different types of ceiling will require different lighting. For instance, a low ceiling in a cottage may necessitate discreet downlights, while a large pendant light could become a focal point in a double-height hallway.
The function and purpose of the room will also influence your choice of ceiling light — something which DIY designers might not always appreciate, ending with spotlight 'grids' throughout their home. However, Peter Bowles, founder and managing director of Original BTC (opens in new tab), suggests that shouldn't stop people from feeling they can express themselves through a well-considered lighting scheme.
"Homeowners of all different backgrounds are becoming more and more interested in creating dwelling spaces that reflect their unique personalities and tastes," he says. "People want items around them that are visually appealing and pleasantly tactile. Because of this, there is a decreasing emphasis on mass production, rough edges and poor finish, and a heightening desire for quality in all areas."
1. Give Different Rooms Different Styles of Ceiling Lights
"Ceiling lights do not need to be the same in each room, instead think of each room as its own space, with its own purpose," advises Natalie Mann. "Envisioning how you'll use the space will guide you on how to light the room.
"To figure out where you could potential add accent lighting, take a good look around the room and try to make note of any areas that your gaze is naturally drawn to. Try to step away your own perspective and look as if you're entering the room for the first time.
"The areas you normally see first may be based on habit, or because you know where things are. If you're struggling ask someone to help, a fresh pair of eyes should do the trick."
2. Make the Most of Vaulted Ceiling Spaces with Lighting
Lighting ideas for vaulted ceilings can be a tricky thing to pull off and very much depend on the specific space.
Generally, installing adjustable spotlights cast light upwards is an atmospheric option, while many homeowners choose to also include pendants strung from the apex of the room to really show off the impressive ceiling height.
Vaulted ceilings are all about creating architectural interest, so be sure to pick out specific elements, like beams, alcoves or roof lights, with accent lighting.
3. Create Drama with Statement Pendant Lights
While ceiling pendant lights have been around for decades, in the last 10 years or so homeowners have been experimenting with low-hung, eye-catching fixtures which really make lighting a key player in the interior design scheme.
"Large light fixtures serve as excellent focal points in kitchens, living rooms, foyers, and more," says Peter Bowles. "Oversized pendants are a great way to make a bold statement because they provide a sense of artistry without taking up any functional space."
In this kitchen large, industrial-style pendant lights have been hung over the kitchen island-cum-breakfast bar, while practical downlights and a rooflight feature more heavily in the preparation areas to provide task and ambient lighting.
4. Illuminate a Low Ceiling with Clever Lighting
Avoid large fixtures when lighting low ceilings from above as they can make the room feel even more squat and often create dark spots where the illumination is inconsistent.
Flush lights, such as downlights or recessed spotlights, are a comfortable option or more experimental lighting can provide a 'wash' over the entire room.
For instance, this home hides lengths of LED strip lighting within the timber cladding. White tube ceiling downlights have then be placed to follow the line of the kitchen island so users have a bright workspace. The stylish design is definitely a winning combination for a home with lower ceilings.
5. Combine Spotlights and Downlights for Dynamic Spaces
Two of the most popular ceiling lights to use are spotlight and downlights. While they are frequently confused, spotlights tend to be adjustable and provide a beam of light towards a particular point, while downlights are usually recessed into the ceiling in a grid format to provide general, ambient lighting.
"Spotlights work wonders in areas like the kitchen, utility and hallway, but can feel a little harsh when used in areas of relaxation like the living room or bedroom," explains Iconic Lights' Natalie Mann.
Don't feel like you have to definitively choose spotlight or downlights as they can be used on the ceiling in combination with one another for a well-balanced lighting scheme.
Although in this particular example the spotlights have been attached to the 'wall' of the double-height void, they bring a concentrated light to the kitchen from above — a similar look could be obtained in home with high or vaulted ceilings.
6. Use Dimmable Ceiling Lighting in Bedrooms
Bedrooms are tricky beasts to light — they're used at opposing times of the day and night and for multiple different purposes.
Getting ready, putting on make-up and being able to see into the depths of your wardrobe require good ambient and task lighting, while getting cosy to go to bed demands softer illumination.
Luxurious chandelier-style bedroom lighting ideas like the example above are a solid plan for this space. The fixture provides multiple shapes of LED downlight and has been installed centrally so the light distributes evenly over the room. A dimmer switch will be able to adjust the light levels easily as users enter the room depending on the time of day and task.
7. Stay on Trend with Natural Materials
"We have seen an increase in natural textures throughout every area of the home, including lighting solutions," says Natalie Mann. "This trend is all about utilising organic materials, and embracing their imperfect textures and forms.
"Incorporating raw materials, such as natural stone and wood, into your home is adaptable and versatile; you can use these elements to create a tranquil and calm space, using neutral coloured soft stone. Or you could create a masculine and industrial feel with an exposed brick wall and metal pipes and beams."
8. Keep Spaces Practical with the Right Ceiling Lighting
"Functional rooms such as kitchens, bathrooms and dining rooms should have lighting planned according to how the spaces are going to be used— task lighting is key in areas like the kitchen for example," says Piero de Marchis, director of Detail Lighting (opens in new tab).
"A lot of rooms in the home will have multiple functions, the kitchen for example should be able to transition for a practical, brightly lit space to a cosy and inviting feel in the evenings."
This home uses hung track spotlights which follow the line of the L-shaped kitchen and really makes the most of the vaulted ceiling. Smart kitchen lighting ideas like this demonstrates that ceiling lighting doesn't have to be complicated to light a large space.
9. Consider Temperature and Colour When Choosing Ceiling Lighting
Most ceiling light bulbs come in a choice of cool light vs warm light, or some can alternate between the two at the push of a button.
"To utilise each room, consider the function and mimic natural daylight," advises David Amos, CEO at Amos Lighting (opens in new tab). "Warm yellow lighting is better for resting as it is similar to evening light at sunset. Cool white light has a more stimulating effect and should be used in rooms of activity."
"We would normally supply residential properties with warm 3000K or extra warm 2700K lighting for a homely feel," adds Detail Lighting's Piero de Marchis.
"4000K may be considered for gym areas or perhaps if the interior is especially crisp and contemporary in style, but it's worth nothing the cool white lights are not flattering for skins tones and can make you appear a bit more grey in tone, so always worth going for a warmer tone in areas like bedrooms and living spaces."
Take one room at a time to pick the best LED bulbs for the particular space and how you will use it.
10. Stay Stylish in a Living room
For room you use often and at various times of the day, such as a living room, make an effort to choose a ceiling light fitting that makes the room feel special and welcoming.
Living room lighting ideas work best when multiple light sources are utilised – not just from the ceiling – to create a 'mood' depending on if you're having a cup of tea with a friend, reading a book or watching TV at night.
This home used long pendant wires with multiple hooks around the room so the family can move the bulbs around depending on the natural light levels and what they are doing in the multi-functional space.
11. Carefully Consider Ceiling Lighting in Circulation Spaces
Many homeowners feel quite limited with hallway lighting ideas to a simple line of downlights, as pendant lights can get in the way of users moving around the house.
However, if you think of circulation spaces such as the hallway and staircase as a transition areas leading to a new 'zone' of the house, some clever tricks can be used to make every space feel special.
"Zones such as hallways and staircases should be planned with connection in mind, with low level lighting, wall and ceiling lighting all key considerations," says Piero de Marchis.
While the hallway here might at first glance seem like a standard strip of downlights, upon closer inspection a long, continuous strip of LED lighting leads into the open living room space. The eye is drawn down the compact corridor to the living room, where the same lighting motifs are repeated.
12. Get Creative with Your Ceiling Lighting Ideas
When creating a lighting plan with your electrician or lighting designer, be wary of a formulaic and generic organisation of the lighting fixtures. The joy of rewiring or designing a new home is that the scheme can be customised to suit your layout and lifestyle.
"Avoid a boring grid of lights and position the recessed spots where the furniture is grouped or alternatively light your walls," continues Piero de Marchis. "Where possible use extra warm 2700K lighting and more narrow beams for a warm and cosy feel."
13. Control Ceiling Lighting with Smart Technology
One of the biggest lighting trends of recent years is to combine the design with smart home tech.
This enables homeowners to simply push one of the buttons and a different combination of light fixtures can be programmed to turn on and off. This is perfect for open-plan homes where the lighting requirements will change as the day passes.
This home used stylish strips of LEDs recessed into their ceilings to create their lighting design but crucially the circuit was controlled by a panel which meant the young family could easily switch off every light in the house as they left — ingenious!
Which Light is Best for Ceilings?
Downlights and pendants are among the best choices for ceilings, but in order to assess what lighting will work best in your home, there are a couple of factors to consider.
"Lighting can either be used to create separation between rooms, by using different lighting to create a distinctive environment in each room. Or lighting can be used to create a flow through the home, by using consistent lighting style," advises Amos Lighting's David Amos
"A key consideration when planning lighting is the function of the room. For example rooms where tasks and activities are take place may need task lighting. Whereas a room meant for resting in will be better suited to gentle pendants and lamps."
How do you Modernise a Ceiling Light?
A central ceiling light was the de rigueur in every room in our homes. However, one central ceiling light alone often does not provide enough illumination and can create shadows in a room. They can feel particularly outmoded in spaces such as bathrooms, too.
"In a conventional setting, you can cap-off the central pendant and extend the wiring from that circuit; using recessed spots (downlights) gives more flexibility in angling the lights and positioning them where light is needed," advises Piero de Marchis of Detail Lighting.
Alternatively swap a central ceiling light for a pendant and pair with wall lights and table lights for coverage across the space — this works particularly well in living rooms.
Assistant Editor Amy began working for Homebuilding & Renovating in 2018. She has an interest in sustainable building methods and always has her eye on the latest design ideas. Amy has interviewed countless self builders, renovators and extenders about their experiences for Homebuilding & Renovating magazine. She is currently renovating a mid-century home, together with her partner, on a DIY basis, and has recently fitted her own kitchen.
Homebuilding & Renovating Newsletter
Get the latest news, reviews and product advice straight to your inbox.
Thank you for signing up to Homebuilding. You will receive a verification email shortly.
There was a problem. Please refresh the page and try again.