Bathroom Zones Explained: Just What Are IP Ratings?
By Natasha Brinsmead published
Confused by bathroom zones or IP ratings? Our simple guide explains all you need to know about which electrical fittings you can use where in your bathroom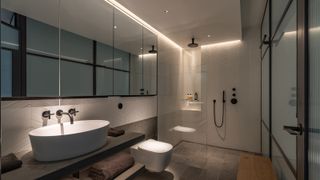 (Image credit: John Cullen Lighting)
You may well have seen or heard the term 'bathroom zones' being used while planning your new bathroom — but what exactly does that term mean?
In general, this is something used to split the various areas of a bathroom into defined sections, each of which can only be fitted with certain electrical fittings — and understanding a bit about these zones will really come in handy for your bathroom ideas.
Electrical fittings that are most commonly used in bathrooms – such as lights and bathroom extractor fans – all come with an IP rating that determines where in the bathroom they can be used.
Our easy-to-understand guide to bathroom zones explains everything you need to know when it comes to buying the right electrical fittings for your new bathroom so that you can be sure it is a safe, relaxing space to enjoy.
What Are The Different Bathroom Zones?
When it comes to bathroom design and electrical safety, all bathrooms can be divided into zones. Each zone is based on how close it is to the water sources in the room (taps, showers and the like). In each of these zones, any electrical appliances installed will need to have a certain IP Rating to ensure they are safe to use in that particular space.
The bathroom zones are as follows:
Zone 0: The area inside the bath or shower — this would also apply to shower enclosures and wet rooms too.
Zone 1: The area above the bath or shower up to a height of 2.25 from floor level.
Zone 2: The area reaching 0.6m outside the bath's perimeter, up to a height of 2.25m from the floor. Many experts in the field also recommend considering the area around a wash basin, within a 60cm radius of taps, as Zone 2.
Zone 3 (also referred to as 'Outside Zones'): These are basically any areas that lie outside Zones 0, 1 and 2 and where no water jets will be used.
What is an IP Rating?
Once you have an understanding of bathroom zones, you can confidently start to explore your bathroom lighting ideas, as well as any other electrical fittings you might be interested in incorporating. When choosing, you will notice that these kinds of items all come with an IP rating. But what does this mean?
It is actually pretty simple. 'IP rating' standings for 'Ingress Protection rating'. A fitting's IP rating shows how much protection it has against moisture and particles, such as dust. The 'IP' is followed by two digits — the first of which indicates how well protected the fitting is against the ingress of foreign objects and particles, and the second of which indicates moisture protection.
The first digit can range from between 0 and 6, while the second will be between 0 and 8. The digit 0 indicates no protection at all, while the higher numbers show that the fittings are pretty failsafe — so if you see a light with IP68 you know it offers the highest protection.
IP Ratings For Bathrooms: Which Can You Use Where?
Now you know your way around the world of bathroom zones and IP ratings, it is time to explain which IP ratings are suitable for which zones.
In Zone 0: Only low voltage fittings can be used here (maximum of 12v) and they must have at least an IP rating of IP67.
In Zone 1: Only use fittings with a minimum IP45 rating. That said, most experts still recommend using only fittings with a IP65 rating (which most shower lights will be anyway).
In Zone 2: Fittings will need to have a rating of at least IP44.
In Zone 3 (or Outside Zones): No set requirements here, but most bathroom light suppliers still advise using lights with a rating of at least IP20+ to be on the safe side.
And, finally, it is worth noting that in areas of the bathroom where you might be using jets of water (such as from the shower), perhaps to clean, stick to fittings with a rating of at least IP65.
Natasha is Homebuilding & Renovating's Associate Editor and has been a member of the team for over two decades. An experienced journalist and renovation expert, she has written for a number of homes titles. She has renovated a terrace and is at the end of the DIY renovation and extension of her Edwardian cottage. She is now looking for her next project.
Homebuilding & Renovating Newsletter
Get the latest news, reviews and product advice straight to your inbox.
Thank you for signing up to Homebuilding. You will receive a verification email shortly.
There was a problem. Please refresh the page and try again.