Cool Light vs Warm Light: Which Should I Choose?
By Hugh Metcalf published
We take a look at the differences between cool light vs warm light and how to plot out light colour temperature for the different rooms in your home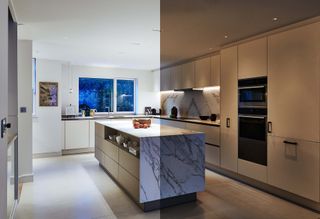 (Image credit: Ingrid Rassmussen/Verity Woolfe c/o John Cullen Lighting)
When it comes to choosing between cool light vs warm light for your home's lighting design, there's no definitive rules as such that you have to follow. While in this guide we'll look at the characteristics of each kind of light and the areas of the home each is best suited to, it really does come down to personal preference and what you want your lighting scheme to achieve.
It's important to remember that not only does the colour temperature of light affect the aesthetics of your home, but plays a role with your body's relationship with sleep and alertness, meaning that making the right choice is essential to your health and wellbeing while in your home.
What's the Difference Between Cool Light vs Warm Light?
Colour temperature is measured in Kelvins — the higher the number, the colder and brighter the colour of light. At one end of the scale, candlelight is approximately 1,000 Kelvins, while at the other, cool daylight sits at around 6,500 Kelvins with the potential to reach up to 10,000 Kelvins. The scope of light temperatures used as part of a residential lighting design is much narrower however, largely using just warm and cool white lights.
Warm white light contains more red, orange and yellow tones, which creates a softer light with a more cosy feel. Cooler light contains more blue, which makes for a crisper, fresher light. Cool light is brighter than warm light, making it better suited to task lighting, but also means it can feel harsh in the wrong setting.
Cool white light sits at around the 3,000 to 4,500 Kelvin mark, after which you begin to get into the type of light described as daylight or natural light. These bulbs tend to be colder, with more blue, making it too stark for residential lighting. Cool white light is a happy median between the two for areas of the home where brighter illumination is required.
Is Cool Light or Warm Light Better?
In the UK, a warm white light is the standard choice for use in a home setting. Warm white tends to range from between 2700 to 3000 Kelvins, but there's no industry standard to qualify something as a warm white, only people's perception. John Cullen Lighting, for example, uses 2700 Kelvin LEDs as standard for its installs, as this is the perfect warm white for their customers.
In the UK, and much more of the Western world including Europe and the US, warm light is associated with a sense of cosiness that makes it attractive for homes, while cool light has a starkness, but productivity about it that denotes commercial, work spaces.
"For hospitals or in the workplace cooler light temperatures from 3000-6000 Kelvin are usually used to keep the brain stimulated and awake," explains Senior Lighting Designer Estefania Marquez of John Cullen Lighting.
With this, it's also worth considering how light temperature factors into circadian rhythms. Warm light is more compatible with the goal of your circadian rhythm — stimulating melatonin production which induces sleep, though if you're looking to work late nights or similar, you might be looking for the opposite effect. This is a key part of why lighting is such an important factor in biophilic design principles.
Biodynamic lighting systems are smart lighting designs which take into account colour temperature and circadian rhythm, adjusting the light temperature throughout the day to ensure it matches the needs of the user. That would mean that a cooler, brighter light can be used for the darker early evenings in the winter months, ensuring you're not ready for bed by 6pm, but transitioning to warmer light temperatures as the evening progresses. This is the same sort of idea that light wake-up alarm clocks use to help our bodies enter and exit sleep gradually by changing light temperature slowly over time.
Should I Pick Cool Light or Warm Light for a Room?
When it comes to choosing between cool light vs warm light for individual rooms, certain spaces better suit the characteristics of different light temperatures.
However, keep in mind that it's possible to mix different temperatures of light across the varying levels of your lighting scheme. That's why a well-thought out lighting design is key, ensuring any room can be cosy and comforting or stimulating and functional as needs dictate.
However, to do this successfully, use small increments in differences between warmer and cooler lights, rather than using opposite ends of the Kelvin scale, as this could create a jarring effect when more than one lighting design idea is on at a time.
Should I Choose Cool Light or Warm Light for my Living Room?
A living room isn't a space that usually requires many functional tasks to take place, and is used for rest and relaxation in the evening, so best suits a warm light temperature.
Task lighting such as reading lamps should be given a slightly cooler hue; however, and functional downlights can be cooler if used for practical tasks like cleaning, as long as wall lights and pendants are also in place to ensure that a warm, ambient light can be created in the evening when using the space.
"For shelving in a living room, I would also recommend using 2400 Kelvin LED strip which creates a warmer feel at night when you want a more relaxing atmosphere," says Estefania. "Don't be afraid to include warmer temperatures ranging from 1900-2400 Kelvin in decorative fittings in as it will add a feeling of warmth. This works particularly well for living room lighting ideas in listed properties."
Should I Choose Cool Light or Warm Light for my Kitchen?
The role of the kitchen has changed in recent times, from a purely functional space to the heart of the home. It's true that when using the kitchen to prep food in the evening, a lighting mix of solely warm white light may feel a little dim, but you also need to keep in mind how your kitchen lighting ideas play into the rest of your space, especially when you have a large open plan kitchen.
The perfect mix might see wall lights and pendants hanging over a kitchen island with a warmer hue, while downlights or spotlights and under cabinet lighting has a task-friendly cooler tone.
Should I Choose Cool Light or Warm Light for my Bathroom?
In many instances, cooler light is perfect for a bathroom. It's largely a functional space, and getting ready for the day without appropriately bright lighting could lead to some mishaps. Bathroom mirrors with integrated lighting tend to be cooler temperatures for this reason.
However, it's good practice to include at least one warmer bathroom lighting idea in your space. This is especially important if you have a bathtub, as taking a bath in cold, bright light is hardly the environment for unwinding. A dimmer, warmer light option is also great for when you wake up in the middle of the night and need to use the bathroom.
Should I Choose Cool Light or Warm Light for my Bedroom?
Bedrooms, in general, don't require cool lighting, and for the healthiest sleep, even warmer light tones can be used for your bedroom lighting ideas. If your bedroom doesn't get much natural light, you may want to consider some slightly brighter, cooler downlights to aid with cleaning, but these won't generally be used in the evening when settling down for the night.
Should I Choose Cool Light or Warm Light for my Home Office?
While a home office should, in an ideal world, get most use during the daylight hours, an effective lighting scheme is important to reduce eye strain. Cooler light will ensure greater productivity in a home office, so incorporate brighter, whiter bulbs when lighting a home office.
If your home office doubles up as a guest bedroom every now and again, the ability to change up these temperatures will make any visitors more comfortable using this room. Much in the style of biodynamic lighting systems, it is possible to buy smart LED bulbs that can have their colour temperature altered via a Bluetooth connected app.
Should I Choose Cool Light or Warm Light in the Garden?
Warm lighting is preferable for garden lighting ideas designed to accent your landscaping. "Anything cooler than 3,000 kelvins or higher can make a garden feel ghostly at night," says Sian Parsons, lighting designer at John Cullen.
For security lights and floodlights, you're likely to find much colder lights of around 6,000 Kelvins, which deliver a brightness that's sufficient to deter intruders.
Hugh is Digital Editor of homebuilding.co.uk and has worked on a range of home, design and property magazines, including Grand Designs, Essential Kitchens, Bathrooms, Bedrooms and Good Homes. Hugh has developed a passion for modern architecture and green homes, and moonlights as an interior designer, having designed and managed projects ranging from single rooms to whole house renovations and large extensions. He's currently renovating a Victorian terrace in Essex, DIYing as much of the work as possible. His current project is a kitchen renovation which involves knocking through walls and landscaping a courtyard garden.
Homebuilding & Renovating Newsletter
Get the latest news, reviews and product advice straight to your inbox.
Thank you for signing up to Homebuilding. You will receive a verification email shortly.
There was a problem. Please refresh the page and try again.