Lighting Trends: 11 Ways to Illuminate Your Home
By Hugh Metcalf published
Searching for the latest lighting trends for a self build, renovation or extension? Here's the ideas that are proving big this year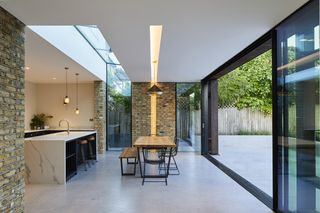 (Image credit: Chris Snook)
The latest lighting trends aren't always just about what kind of shade you put on a table lamp — lighting is an often overlooked, but important part of home design that can be the make or break your relationship with your rooms and even affect your health.
With that in mind, we're looking at the biggest trends in lighting design that can both be designed into your home during the build process, or allow for easy retrofitting to improve your lighting scheme, alongside some of our picks of the best lighting styles we expect to see give your house a glow up.
Here's 11 lighting trends that you should consider for your project this year.
1. Bold, Built-in Lighting Concepts
There are certain lighting trends you can only adopt if you're designing a new space, or seriously renovating a property. These are often bold, architectural lighting interventions that make your lighting scheme ingrained into the fabric of your building. As more and more people look to self build and improve their existing homes, we predict to see more clever architectural lighting design ideas like this example by homeowners Ed and Melissa Addington.
Their home, designed by Stylus Architects (opens in new tab), features a recess over the dining area, mirroring the up and over skylight that floods the kitchen with natural light in the daytime. However, at night, this recess is more than just ornamental — it's fitted with a LED lighting that creates a bold and dynamic feature for the space in the evening.
2. Zoning Your Home With Lighting
You may have heard about ways to zone an open plan space with lighting before, but the idea extends so much further than just how the physical fixtures can help demarcate areas from one another and create zones in the space. Directional lighting, whether that's spotlights or downlights, can be used to drawer the eye to a certain area, while grouping a different style, colour or luminosity of lighting can also create a 'zone' within your open plan space, without actually creating physical divides.
As we transition into a world in 2022 where many people spend more time at home, you can expect more of a focus on broken plan spaces and more thought given to how to divide existing spaces back up into these smaller, more intimate arrangements.
"Open plan living and kitchen-cum-dining spaces in particular require versatile and well-planned lighting to zone successfully - from task spot lighting over practical areas to dimmable, mood-enhancing pendants over dining tables," says Piero de Marchis, Director of Detail Lighting. "It is due to this desire to achieve ultimate multifunctionality that we anticipate homeowners integrating transformative multi-purpose lighting solutions into their homes as a priority."
3. Plaster in Light Fittings
Recessed lighting, whether that's downlighting or LED strip lighting, is an efficient use of space that also offers useful ambient lighting across your room, however, if not handled well, they can be unsightly in a space.
The big trend when it comes to these sorts of lights is to look at plaster-in fixtures. These are primarily designs where the light fixture itself can be plastered over, creating a light which is flush with the ceiling, meaning now outer rims and ensuring a more minimalist finish to your design. With some LED strip lighting, you may find this is designed to sit flush when fitted at the plasterboard stage.
While the overall effect is much more sleek, one thing to consider is how much the light is recessed behind the plastered-in fixture, as these types of light tend to sit much higher up, especially when looking at downlights. This can create a narrower beam of light which spreads across the space less, making a more focused area that each downlight illuminates and potentially affecting the overall ambient lighting of the space. However, this is less of a problem in areas with lots of downlights or in homes with higher ceilings.
4. Easy to Control Lighting
"Thanks to advances in technology, and an increasing desire for full controllability in our homes, Bluetooth-controlled lighting will start to become the norm," says Piero de Marchis, Director at Detail Lighting. "Advances in LED lighting, both in appearance and technology, mean that complete connectivity is more possible than ever before."
"Bluetooth controls and receivers can now work in tandem with standard switches, so one touch of a fingertip on your smartphone can gently transform the ambience and mood of any specific area."
These types of lighting are also easy to retrofit, and are more versatile and changeable than hard-wired smart lighting systems, allowing homeowners to get to know their lighting needs and amend and add to any smart set-ups as they continue to live in their home.
5. Low Energy Lighting
This trend has, fortunately, largely been adapted as a way of life, especially for new builds and renovations, over the last few years, but if you're yet to get on the low energy lighting bandwagon, here's what you need to know.
LED bulbs are the most efficient and long lasting type of light bulb, and largely incandescent bulbs have been phased out in favour of these types. It's even possible to recreate the look of popular incandescent styles such as squirrel cage light bulbs with LED filaments, offering you the warm glow of these style of bulbs but with the modern, energy-efficient credentials.
6. Architectural Accent Lighting
Another trend you can expect to see in self builds and extensions in 2022 is a greater focus on accent lighting. While accent lighting may offer ambient lighting and task lighting in some applications, it's generally defined as a type of lighting that is designed to highlight a feature of the space.
Accent lighting is often used for backlighting shelves, illuminating wall art and adding drama when used as a staircase lighting idea, there's plenty of ways it can be used to ensure that the design of your home looks as good during the night as it does in the day.
Lighting upwards is something that shouldn't be overlooked in 2022, especially when considering lighting ideas for vaulted ceilings. By illuminating ceilings, roofs and around roof glazing, you can draw the eye up at night and ensure your architecture is well-defined no matter the time of day.
7. Biodynamic Lighting
For the last few years, you'll have seen the concept of biophilic design crop up on the interior design trends list, but did you know that this concept can be applied to lighting too? Biodynamic lighting is a concept by which light is adapted throughout the day to meet the requirements of a healthy circadian rhythm. To put it in simple terms of cool light vs warm light, it's brighter, whiter light in the morning and during the day, while a warmer, softer light is used in the evening to help stimulate the hormones that allow for healthy sleep cycles.
While true biodynamic lighting can only be achieved with specialist systems installed, you can certainly mimic some of the effects using colour changing bulbs controlled by your smart phone which allow for your lights to emit both cool white and warm white light.
8. Easy Install Wall Lighting
So with that, we've covered the big trends in architectural lighting for self builds and extensions, but what about the lighting trends in materials and styles for fixtures and fittings?
One idea to consider when renovating and retrofitting lighting into a house is this idea of non-hard wired wall lights. Styles of wall lights with external wiring that are connected to a standard socket have exploded over recent years as a quick fix for people who want to improve their lighting scheme, but don't want the expense (or mess and hassle) of re-working circuits and making channels into the walls. Simply fix to the wall, then plug in your light and you're good to go.
This can be a particularly good bedroom lighting idea, as you'll have bedside tables which help to obscure the slightly messier area when you need to plug these lights in.
One downside is you won't be able to control these lights from a switch like the main lights, but by teaming them up with one of the best smart plugs, you can create a smart lighting scheme that utilises all your wired-in and plug-dependent lighting in one place.
9. Bold, Modern Chandeliers
Maximalist lighting is in, and over-sized and highly decorative pendant lights and chandeliers are set to continue to be a big trend in 2022. While ornate chandeliers with lots of arms are set to be a lighting trend that endures, look towards bold round designs as the next big thing in lighting styles.
This brand new design from Original BTC (opens in new tab) called the Shard Chandelier is a standout for 2022 already.
10. Portable Lamps
Another great option for expanding your lighting scheme while working with these existing lighting set-up, portable, rechargeable lamps had a complete glow up in 2022, with new styles suited for use indoors being developed by brands including Pooky (opens in new tab).
The benefits of adopting this type of lighting is numerous, once you get past the idea that you'll have to make sure you plug it in to charge every now and again. Not only can you move it around to provide task lighting as and when you need it, but you can include it in your permanent lighting scheme, adding a lamp where there may not be easy access to a plug. This works for shelving units, coffee tables and side tables, even when they're in the middle of the room.
11. Decorative Glass Fittings
Decorative glass continues to be a popular lighting trend, particularly where a softer, more ambient lighting solution is required. Opaque glass orbs are popular fittings for both traditional and contemporary looks, depending on the fixture it's designed with, while reeded and fluted glass also continues to be popular, especially as a bathroom lighting idea.
These fittings are a particularly good pairing with contemporary black fixtures, which "can sometimes be overpowering", says Peter Legg, lead designer at där lighting. "Combinations contrasting the tint with ribbed and opal glass shades are rising in popularity as they introduce softness, balancing out the look and creating a perfect blend," he explains.
Hugh is Digital Editor of homebuilding.co.uk and has worked on a range of home, design and property magazines, including Grand Designs, Essential Kitchens, Bathrooms, Bedrooms and Good Homes. Hugh has developed a passion for modern architecture and green homes, and moonlights as an interior designer, having designed and managed projects ranging from single rooms to whole house renovations and large extensions. He's currently renovating a Victorian terrace in Essex, DIYing as much of the work as possible. His current project is a kitchen renovation which involves knocking through walls and landscaping a courtyard garden.
Homebuilding & Renovating Newsletter
Get the latest news, reviews and product advice straight to your inbox.
Thank you for signing up to Homebuilding. You will receive a verification email shortly.
There was a problem. Please refresh the page and try again.