Spotlights or Downlights: What's The Difference?
By Natasha Brinsmead published
If you are wondering whether to choose spotlights or downlights for your lighting scheme, we're here to explain the ins and outs of each to help you decide.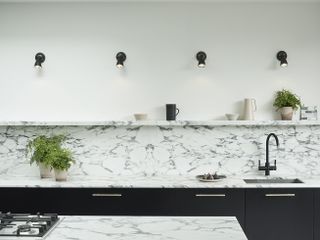 (Image credit: Davey Lighting)
Not sure whether you're looking for spotlights or downlights for your project? That might be because the terms spotlights and downlights are often used interchangeably — which can be confusing as they are actually two quite different types of light.
If you are at the lighting design stage of your project and are trying to decide whether spotlights or downlights are the best option for a particular space, our quick guide to the differences between the two will help you choose.
What Are Spotlights?
The term spotlight basically refers to a light that gives out a narrow beam of light that can be directed towards a particular point — they are usually fully adjustable. Spotlights are one of the best ways to ensure good task lighting in a space — that is, the type of lighting that allows you to carry out a specific job that requires targeted light, such as reading, a hobby or food preparation, for example
Spotlights come in several different forms but will usually be surface mounted. Ceiling spotlights are particularly popular and can be in the guise of a few spotlights mounted onto a round base, or those fixed to long narrow strips, often referred to as bar spotlights.
Although the lights are fixed to one unit, each 'spot' can be adjusted to point in a different direction, highlighting various areas or features within the room. It is also possible to buy single spotlights.
Wall-mounted spotlights are another option — a great way to illuminate a treasured piece of artwork or turn an armchair into the perfect spot to cosy up with a good book.
Although spotlights are often used for task lighting, providing they are fixed in a central position and that there are enough spots, they can also be a good source of general lighting for an entire room.
What is a Downlight?
Quite unlike spotlights, downlights are designed to be recessed into the ceiling, as opposed to surface mounted.
Downlights are usually comprised of an LED lightbulb set into a metal cylinder, with a small decorative trim usually the only visible part of the unit, although it can also be plastered in to be flush with the ceiling or even fully recessed up into the ceiling. They are held in place with spring or compression clips.
Downlights are a great source of general lighting and, depending on how they are positioned with the space, can be used to create zones, as well as highlight features and even provide task lighting. They look best when used in combination with other light sources — for example table and floor lamps along with wall lights.
They are particularly popular with those after bathroom lighting ideas as they are widely available in bathroom-suitable IP ratings.
(MORE: Check out our Best Bathroom Lighting Picks)
Spotlights or Downlights: Which is Best?
There is no straight answer to whether spotlights or downlights are best — you'll need to assess which will work best for your needs. They can also be used together to create layers of light.
Downlights tend to be the preferred option for those with open plan spaces, looking for a good way to provide a broad spread of general lighting — setting them on dimmers ensures they can be easily controlled to suit whatever activity happens to be taking place in the room. Used as the only source of light, they can seem a little sterile — which is why they are usually used in conjunction with other types of fitting.
Spotlights, on the other hand, are a great way to ensure you can have a targeted light source exactly where it is required.
A layered lighting scheme will ensure your space has character and can be adapted for a number of uses — combine downlighters, spotlights, lamps and concealed LED lights for maximum effect.
Natasha is Homebuilding & Renovating's Associate Editor and has been a member of the team for over two decades. An experienced journalist and renovation expert, she has written for a number of homes titles. She has renovated a terrace and is at the end of the DIY renovation and extension of her Edwardian cottage. She is now looking for her next project.
Homebuilding & Renovating Newsletter
Get the latest news, reviews and product advice straight to your inbox.
Thank you for signing up to Homebuilding. You will receive a verification email shortly.
There was a problem. Please refresh the page and try again.