Lighting a Home Office: How to Light Up Your Work Space
By Natasha Brinsmead published
Our expert guide to lighting a home office includes everything you need to know in order to create a happy, productive work space at home.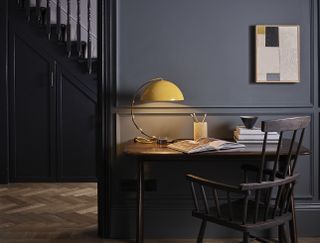 (Image credit: Original BTC)
Lighting a home office properly is crucial if you want your work space to be productive and a pleasure to spend time in.
Working from home has pretty much become the norm for many people, leading to a surge in interest in home office design. The need for office furniture that looks beautiful as well as being comfortable has also risen.
Perhaps one of the most important elements in creating a home office though is lighting design — without giving careful consideration to lighting a home office, what should be a space that encourages creativity and efficiency can easily become somewhere that feels dull and depressing.
Our guide to lighting a home office explains the steps you can take to ensure your lighting design scheme is spot on and explains how to position your light sources properly too, as well as highlighting the importance of natural light in the home office and how to take full advantage of it.
How to Design Lighting for a Home Office
Before you can start choosing lighting for a home office, you will need to think about several key factors and ask yourself certain questions, the answers to which will help you select the best lighting products and create the most effective lighting design scheme for you.
Before you begin, ask yourself:
What time of day will the office be used the most?
Who will be using the room?
Will there be more than one person working in here at a time?
How much natural light does the room receive and where does it enter the space?
Are there areas you want to highlight, such as shelves or within cupboards?
Will the room be used for other activities other than working (such as for a guest bedroom)?
The answers to these questions will help you build up an idea of the kind of lighting that will work best. For example, if you realise that two people will often be working in the room at once, you will need two sources of task lighting. Likewise, if you come to the conclusion that you will often be working in the space in the evening, you will need to carefully think about the best artificial light sources to provide enough light for you to work comfortably.
Best Ways of Lighting a Home Office
When it comes to successfully lighting a home office, it is important to understand how to use layers of lighting. If you have not come across the idea of 'layering' light before then fear not. The term simply refers to combining different types of light to ensure that all the requirements that a particular space demand are met.
You are probably already using layers of light elsewhere in your home, perhaps without realising it. Does your living room feature recessed downlights and a selection of floor lamps? Is there a central pendant light in your bedroom along with bedside table lamps? If so, you are already layering light.
There are several different types of light that make up these layers and some are more suitable for certain rooms than others.
(MORE: Lighting Design Ideas)
Types of Lighting for Home Offices
The best way to light a home office is to include a combination of three main lighting types — ambient (or general) light, task lighting and ambient lighting. Each of these plays a different role. Let's take a look at these different types of lighting in a little more detail.
Ambient Lighting: This is the background lighting that serves to illuminate the entire space. It is usually provided by a central pendant light, recessed downlights or a selection of wall lights.
Task Lighting: This is the very practical type of light that allows you to get the jobs you need to carry out in a space done. In a home office, task lights often come in the form of directional desk lamps, although floor lamps and even low hung pendants over your work area can work too.
Accent Lighting: Accent lighting is primarily there for aesthetic purposes, allowing you to draw attention to features or certain areas of the room.
Accent lighting is also sometimes called directional light. Good sources include hidden LED strip lights, wall washers and uplights. While this type of lighting is not as crucial in a home office as task or ambient, it helps to make the space pleasurable to be in.
(MORE: Best LED Bulbs)
"Integrating lighting into shelves can make a great eye-catching feature while also adding additional light to the room," says Luke Thomas, Design Director at John Cullen Lighting. "A product such as our Contour HD27 linear lighting strips under shelving for a soft yet consistent glow of light works well, paired with integrated Etta Eyelid Under Cupboard Lights to create a spot and focus. When combined with additional layers of light from correctly positioned downlights and table lamps, this can create a calming ambient light to work by. This can be adjusted depending on the intensity of the natural light."
The Importance of Natural Lighting in a Home Office
Natural light and the way in which it enters your home office is hugely important, although even if your space is flooded with natural light, you will still need some kind of artificial lighting.
In order to make the most of the light entering the room from outside, aim to position your desk in the area that receives the most natural light.
Some people prefer their desk to face the window, but others find that a little distracting. In this case, place the desk at a perpendicular angle to the window instead.
If your only option is to place the desk with the window behind you, be sure to fit a blind on the window for days when the bright sun could cause glare.
Where to Position Lights in a Home Office
The positioning of your home office lights is just as crucial as the fittings you choose.
"A grid pattern will often light dead space, but lighting towards the walls and other vertical surfaces makes rooms feel bigger and brighter" advises Luke Thomas.
"Avoid harsh shadows on the desk area," he continues. "Place two or more low glare LED downlights to cross light the work space. Ensure fittings are positioned so that the user is not working in their own shadow — you do not want to position them behind the desk.
"When selecting a beam, go for a wide beam for any downlights and maybe consider adding a honeycomb lens to soften the light and reduce glare."
How Much Light Does a Home Office Need?
When designing a lighting scheme you will see two common measurements — lux and lumen.
Lux refers to how much light falls on a surface, whereas lumen indicates how much light is emitted by a light source (usually a bulb). You might also see a Kelvin level.
"The Kelvins (K) is the colour temperature and it's best to use either 2700K or 3000K for an office," says Luke Thomas. "For a home office I would go with 2700K so it is not too stark and you achieve a softer ambience".
Some desk lamps allow you to change the colour temperature according to your needs.
When it comes to lux levels, it is advised that for general office work, a lux level of 250 and above is required, while school classrooms require at least 300 lux and computer work areas should have 500 lux.
Natasha is Homebuilding & Renovating's Associate Editor and has been a member of the team for over two decades. An experienced journalist and renovation expert, she has written for a number of homes titles. She has renovated a terrace and is at the end of the DIY renovation and extension of her Edwardian cottage. She is now looking for her next project.
Homebuilding & Renovating Newsletter
Get the latest news, reviews and product advice straight to your inbox.
Thank you for signing up to Homebuilding. You will receive a verification email shortly.
There was a problem. Please refresh the page and try again.