10 Gorgeous Lighting Ideas for Vaulted Ceilings
By Amy Reeves published
These stunning lighting ideas for vaulted ceilings will help you illuminate sometimes awkward spaces in practical and dynamic ways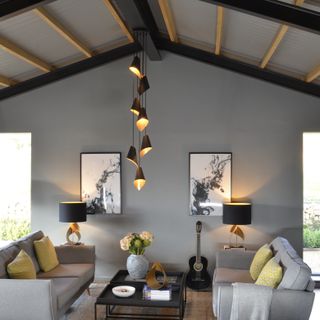 (Image credit: Arcform)
Finding lighting ideas for vaulted ceilings can be a tricky task. Not only are sloped or angled roofs a unique feature, but choosing the right light fixtures for these spaces can impact the rest of the interior design.
From show-stopping pendants that draw the eye up to the apex of the ceiling to cleverly-positioned spotlights to highlight an oak beam or architectural feature, choosing the right lighting design for the space is crucial. These decisions will need to be confirmed early on in the build process so changes later down the line are not required — saving time and money.
1. Dramatically Layer Lighting Ideas for Vaulted Ceilings
As with any good lighting design, mixing different types of lighting will serve a room with a vaulted ceiling well.
While it might be tempting to focus only on aesthetics of a lighting fixture in such a dramatic space and utilise accent lighting, such as spotlights to highlight this specific architectural feature, beware of making the rest of the room too dark to be properly used.
Task and ambient lighting should be used in conjunction with accent illumination for best results.
2. Create a Flexible Lighting Design in a Large Space with Vaulted Ceilings
In this stunning modern extension great kitchen lighting ideas have been applied to illuminate the large vaulted space.
The white spotlights on the ceiling can be aligned individually on their track and the low-hung pendants at the apex provide task lighting on the worktop, creating a versatile lighting setup that functions with a busy kitchen area.
(MORE: Are Spotlights or Downlights Right for My Scheme?)
3. Go Big for Added Drama
Originating from the centre of the sloping ceiling, large steel pendants have been hung to match this quirky kitchen design.
4. Highlight Unique Features with Vaulted Ceiling Lighting
Where vaulted ceilings feature unique or interesting features, such as alcoves or an oak beam, a smart idea is to add an uplighter to create a warm wash over the surface. The trick works well in old and new buildings alike and creates a well-considered atmosphere in practically any room.
This stunning bedroom in an oak frame self build home includes carefully positioned spotlights to highlight the exposed frame and ceiling peak.
(MORE: Bedroom Lighting Ideas to Create a Calm and Restful Space)
5. Stay Simple When Lighting a Low Vaulted Ceiling
Keep small or low vaulted ceilings relaxed with adjustable wall light fittings that can be adapted as required between task and accent lighting, like these aged brass spotlights with long adjustable arms.
6. Make the Most of Very Tall Sloped Ceilings
This kitchen does nothing by halves and that includes the vaulted ceiling lighting. Including rooflights which let in plenty of natural light during the day and spotlights for ambient lighting, the space is practical, yet incredibly stylish. Plus, long-corded pendants hanging low over the worktop are an unforgettable addition.
7. Use Warm Light in a Vaulted Living Room
As vaulted spaces are so much larger than rooms with flat ceilings, colour temperature and lumens are just as important as the fixture itself when it comes to living room lighting ideas. It is best to do your research into what will work best with the individual space — a good lighting designer will be able to calculate the space's requirements for you.
The warm up and down lights gracefully skim up the brick interior wall of this living room and cast off the white-painted vaulted ceiling, creating a comforting glow perfect for a cosy night in.
8. Create a Practical Workspace in the Loft
Vaulted ceilings are often featured in loft conversions and extensions so planning how you will light the sloping ceiling in advance will ensure electricians, plasterers and builders will know what to expect early on.
This home office design in the loft includes carefully positioned downlights to create a bright environment while plenty of natural light is brought in through the new rooflights.
Lighting a home office is an important task that can affect wellbeing and productivity — be sure your vaulted ceiling doesn't cast too many shadows and is a welcoming space day-to-day.
9. Include an Eye-catching Pendant
Vaulted ceilings are all about drama, so lean into the architectural design and add a stunning pendant light that will attract attention no matter where visitors are in the room.
10. Embrace all Types of Light with an Unusual Vaulted Space
In side return extensions such as this one, it can be tricky to choose lighting styles due to certain design restrictions.
Here, the boxed-in steel beam where the external wall once sat has been lined with two long strips of LED lights at the high point of the slope while practical spotlights, glamorous pendants and atmospheric wall lights work together as one united lighting design.
Assistant Editor Amy began working for Homebuilding & Renovating in 2018. She has an interest in sustainable building methods and always has her eye on the latest design ideas. Amy has interviewed countless self builders, renovators and extenders about their experiences for Homebuilding & Renovating magazine. She is currently renovating a mid-century home, together with her partner, on a DIY basis, and has recently fitted her own kitchen.
Homebuilding & Renovating Newsletter
Get the latest news, reviews and product advice straight to your inbox.
Thank you for signing up to Homebuilding. You will receive a verification email shortly.
There was a problem. Please refresh the page and try again.