Kitchen Ceiling Ideas: Add Drama Above the Hub of Your Home
By Amy Reeves published
Our on-trend kitchen ceiling ideas – from interesting cladding to vaulted ceilings – will help you design every inch of this key room from top to bottom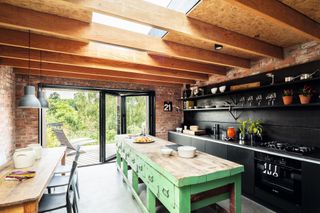 (Image credit: Simon Maxwell)
Often overlooked, kitchen ceiling ideas have the ability to transform even the simplest room kitchen into an interesting and inviting hub of your home.
While types of ceilings don't necessarily get the attention that flooring or wall coverings do, they're becoming more of a central focus and talking point. This is particularly the case thanks to the rise of features like vaulted ceilings and architectural cladding.
Below, we've gathered a range of different ideas from real projects to inspire your own design.
Kitchen Ceiling Ideas That Will Turn Heads
"Unfortunately, in the UK, the majority of our homes are mass produced to a fairly uninspiring standard, with very low ceilings and negligible design interest," begins Allan Corfield, founder of AC Architects (opens in new tab). "When creating or remodelling your own home, you have an opportunity to forget the norm and create something special."
Whether you're self building, extending or simply remodelling an existing space, plan your kitchen ceiling ideas as part of the wider kitchen design to ensure a cohesion of materials, colours and textures.
1. Add a Rustic Touch to a Vaulted Ceiling
Vaulted ceilings are known for being impressive features and they can help present a light, airy kitchen. For a successful kitchen, integrate your vaulted design with the rest of your interior scheme — this could be through the lighting plan or creative paintwork, as shown here. The coastal style that the rest of the home enjoys is emulated in the white-washed tongue-and-groove pitched ceiling.
The importance of lighting ideas for vaulted ceilings is also illustrated with the long-strung pendant lights which draw the eye up to the central apex — a truly dramatic and show-stopping feature to include in a kitchen design.
2. Paint High Ceilings in Small Kitchens a Bold Colour
The old belief that dark or bold colours aren't meant for ceilings has been disproved so many times over the last few years, it's surprising more homeowners aren't braver with their colour choices.
While not every kitchen style can pull off an entirely black and green design, as shown here, continuing a wall colour overhead is a fantastic way to make a small kitchen feel really considered and interesting — although choose colours carefully as some will suit lower and higher ceilings differently.
Essential to this style is finding out how to light a kitchen correctly as nobody wants or needs any dark spots in a place with so much going on. The modern cluster chandelier (from Dowsing & Reynolds) makes the room feel much bigger by taking advantage of the high ceilings.
3. Build in a Clever Lighting Scheme
While we tend to stay with classic plasterboard ceilings for our kitchens – and for good reason – that's not to mean they can't perform extra functions.
Using a dropped or false ceiling enabled the couple behind this self build to create a recessed track for their downlights in the open-plan kitchen; they painted it black for a striking look.
Pendant lights feel higher thanks to this design over the breakfast bar/island, while the rest of the room is neatly illuminated without visual clutter from too many ceiling lights.
4. Clad a Kitchen Ceiling with Tongue-and-Groove Panelling
A style that will never go out of date, tongue-and-groove panelling is a great option for those whose kitchen ceilings are looking a bit tired and in need of maintenance.
Installing ceiling cladding ideas like this can be done on a DIY basis and can possibly turn out cheaper (and less invasive) than hiring a plasterer to replaster.
What's more, using kitchen ideas like this which can hide wiring easily (for new downlights) and other work will save time, money and effort from your electrician.
5. Bring Light in From Above
If you're extending your kitchen, or creating a new one during a self build, add extra-long rooflights to your wish-list immediately.
We're seeing this feature more and more in kitchen ceilings as a way to introduce light from above, usually directly above the cooking or preparation areas so natural light can do all the work illuminating the places you need.
"One of the first things people notice in a freshly extended property is whether it feels light and airy," says chartered surveyor Ian Rock. "Natural light is a fundamental part of the 'feel-good-factor' in any building and spaces endowed with plentiful amounts tend to be perceived more favourably by occupants."
This kitchen uses a large rooflight as the perfect antidote to the dark-painted cabinets below, ensuring the room is both contemporary and welcoming.
6. Create a Modern Farmhouse Look with Exposed Beams
Use your ceiling to a stunning effect by exposing beams and roof trusses in a vaulted design.
"An advantage of building a double-height room is that it provides an opportunity to expose the structure," says Allan Corfield.
"It's vital to use a construction method that can create a high space without a lot of roof structure getting in the way. There are a number of options for this, but the most common are timber cassette roof or a SIPs roof."
7. Leave an Interesting Building Material Exposed
From blockwork and formed concrete to bricks and cross laminated timber, there are all sorts of building materials that can be left exposed to create a visually rich kitchen ceiling aesthetic.
Here, the homeowners left their cross laminated timber structure exposed on the ceiling and stained it in Osmo oil. The result is a scandi-inspired, open plan living space that has a real warmth.
8. Use a Kitchen Ceiling to Zone an Open-Plan Space
Ceilings can be used to demarcate different areas in an open plan kitchen space. This is especially helpful if you're looking for a kitchen-diner which is connected, but still want spaces to feel like they have their own identities.
A change in ceiling height is a great way to do this, either by vaulting the kitchen itself, or the living or dining areas. If you're knocking through during a kitchen renovation, using the steel to create distinct ceiling spaces is another popular (and fairly simple) idea.
Or, as in this open-plan space, differentiate between a kitchen and dining space using ceiling textures. The exposed beams in the kitchen create a really dynamic space that flattens down above the dining space (also note the exposed steel beam painted in a contrasting dark grey running along the walls and along the top).
9. Use a Ceiling to Hide a Kitchen Extractor
As our kitchens are becoming more versatile than ever, sinks, hobs and ovens are all migrating towards the centre of the room on islands and peninsulas. Unfortunately, this creates its own problem as kitchens require a certain amount of extraction around cooking areas and traditional chimney models can look odd when plonked above a social breakfast bar.
Solutions like downdraft extractors help when designing a kitchen island, as do flat and wide extractor fans, like this one, as they can be installed along the ceiling so eyelines aren't disrupted.
The key to making this style shine is the wood cladding around the border of the extractor unit which has been made to match the existing beams running the length of the kitchen.
10. Take Wall Cladding Above and Beyond
One of the biggest kitchen trends of 2022 is to use timber cladding up walls and along the ceiling lines for a cosy, rustic cabin finish.
This idea is easy to update – simply restain or repaint the internal timber cladding – and can be achieved using reclaimed wood for a sustainable and textured interior design.
What Should I Put on My Kitchen Ceiling?
While kitchen ceilings tend to be finished with plasterboard and a skim of gypsum, this isn't the only thing homeowners can put on a kitchen ceiling.
Interior timber cladding can provide a rustic or contemporary look, and decorative panelling is ideal for more traditional-style homes.
What is the Cheapest Way to Cover a Ceiling?
The cheapest way to cover a ceiling is installing tongue-and-groove panelling on a DIY basis. Other popular ceiling covering estimates (based on an average kitchen size of 13.44m2) include:
Painting a ceiling is also a cost-effective and simple way to make a kitchen more interesting — try out colours other than white for a unique space, or even consider a pattered wallpaper.
Assistant Editor Amy began working for Homebuilding & Renovating in 2018. She has an interest in sustainable building methods and always has her eye on the latest design ideas. Amy has interviewed countless self builders, renovators and extenders about their experiences for Homebuilding & Renovating magazine. She is currently renovating a mid-century home, together with her partner, on a DIY basis, and has recently fitted her own kitchen.
Homebuilding & Renovating Newsletter
Get the latest news, reviews and product advice straight to your inbox.
Thank you for signing up to Homebuilding. You will receive a verification email shortly.
There was a problem. Please refresh the page and try again.