Ceiling Cladding Ideas: Sleek Designs for Overhead Coverings
By Amy Reeves published
Discover our favourite ceiling cladding ideas and how to copy them — from exposed brick to wood panels and everything in-between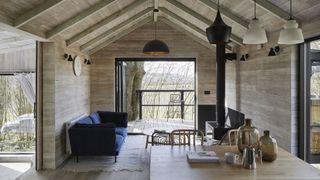 (Image credit: Chris Snook c/o Main Company)
Finishing a room with ceiling cladding ideas is a lesser-seen but no less impactful way of introducing texture, warmth and interest to a space.
Creating a feature ceiling through cladding will take some forethought as to the different styles available — the wrong application can make a mess of an interior scheme and you'll be left with something that draws the eye in the wrong way.
Below, we go through the different ideas and types of ceiling cladding that are gaining traction in the home design world and show you how to apply them in your own home.
Why Use Ceiling Cladding Ideas?
"For a long time, timber cladding was seen only as a very traditional method of finishing off walls internally," begins associate editor Natasha Brinsmead.
"The cladding comeback isn't just focused on traditional and classic design though — contemporary homeowners have got in on the act too, realising the scope of timbers, finishes and designs available provides the ideal solution for adding character and warmth to a modern home. And realising it's application for ceilings as well as walls."
"We're finding an increased interest in 'real' materials: walls and surfaces that are self-finished rather than covered over with plasterboard, skim and paint," adds architect Paul Testa.
Using house cladding on a ceiling can be used in isolation to capture the magic of a vaulted ceiling, or as part of a whole-room design.
1. Give Yet More Character to a Vaulted ceiling
While vaulted ceilings are one of the most desired house design ideas of the last few years, many homeowners are not sure where to start when decorating them. Cladding will help personalise this already impressive feature.
Interesting cladding paired with good lighting ideas for vaulted ceilings will futher embrace the decadent shape and integrate it into the overall home design.
2. Use Wood Cladding as a Ceiling Motif
Rather than covering the whole ceiling, use cladding to create a running motif around the room.
This solution works best for flat ceilings, and can be a great option for spaces with low ceilings, too. Instead of drawing attention to the squat walls, cladding the ceiling directs attention higher, building the illusion of more space.
In this stylish kitchen, strips of larch cladding have been installed alongside recessed LED strips and tube downlights. Lighting low ceilings by concealing the wires and services using cladding declutters the ceiling and finishes off a well-planned and stylish space.
3. Get an Industrial Style with Metal Cladding
We've certainly seen metal cladding come to the fore of exterior home designs which want to blend into agricultural settings over the last few years, and this trend is beginning to infiltrate interior design too.
Materials like zinc cladding, corten (also known as weathered steel) and even corrugated metal are cropping up as unusual wall finishes — and now they're migrating to the ceiling!
In this home the walls and barrel vaulted ceiling have been covered in continuous painted corrugated metal, bringing texture and architectural oomph to an otherwise pared-back kitchen.
4. Complete a Cosy Bedroom with Wood Ceiling Cladding
"As more and more homeowners look to achieve the modern country look there has been an increase in demand for rustic and reclaimed decor," explains Alex Main, director of The Main Company. "An alternative to traditional painted ceilings or walls, cladding is an ideal choice for those looking to add character and interest to a space.
"Previously popular as an external wall covering, cladding has now become an internal fixture, from the more polished painted planks all the way to salvaged, raw designs. With an abundance of texture, salvaged planks benefit from inherent markings and dents which will add to an interiors unique charm."
For a truly cosy and characterful finish, use timber cladding ideas continuously around the room, as in the example above.
5. Stay on Trend with a Ply-Lined Ceiling
"Birch-faced plywood is a common choice; it's dense, robust and adds natural texture and warmth to a space," explains Paul Testa. "It's been traditionally used as a low cost wall finish, but it's not cheap to buy and it's time expensive to install and finish well. It is a lower carbon choice than a gypsum-based plasterboard, too."
Ply was used to line the walls and ceiling in this vaulted ceiling extension alongside cork flooring to create a practical, warm family space. "We wanted to evoke the feeling of a wooden hut," say the homeowners.
6. Cover a Bathroom Top to Bottom
Textured plaster wall covering ideas such as clay, Venetian plaster or Tadelakt can be also used on ceilings.
"Tadelakt is a Moroccan plaster finish that has actually been around for centuries," says deputy editor Michelle Guy. "This lime-based plaster is water and mould resistant, making it excellent for bathrooms. What's more it's low maintenance – there's not a single grout-line in sight – and aesthetically pleasing."
This high-end shower room uses the Tadelakt on the ceiling to create a seamless wetroom.
7. Leave Construction Materials Exposed
If you're using a construction material such as stone, brick or CLT, why not leave it raw to really show off its beauty?
This extension by Studio Ben Allen used local, handmade York bricks that were too interesting to cover up. "The L-shaped extension celebrates brick as a structural load-bearing material, rather than just as a cladding," says director Ben Allen.
8. Achieve a Classic Look with a Tongue-and-Groove Ceiling
Endlessly charming, tongue-and-groove panelling on the ceiling had been used for decades to conceal imperfect ceilings.
They can be painted, oiled or stained to suit any interior style. In this traditional sitting room, the panelling has been painted to match other joinery, such as the door and built-in dresser unit on the right.
Can You Put Cladding on a Ceiling?
Cladding can be used on the ceilings of the majority of homes, but different projects may require different levels of preparation.
In renovations, where cladding can be useful to conceal less-than-perfect ceilings, the surface may still need attention before being covered.
How Do You Clad a Ceiling with Tongue and Groove?
"Most internal cladding comes in the form of tongue-and-groove boards that can be nailed and glued together or as straight-edge boards," says Natasha Brinsmead.
In most cases cladding can be fixed directly to the ceiling, just as you would a wall. If your ceiling features timber joists, be sure to find and use these to secure the cladding. Alternatively, nail or screw softwood battens at right angles to the wall, spaced around 400-600mm.
If you're cladding the ceiling on the underside of a roof, you will need to use a vapour barrier placed behind the battens — this will prevent condensation and rot from damaging any structural timber.
Where the cladding will be painted, simply fill in the nail/screw holes, sand and paint over. If not, use secret nailing (where the boards are nailed at an angle through the 'tongue' section of the wood) to achieve a flawless finish.
Can You Have Cladding on a Kitchen Ceiling?
Cladding can be installed on a kitchen ceiling, but you may want to choose a style that is easily cleaned or low-maintenance, such a uPVC cladding. Good home ventilation may be key too. However, if your cladding will be placed away from cooking areas, timber and metal cladding can also be used.
Assistant Editor Amy began working for Homebuilding & Renovating in 2018. She has an interest in sustainable building methods and always has her eye on the latest design ideas. Amy has interviewed countless self builders, renovators and extenders about their experiences for Homebuilding & Renovating magazine. She is currently renovating a mid-century home, together with her partner, on a DIY basis, and has recently fitted her own kitchen.
Homebuilding & Renovating Newsletter
Get the latest news, reviews and product advice straight to your inbox.
Thank you for signing up to Homebuilding. You will receive a verification email shortly.
There was a problem. Please refresh the page and try again.