Types of Ceiling Explained: Don't Let Them Go Over Your Head
By Natasha Brinsmead published
The types of ceiling used in a home have a huge impact on its look and feel — so if you haven't before considered the all-important fifth wall, now is the time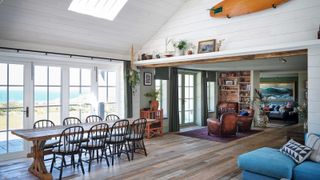 (Image credit: Dan Duchars)
Although you might not have given much thought to the types of ceiling you plan on having in your home – or are already living with – this is actually a massively important element of house design.
In new homes, the height of the ceiling can really make or break the overall feel of the rooms — too low and the space can feel oppressive and lacking in natural light, too high and the whole area can feel empty and vacuous.
Some types of ceiling, such as vaulted ceilings, can also become features in their own right — adding to the character or wow factor of a home.
Our guide to ceiling types explains the most common designs out there — get to know them so that you can ensure you choose the right option or treatment for your individual space.
What Are The Most Common Types of Ceiling?
You might be surprised to learn that there are actually a pretty broad range of ceiling types, each with their own merits and abilities to alter the look of a space.
Some ceiling types will be more expensive and time-consuming to construct than others — and not all ceiling types will be suitable for all styles of home either.
If you are renovating, you might be facing the task of repairing old ceilings staring upwards and wondering how deal with them — perhaps they are too low or in need of repair, for example.
The types of ceiling we will be discussing here are:
Standard ceilings
Vaulted ceilings
Barrel vaulted ceilings
Beamed ceilings
Suspended ceilings
Cove ceilings
Recessed ceilings
Domed ceiling
Double-height ceilings
Glazed ceilings
Coffered ceilings
1. Standard Ceilings
Standard ceilings are also referred to as conventional ceilings or flat ceilings. They are the easiest and cheapest type of ceiling, usually finished in plasterboard attached to the underside of the joists that make up the floor above.
Painting a ceiling such as this a bold colour will add interest if you are worried about the whole thing looking a little one dimensional.
Lath and plaster ceilings were common in older homes, made up of narrow strips of wood, animal hair and lime plaster.
Although there is nothing in the Building Regulations to state what ceiling heights should be (except in the case of above staircases), the standard ceiling height in the UK is 2400mm and experts recommend not going any lower than 2100mm.
2. Vaulted Ceilings
Vaulted ceilings add drama and character to both single and double-storey homes. While they are now a commonly requested feature by those self building, if you are building an extension or converting your loft, you could also consider taking this opportunity to create one — they can really boost the sense of space and light in the rooms they grace.
There are lots of different types of vaulted ceiling, some more suited to traditional-style homes and others ideal for contemporary spaces.
In period-style homes, leaving the timber rafters and beams exposed will really add to the character and charm of the rooms. Likewise, contemporary spaces can look stunning with exposed steel ties.
Vaulted ceilings look fantastic paired with banks of rooflights or fully glazed gable ends — they also present homeowners with the perfect opportunity to incorporate a mezzanine floor level.
If first floor space is limited, you might like to consider a partially vaulted ceiling instead.
On the downside, vaulted ceilings in a house can be more expensive to construct than standard designs, plus they can make a space hard to heat. There is also the matter of cobwebs to consider — as well as how to change lightbulbs.
3. Barrel Vault Ceiling
Barrel vaulted ceilings are another alternative to vaulted ceilings, shaped like the inside of a barrel, creating one long, continuous arch. They look fantastic used in open plan spaces and along hallways and are particularly effective when combined with ceiling cladding ideas such as timber, as seen here.
4. Beamed Ceilings
Beamed ceilings are a common feature of traditional homes and, in particular, period cottages, where the supporting beams of the floor above are left exposed. Original timber beams add a warmth, charm and character that is hard to beat.
Of course not everyone will have exposed beams in their homes, which is why many people choose to fix faux beams to their ceilings to add interest. If this is an idea that appeals to you, take the time to consider whether the addition of beams will make your ceiling seem too low. Bear in mind that lighting low ceilings with beams might need a bit of creative thinking, too.
5. Suspended Ceilings
Also known as false ceilings, suspended ceilings are built beneath the original ceiling, usually by attaching plasterboard to timber battens or metal beams.
There are the ideal solution for anyone looking at ways to conceal services such as wires or ducting (for an extractor hood, MVHR (mechanical ventilation with heat recovery) ducting or an air conditioning unit, for example). They are also perfect where recessed ceiling lights are being installed.
Again, be sure your room won't be adversely affected by the lower height of a suspended ceiling.
6. Recessed Ceilings
If you want to make a real design statement in your home then this ceiling type may be the one for you. Recessed ceilings – sometimes known as tray ceilings – feature a central section that is higher than the surrounding ceiling.
They are usually created by building a suspended ceiling around the periphery of the room. They are useful in spaces with very high ceilings as they can make a space feel a little more intimate and cosy — plus they present the perfect opportunity to incorporate some concealed LED strip lights around the edge of the recessed section.
Recesses can be designed in all kinds of shapes, from rectangular to circular, and can have straight crisp edges, or be fitted with some interesting architrave.
7. Cove Ceilings
Coved (or cove) ceilings feature curved mouldings or sections at the join between wall and ceiling. They make an interesting feature and can be designed in a number of different ways, softening the edges of a room.
In their simplest form, a coved ceiling can be created by fixing deep, curved coving around the perimeter of the room.
For a more dramatic coved look, a curved mesh is sometimes attached to the join between wall and ceiling, before being plastered over — although this is a job for a skilled plasterer and can be costly. It is also possible to buy solid wood curved sections to create the look.
8. Domed Ceiling
If you want to make a strong, grand design statement in a room, then this ceiling type may well be just what you have been looking for.
This type of ceiling is made up of a flat plane with a concave domed section, usually in the centre of the room. The dome can be glazed or solid, when it is often painted in a contrasting colour to the rest of the ceiling. Dome ceilings look great paired with a feature pendant light or chandelier.
While a domed ceiling will really add some wow to an entrance hall or in a dining space, there are certain requirements. They are most commonly constructed by building a suspended ceiling around a domed section that is formed using thin pieces of timber or fully glazed.
If you know how to plasterboard a ceiling, you will could carry out some of the work yourself, otherwise it will be best to call in the professionals.
9. Double-Height Ceilings
Double-height ceilings are a popular feature, creating one voluminous space from ground floor right up to the underside of the upper storey's ceiling. In many ways, a double-height ceiling is very similar to a vaulted ceiling, although they can also be flat, just as you would expect of a standard ceiling.
Although they result in some of the most striking spaces and really open up some amazing landing ideas, they do have their downsides.
Double-height spaces can take a lot of energy to heat and can feel a little cavernous if care is not taken. They also mean sacrificing some first floor space, and can be hard to reach to dust.
10. Glazed Ceilings
Glazed ceilings come in many forms. A simple solution is to use ceiling glazing and rooflights — roof lanterns add a sense of space, make beautiful features and pull in an incredible amount of bright natural light.
You could also consider a fully glazed ceiling using structural glass. Not only does this make a strong architectural statement, but it is also a fantastic idea for anyone where conventional windows are restricted — perhaps on side return extensions or in middle rooms.
Structural glass roofs usually need structural support, such as frameless glass beams or slim steel supports.
11. Coffered Ceiling
Coffered ceilings are actually based on a classical design and are made up of a series of grids formed by either recessed sections or stuck on mouldings.
Although this style of ceiling tends to be thought of as very traditional, a ceiling made up of recessed panels in a grid pattern can actually work brilliantly in contemporary homes, particularly when paired with hidden LED lighting.
This a ceiling type that works best with high ceilings — at least 2,700mm or more is preferable.
Natasha is Homebuilding & Renovating's Associate Editor and has been a member of the team for over two decades. An experienced journalist and renovation expert, she has written for a number of homes titles. She has renovated a terrace and is at the end of the DIY renovation and extension of her Edwardian cottage. She is now looking for her next project.
Homebuilding & Renovating Newsletter
Get the latest news, reviews and product advice straight to your inbox.
Thank you for signing up to Homebuilding. You will receive a verification email shortly.
There was a problem. Please refresh the page and try again.