Garden Landscaping Ideas: Create a New Garden From Scratch
By Natasha Brinsmead published
Our beautiful garden landscaping ideas will make the job of turning a blank canvass into a beautiful outdoor space a far less daunting task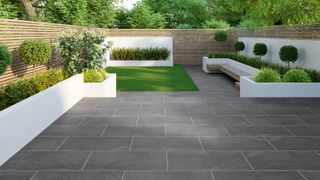 (Image credit: Tile Mountain)
Lacking in great garden landscaping ideas? Whether you have self built and are staring at your bare plot trying to summon some garden inspiration, or have inherited a less than attractive outdoor space, our collection of the best ways to really make the most of a garden blank canvas is here to save the day.
Creating a new garden from scratch actually presents you with some unique opportunities and often results in some of the most successful end results. Not only will you be spared the headache of having to work around existing items or hurdles, but you can also think about exactly how you want the space to work for you.
You should approach the design of your new garden just as you would the design of a new house, weaving in features you have long been dreaming of and taking the chance to create something that is tailored precisely to your individual requirements.
Our round up of garden landscaping ideas brings together some of the best tips around on how to get stuck into transforming your new outdoor space from bland to grand.
Garden Landscaping Ideas From Scratch
Before you can start to develop your landscaping ideas you need to pull together a list of your top garden priorities. For your new space to meet all your needs, you need to know what you want from the space. Point to consider include:
The orientation of your site
You budget
How much maintenance you are prepared for
How you want to use your garden (dining in, for example)
Your site — sloping, shady, exposed etc.
The size of the garden
Your power and water supply requirements
1. Consider Using a Garden Designer
Starting with a bare plot might be your idea of a dream — or it may well feel more daunting than exciting.
It can be hard to know where to start faced with a completely blank canvas which is where a garden designer can be worth their weight in gold. Or how about taking a course in garden design yourself like the owner of this beautiful new garden?
"When the house was being built, we lived in a caravan which was a chance for me to sign up to a garden design course and complete it at home," explains owner Helen Day.
"There was nothing in the garden apart from the big trees — just muck, and the land was contaminated. We had to have all the soil brought in. I drew up a plan to scale, including two pergolas, and Victor (Helen's husband) 'drew' it on the garden. Luckily, he likes doing things like that! Then I set about planting..."
2. Keep Your Plant Choices Local
There are several reasons why it is best to choose native plants over non-native. Firstly, they are likely to do far better in the climate they were originally from with less hands-on input and secondly they will usually be cheaper to buy.
As well as choosing indigenous plants, do consider the orientation of your garden as well as your soil type — picking a planting scheme that enjoys free-draining soil and full sun for a shady garden with heavy clay soil is never going to give you an easy ride.
3. Create Private Spots in An Open Space
Sheltered and intimate seating spots are important in any garden, but when starting from scratch they can be lacking.
Take a look at the areas of the garden that will make the best dining or relaxing spaces and then ensure they are hidden from prying eyes. For this you need to pull together some garden fence ideas or look at garden walls or hedges, or use a combination of these boundary types.
Make sure that your privacy fence ideas won't block too much light or a great view.
4. Take Your Site into Consideration
Not all gardens are level, easy-to-work with spaces, but sometimes the most challenging sites result in the most stunning of schemes.
Rather than working against your site, use what you have. Incorporating terraces is the perfect approach for anyone mulling over sloping garden ideas — plus it helps you instantly form zones within an open space.
5. Create Somewhere For Alfresco Dining
Every garden should have somewhere to sit out and enjoy a meal in the warmer months. Creating a paved spot to locate your outdoor dining furniture will really ensure you can make the most of the new space.
Your patio ideas should take into consideration the size of your garden as a whole, where the sun is at the times you are likely to want to sit there the most, and how many people you will want to seat at your garden table.
Think about the paving material you use too — it needs to be level and offer good drainage.
6. Consider Building a Garden Room
Now is the time to think about whether your garden to play host to a garden room or summer house — it makes sense to construct this at the same time as other landscaping work is underway as you will be able to run power and possibly water and drainage to the space without disrupting the garden at a later date.
Your garden room ideas need to reflect both the style of your house, as well as the size and style of your garden — a contemporary garden will really suit a minimalist design of garden room, while a pretty English country garden will look best paired with a wooden, timber frame or brick built structure.
7. Think Through Maintenance Requirements
Not everyone relishes the idea of spending their spare time pottering around the garden — in fact for many people gardening can seem more like a chore than a pleasure.
If this sounds like you then really think through your material choices when it comes to your garden — what you are after are low maintenance garden ideas that allow you to enjoy your garden in a hands-off way.
Paving, artificial grass and fences and walls (as opposed to hedges) are all features to consider. This contemporary courtyard garden by Kate Gould Gardens (opens in new tab)was designed as an easy-to-care for space for children to play and the owners to entertain guests.
8. Get On Trend With An Outdoor Kitchen
According to a recent report by Atlas Ceramics (opens in new tab), outdoor kitchens are the most in-demand kitchen trend of 2022.
It isn't hard to see the allure of outdoor kitchen ideas — no more lugging meals to and fro and somewhere to store all your bbq and cooking equipment close to hand. Outdoor kitchens can also be designed to provide shelter (perfect for the unpredictable UK climate).
Creating a new garden from scratch is the ideal time to build an alfresco kitchen too — you will need power for appliances and lighting, and ideally a water supply.
9. Split Your Garden Into Zones
Gardens of all sizes can benefit from being split into different areas. Although zoning is often popular with those after small garden design ideas, this is a great way of dividing up large gardens too in order to avoid them feeling too exposed or lacking in interest.
The zones you create will obviously reflect how you plan on using the space, but possibilities include spaces for dining, quietly relaxing and for children to play in. Hedges, fences, walls and even larger plants can all be used to create different areas.
This traditional suburban scheme was devised by Kate Gould Gardens (opens in new tab) and features a circular structure created by shaped box and paving.
10. Mix and Match Hard Paving Materials
An expanse of hard landscaping can sometimes feel a little soulless but this can be avoided by using a combination of different paving materials.
Some of the best garden paving ideas include natural stone, gravel, porcelain and bricks — combining several of these in various patterns and designs will really add interest and soften the whole look of a space.
11. Introduce Water To Your Garden
The sight and sound of water in the garden really injects a sense of tranquility and magic into the space. There are so many ways to bring water into your garden design, from small wall-mounted water features to wildlife ponds, grand freestanding fountains or that favourite Japanese garden idea, a koi pond.
It is wise to plan water features in early on in the design process as you might need an electricity source to power pumps and lighting.
Likewise, ponds will benefit from early planning — all the better if you can get them dug while you still have builders on site with the necessary equipment.
12. Incorporate an Outdoor Fireplace
One up from a fire pit or patio heater, outdoor fireplaces not only look great, but they also mean those cosy evenings sitting outside need not be cut short by a sharp drop in temperature.
Locate your new outdoor fireplace close to your seating space and consider whether you will be prepared to use a builder to build the fireplace to ensure it has a good draw.
The gel fire in this contemporary garden by Kate Gould Gardens (opens in new tab) sits opposite an outdoor kitchen and features colourful glazed tiles.
13. Use Decking To Create a Seating Space
Using garden decking ideas to create a practical and attractive seating spot in the garden is a brilliant way to make the most of the space — plus, it can be a cost-effective solution too.
Garden decking comes in many guises, from traditional timber to low-maintenance composite and is quick to construct. Raised areas of decking are a great solution for those with sloping sites too.
14. Seize The Chance To Build a Swimming Pool
Always dreamt of waking up and diving into your very own swimming pool? Creating a garden from scratch is the ideal time to turn that dream into reality.
Although swimming pools are costly and won't be an option for everyone, they are a highly desirable garden feature for many. The standard size of a swimming pool is 11 x 4m but if your garden is not big enough to accommodate this it is, of course, possible to go smaller — or why not take a look a natural swimming pool instead?
15. Create Some Beautiful Built-in Seating
A really popular garden idea at present is to create built-in bench-style seating and combine it with planters. This is actually a brilliant idea for those with smaller spaces as it ticks two boxes at once — plus it is a project within the capabilities of most DIYers.
Ensure the new seating space feels protected by using boundaries that are high enough to deal with any potential overlooking issues.
Within this scheme by Kate Gould Gardens (opens in new tab) the outdoor entertaining space features a large built-in seating area, made up of polished concrete and grey tones with flashes of colour introduced by the soft furnishings and surrounding greenery.
16. Use Sunken Spaces For a Sociable Vibe
Sunken seating spaces can deal with a number of landscaping issues, including sloping sites and overlooking. However, digging out a sunken patio area is also just a brilliant way to add interest or create a cosy spot in which to gather with friends.
You should look at some retaining wall ideas first as you will need a way to hold the soil back around your new patio. These walls can often be turned into a beautiful garden feature in their own right providing you choose attractive materials to complement those used elsewhere in your garden or house design scheme.
17. Leave No Stone Unturned...
And finally, this is your garden, for your enjoyment — now is the time to get it right. Suddenly realising, months after the garden has been finished and flowers are beginning to bloom, that you wished you had added tree lighting or a water fountain at the bottom of the garden will result in messy disruption — not to mention additional costs that could have been saved if you had carried out the work all in one go.
So, if you for one minute think an outdoor shower, hot tub or garden games room might benefit your garden enjoyment be sure to have the services put in place for them early on.
Natasha is Homebuilding & Renovating's Associate Editor and has been a member of the team for over two decades. An experienced journalist and renovation expert, she has written for a number of homes titles. She has renovated a terrace and is at the end of the DIY renovation and extension of her Edwardian cottage. She is now looking for her next project.
Homebuilding & Renovating Newsletter
Get the latest news, reviews and product advice straight to your inbox.
Thank you for signing up to Homebuilding. You will receive a verification email shortly.
There was a problem. Please refresh the page and try again.