9 Front Garden Driveway Ideas for an Elegant Approach to Your Home
By Amy Reeves published
Use these front garden driveway ideas and expert advice to get the best from an entrance without eradicating a lawn or garden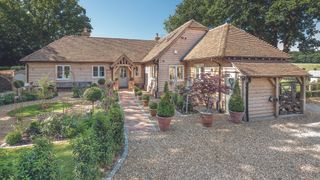 (Image credit: Simon Maxwell)
Designing an approach to a home using front garden driveway ideas can be a tricky thing to balance. While practicalities of modern living have to come as a priority, it shouldn't be to the detriment of your home's kerb appeal and its inhabitant's access to green spaces.
There are subtle decisions to make when designing a drive that sits alongside a front garden which will help soften functional driveway ideas. Of course, sufficient drainage and encouraging biodiversity in the plot surrounding our homes should be on the minds of anyone designing a new driveway and front garden.
From selective planting in front garden borders to matching materials in hardscaping, we've laid out below some smart ideas from real projects – big and small – that will ensure a welcoming driveway and front garden space.
Front Garden Driveway Ideas
Front garden ideas with a purposeful driveway don't always come hand-in-hand but there are great options and designs out there to suit every style and size home.
1. Achieve a Good Ratio Between Lawn and Drive
The first step to make when designing a driveway and front garden space is the ratio you will allocate to each element. While we would all like for the front of our homes to be in the majority lawn, this isn't a practical option for many homeowners with multiple cars and small spaces. As a result, some sacrifices in terms of green space have to be made.
Equally, paving over a front lawn with a driveway can be detrimental to your plot's drainage system so this ratio will need to be carefully considered in light of your plot's size.
"The ratio will really depend on the size of your space," explains Lee Dunderdale, product manager at Bradstone (opens in new tab). "Getting the right size driveway is crucial – so this is the best place to start when planning this area. Think about how many cars are in the household and how many you'd like to fit on the drive, and then think too about regular visitors – ensuring you're using your driveway for its purpose and keeping cars off the road.
"A lawn can often be a beautiful luxury at the front of the home, but once you've allocated your dedicated parking area, you can then install a real or fake lawn and some bedding plants to enhance your kerb appeal."
2. Use a Front Garden to Combat Driveway Drainage
Landscape designer Paul Hervey Brookes advises: "[Recent] flash flooding events are increasingly damaging, as the ground is hard from a long dry period or saturated from prolonged wet periods and the mains drains system cannot cope, causing water to back up.
"Perhaps the biggest difference everyone could make is not paving over large portions of our garden or turning front gardens into drives."
A good compromise can be a strip drive, whereby two strips of paving or aggregate are laid the width of a car's tyres with low-level plants that tolerate being parked over (such as thyme) in between. Alternatively a classic 50:50 split with a well-planned soakaway looks neat and is a clear divide between functional and aesthetic to allow more cars to be parked.
3. Create a Clear Route from a Driveway
While it can't always be avoided, it's best not to have cars parked directly in front of windows and front doors, both for pedestrian access and to preserve a pleasant view from inside the home.
Here, the front garden lawn surrounds the extended home, but a clear pathway creates a direct route to the drive. The lighting from the driveway to the front entrance further creates a high-quality finish that not only looks neat and tidy, but also blends the transition between garden and driveway.
4. Fence in Lawns for Safety and Security
If you have pets or young children who play on the front lawn, fence between that and a driveway to ensure no unpleasant accidents occur. Plus, a secure perimeter is a great way to deter unwanted visitors.
While this can be as simple as a wooden post with chickenwire infill, as above, a complete design can be tied into a driveway gate scheme.
Be aware of visibility splays when designing this feature as your plot might have legal obligation not to be obstructed from the carriageway.
5. Add Decorative Edge Transitions to Simple Plans
"If you have a limited budget then most of your money would wisely be spent in ensuring you create well planned parking and principal access routes from car parking to the main entrance of the house," suggests Paul Hervey Brookes.
Although this may reduce a landscaping budget, subtle detailing can be introduced to achieve a high-quality finish. Edging is a fantastic way to divide gravel driveways from lawns and will save more than a few headaches while mowing.
"When planning your new driveway don't think only about the materials you're putting down, but those that are already in place – the house!" says Lee Dunderdale.
This self build cleverly utilises a muted palette of brown/grey tones for their exterior design. The gravel complements the home's brickwork while stone edging contrasts with the dark timber cladding of the second storey.
6. Create a Rain Garden for the Best of Both
Rain garden (opens in new tab) designs function as a simple, but effective, drainage system by which rainwater runs off hard driveway surfaces towards an area with plants that can withstand being waterlogged, such as reed beds.
They are useful on sloping sites, like the property above which uses brick paving to direct surface water towards the corner of diverse planting, but can also be simple a dip in the land or an area of shallow ground.
Dedicating an area to non-grass landscaping for this purpose can be a low-maintenance way to make your garden more eco-friendly by encouraging bio-diversity and wildlife.
7. Introduce Plants to Brighten a Front Garden Driveway
When considering a garden design for a driveway, evergreen plants that appear welcoming all-year-round will nicely contrast and brighten a grey or beige-toned resin driveway, especially when in raised beds that create parking zones or turning circles.
For level bedding or borders, plant fragrant species that flower at staggered times of the year, such as Azalia, Lavender and Jasmine, to make a great first impression with visitors.
Rather than creating a traditional lawn, this stunning driveway has designed three, sizable beds that include low-level shrubs and brightly-coloured Lavender to provide visual interest to the resin-bound drive.
8. Choose Plants and Shrubbery That Can Provide a Purpose
The beauty of blending driveways with a front gardens is that the choice of plants can provide a multitude of purposes that a driveway might require.
"You may want to consider tree planting for screening or windbreak purposes and hedging for boundaries," suggests Paul Hervey Brookes.
Planting clusters of trees of tall shrubbery will also assist in a high level of privacy, be that into a front window, or to shield the view of a parked car from the street.
9. No Room For Both? Use Pots for a Greener Driveway
Lee Dunderdale suggests: "Remember that your driveway is the shop window to your home – it's the first place any visiting guests will see and a constant view for neighbours and passers-by. You want it to really showcase your style, and tease what might be to come within the home – creating a seamless transition inside and out.
"Most driveway paving options tend to be more toned down – greys, terracottas and browns – however, experiment with bright flowers and pots to brighten up your driveway and truly bring it alive."
Assistant Editor Amy began working for Homebuilding & Renovating in 2018. She has an interest in sustainable building methods and always has her eye on the latest design ideas. Amy has interviewed countless self builders, renovators and extenders about their experiences for Homebuilding & Renovating magazine. She is currently renovating a mid-century home, together with her partner, on a DIY basis, and has recently fitted her own kitchen.
Homebuilding & Renovating Newsletter
Get the latest news, reviews and product advice straight to your inbox.
Thank you for signing up to Homebuilding. You will receive a verification email shortly.
There was a problem. Please refresh the page and try again.