Low Maintenance Garden Ideas: Beautiful Gardens, Minimum Fuss
By Paul Hervey-Brookes , Hugh Metcalf published
These low maintenance garden ideas are perfect for people who don't have endless hours to dedicate to the upkeep of their outdoor spaces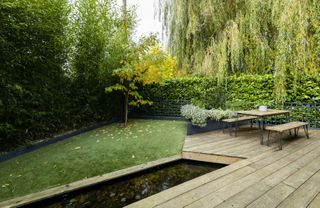 (Image credit: Jeremy Phillips)
Low maintenance garden ideas have long had appeal as a magical answer to having a stunning garden without the work. While it might not quite be that simple, it can be achieved with planning and careful selection of hard-working plants and durable materials.
Follow these rules and you can create a stylish garden design packed with interest, without hours of back-breaking work and care.
1. Planting Ideas for Low Maintenance Gardens
With an established or inherited garden, low maintenance garden ideas are slightly harder to put into action, requiring dedication to the long term goal. Here, editing planting towards large swaths of shrubs with flower and good autumn foliage and perennials will cut down on weeding.
When researching or selecting key plants, con consider those that offer more than one season of interest. These include shrubs which flower and fruit or have interesting autumn foliage and perennials that do a job such as covering ground with a long season of flower.
Evergreens can also be used and will give good winter cover but they shed old leaves in June so can, if over used, look unsightly and generate work.
Selecting the right plants for the right area will also save time and money: shade lovers in the shade, for example, or plants that suit dry soil if the soil dries out quickly.
2. Pick Ground Cover Plants to Minimise Weeding
Look out for plants which are described as ground cover. They tend to root as they go and will create a thick mat of planting which will look good and stop weeds.
Consider Pachysandra and Sasa, both hardy woody plants that will spread and fill. When combined with Geraniums, Artemisia and Ajuga (all seasonal perennials with long flowering periods), they will add interest and still cover the ground well.
3. Use Geotextiles When Planting for Low Maintenance Beds
Installing a ground covering geotextile and covering with a mulch will also reduce weeding and improve water retention, thus cutting down work. What is a geotextile you ask? The most common example is weed control fabric. This is a great option if you're choosing organic gardening for your space, as it reduces the reliance on chemical weed killers too.
4. Choose Easy to Clean Paving for a Low Maintenance Garden Patio
Think about using easy and durable materials, especially when choosing a garden paving idea. Good quality porcelain paving which is not oversized is easy to care for and will last a very long time with minimal effort.
Porcelain doesn't require sealing and offers a stain resistant surface which requires minimal maintenance, with low porosity and UV stable properties which means that they will not stain or change colour.
5. Watering Systems Make Planting Easier to Maintain
If you don't have an abundance of time to water plants when they require it, investing in an irrigation system is a smart idea.
Drip irrigation systems are the most effective, as they allow water to be released gradually, giving you more control over water delivery, and can be set up to deliver water directly to the roots.
Other systems include timer-based automatic watering kits, designed for watering pots, attached to a garden tap, as well as smart sprinkler systems. You can get irrigation systems for water butts too, making rainwater harvesting still an option for a low maintenance garden.
(MORE: Best Water Butts)
6. Choose Raised Beds for More Accessible Garden Maintenance
Raised beds are often a really sensible idea if you are planning a garden for the long term. We know that gardening can increase your lifespan but less bending over beds and more easy-to-maintain heights are not a bad thing either!
These beds and borders can be planted with a good range of shrubs and some hard-working perennials, which flower year after year. When fitted with an irrigation system, these beds will be largely maintenance-free if given a good feed and mulch at the beginning of the year.
7. Are Pots a Good Idea for a Low Maintenance Garden?
Realistically, pots and containers are not particularly low maintenance unless you install a watering system. So if you can, stick to planting in the ground which will give the plants a chance of tapping into the water table and supporting themselves in the long run.
However, large empty pots standing in planting can add a sculptural feel, so don't rule them out completely in your plans. You could even add visual interest by using large containers as a water feature with water gently lipping over the sides with swathes of green planting below. It's easy and a good alternative to lots of busy flowers and dead heading work.
8. Make Time-Saving Choices in the Design Stages
If you intend to use a landscape designer they can really help you maximise planting schemes to reduce your gardening work load, too. However, with a little time and research you can achieve a low maintenance garden on your own.
Low maintenance doesn't mean boring. It's really about selecting durable, long-lasting materials that look after themselves or at least require minimal effort, combined with clever design: editing out awkward corners, small lawns and impossibly sized planting beds that are either too small for plants to grow well or so large you get lost trying to weed.
Remember, too, that you can edit and adjust a garden to suit your needs over time. The largest amount of time spent on 'work' in a garden is mowing the lawn and tending the borders, and these are two jobs that can be extremely intensive. Both can be cleverly reduced in terms of work load at any time in a garden's life. Well-designed gathering spaces like terraces for tables and chairs and nooks hidden away, for instance, will require little work to keep them going
9. Artificial Lawn is the Ultimate Low Maintenance Garden Idea
If your garden has small, hard to manage patches of lawn, or it's being damaged by children or pets, you could consider artificial grass. It will save you hours of lawn mowing and regular re-seeding to keep the it looking its best. In fact, all it requires is vacuuming from time to time when in need of a refresh.
10. Invest in Gadgets to Streamline Your Gardening
There are all sorts of clever products you can buy to make your gardening life easier, from smart tech to simple but effective solutions. Installing lawn edging, for example, is a great way to define borders between lawn and beds, without need for regularly re-establishing it, while on the other end of the spectrum, smart garden sensors can be installed, giving you all the information you need about what your plants need and when. Don't forget the classic robot lawn mower too!
Best Garden Tools for Easy Maintenance
Hugh is Digital Editor of homebuilding.co.uk and has worked on a range of home, design and property magazines, including Grand Designs, Essential Kitchens, Bathrooms, Bedrooms and Good Homes. Hugh has developed a passion for modern architecture and green homes, and moonlights as an interior designer, having designed and managed projects ranging from single rooms to whole house renovations and large extensions. He's currently renovating a Victorian terrace in Essex, DIYing as much of the work as possible. His current project is a kitchen renovation which involves knocking through walls and landscaping a courtyard garden.
Homebuilding & Renovating Newsletter
Get the latest news, reviews and product advice straight to your inbox.
Thank you for signing up to Homebuilding. You will receive a verification email shortly.
There was a problem. Please refresh the page and try again.