10 Retaining Wall Ideas for an Interesting Sloped Garden
By Amy Reeves published
Get your garden summer-ready with our retaining wall ideas — including a range of expert tips on design, planting and materials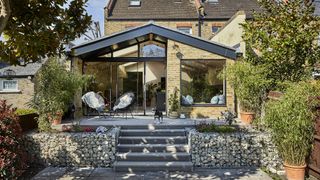 (Image credit: Kasia Fiszer)
Create a dynamic and functional garden space with these retaining wall ideas. Although most frequently seen in sloping landscapes to level out certain areas, retaining walls can be an eye-catching feature to create height and visual interest in flat gardens.
In garden design, a retaining wall sits alongside a higher level of ground holding the soil on one side to create a lower floor level on the other. This can be ideal if you're building a patio, need a flat surface for children's games or require a spot for accessible gardening.
Size, shape and material all come into play when designing a new retaining wall so gathering ideas before digging up and shifting soil will serve you well.
Retaining Wall Ideas
"Retaining walls are vertical walls that are designed to hold back soil or water on slopes," explains Chris Bonnett founder of Gardening Express. "Its main purpose is to make these areas functional and neat.
"Nowadays retaining walls are even installed for design purposes to add another element to an outdoor space. They're a great decorative feature and they actually reduce the amount of maintenance your garden may need as it prevents soil from eroding.
"They're also used to direct the flow of water so they can be helpful for those with drainage issues."
1. Use Retaining Walls to Inspire Landscaping
In many homes, retaining walls aren't just a design idea, but a necessity to prevent soil movement or even just to prepare for a level self-build or extension project. Plots like these require imagination and motivation to turn a landscaping challenge into functional sloping garden ideas.
This stunning home slopes away from the road, which meant extensive excavation work to level out the site before beginning the self-build. "The land at the front of the plot was two meters higher than at the rear at its steepest part," explains homeowner Ian Cartwright. "We relocated tens of tonnes of soil to the rear of the plot and created a series of terraces."
The retaining walls are created from sleepers which beautifully match the bargeboards of the main house, while a great garden step idea was to use stone that mirrors the grey of the timber cladding also.
2. Face a Structural Retaining Wall with Dry Stone
"Undoubtedly, the most expensive consideration with any slope (aside from the most gentle rolling spaces), is creating terraces and building retaining walls," comments landscaping expert Paul Hervey Brookes.
"There is no escaping that good quality work is expensive and it's crucial to use a contractor who is insured and can offer a warranty on any structural retaining materials such as steel works and retention bars. These materials can be hidden with a range of facing materials from brick and dressed stone to composite materials and wood."
This garden's retaining wall beautifully matches the dry stone walling with complementary materials, from pale gravel and flagstone steps to delicate ornamental grass planting.
3. Choose a Brick and Flint Retaining Wall
For an endlessly charming garden view, adding warm, characterful materials like brick, stone and flint will instantly add a focus and spark. While not exclusively so, retaining walls tend to be bordered by lawns so adding a pop of colour and texture to a garden is a clever device.
This is especially true come the winter months as summer and autumn colours die back. Opting for a visually interesting material for a retaining wall will provide a backdrop for the frosty lawn to sit against.
Also, building alcoves, nooks and steps into a retaining wall, as in this garden, will further make a design feel well-established. As will varying the brick laying pattern towards the final course.
4. Take Care with a High Retaining Wall
"If you are having to retain large parts of the site, then you may need to use temporary or permanent sheet piles," advises architect Allan Corfield, of Allan Corfield Architects.
"If you are using traditional blockwork or mass filled concrete walls then make sure you have enough room towards your boundaries to actually build the lower part of the retaining wall. If a retaining wall is over 3m+ high then there is a good chance that the lower part of the wall where it connects to the foundation could be as wide as 1m. This may have an impact on buildability and bring in the Party Wall Act if you're close to neighbouring properties."
This cottage was built into the side of a shale hill in Wales so during their extensive renovation works, Amy and Bryn Jones were forced to excavate hundreds of tonnes of earth behind the house and install a sturdy retaining wall along the boundary. Soon, shrubbery and trees will conceal the concrete mass.
5. Add Extra Details for an Interesting Wood Retaining Wall
Incorporate garden lighting ideas and plan rustic boarders beside and atop a retaining wall. Not only will this age beautifully, but also provide the opportunity to create different 'zones' in a garden, demarcated by the wall.
Try to plant creepers or fast-growing shrubs for a retaining wall that really feels integrated within the garden quickly.
6. Install Cost-effective Gabion Retaining Walls
Not only can gabion walls be used as retaining walls, but they can also be an interesting decorative feature, as well as built-in seating for a smaller garden. Formed from wire cages filled with rocks, gabion walls also require little to no maintenance (aside from picking out the odd leaf blown in by the wind).
A huge plus for these types of retaining walls is that they are a cost-effective option that can be installed on a DIY basis with no pilings or drainage required. For a sleek look, pair the stones of the walls with similarly-toned garden paving ideas for a uniform look.
"With very steep slopes, you will need to engage a structural surveyor to give you specialist advice regarding retaining walls and the degree of work needed for your design ambitions," comments Paul Hervey-Brookes.
7. Use a Series of Retaining Walls for a More Accessible Garden
If accessible garden design is paramount but the landscape is sloped or uneven, install a retaining wall around a main turfed area for a usable space for those less able to walk up slopes. Also, plan in raised beds at the top level so keen gardeners don't have to bend down or lean too far while enjoying the outside.
When building this extension, the retired homeowners chose to excavate the area outside the kitchen for a flat lawn and tier a series of retaining walls to form steps (shallower depths are on either side of the 'amphitheatre' shape).
One of the most helpful landscaping tips when building a retaining walls is to coincide this type of hardscaping with major work on a house. "If you are undertaking a major renovation or self-building, you have the advantage that retaining walls can the built while the mini digger and dumper are on site, saving both time and money," explains Paul Harvey Brookes.
8. Build a DIY Wood Retaining Wall
While larger and more structural retaining walls are best left to the professionals, small walls for detailing and creating pathways is most certainly a job that most practical gardeners can pick up.
Using small garden design ideas, this narrow patch of land has been transformed into a usable and interesting outdoor space.
First, the homeowners raised the lawn using earth dug out during landscaping. Then, they used temporary spray paint and string attached to a stake to mark out their designed shape. Finally, a trench was dug for a bed a concrete into which the vertical sections of sleepers were inserted. The result is definitely impressive and cost-effective.
9. Create a 'Sunken' Patio Area
Flat gardens can often feel two-dimensional and it can be tricky to work out how to create a sense of privacy and zones in this type of area. Building up a lawn using retaining walls is a useful way to introduce new patio design ideas and create different locations for planting and socialising.
This stunning garden manages to include some amazing garden decking ideas, including built-in seating, steps to the tiered lawn and a flush matching pathway towards the raised beds at the back of the plot.
What's more, outdoor kitchen ideas, including a pizza oven, built-in log store and a stylish dining area take this landscape design, if you'll excuse the pun, to another level.
10. Disguise Retaining Walls with Clever Planting
If you're not fond of the split-level layout of retaining walls, planting strategically to bring height alongside the wall can be a great option.
"Some rises and falls can easily be visually 'levelled' by using plants that mature at different heights. You can plant raised ground in a way which, particularly during spring and summer months, looks visually level," advises Paul Hervey-Brookes.
Assistant Editor Amy began working for Homebuilding & Renovating in 2018. She has an interest in sustainable building methods and always has her eye on the latest design ideas. Amy has interviewed countless self builders, renovators and extenders about their experiences for Homebuilding & Renovating magazine. She is currently renovating a mid-century home, together with her partner, on a DIY basis, and has recently fitted her own kitchen.
Homebuilding & Renovating Newsletter
Get the latest news, reviews and product advice straight to your inbox.
Thank you for signing up to Homebuilding. You will receive a verification email shortly.
There was a problem. Please refresh the page and try again.