Patio or Decking? Which Is The Best Option For You?
By Natasha Brinsmead published
Patio or decking? It is a choice commonly faced by those creating a new landscaping scheme. If you can't decide, our guide is here to help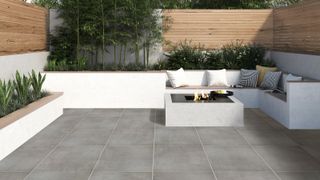 (Image credit: Tile Mountain)
When it comes to creating a space to sit out and enjoy the garden, the choice often comes down to patio or decking.
Both options have their pros and cons and each comes with their own set of variables, such as materials, shape and size. There is no right or wrong option between patio or decking ideas but one may be better than the other depending on your individual requirements and your garden.
In our guide, we take a look at the advantages and disadvantages of each option to help you make a decision.
Patio or Decking: Questions to Ask Yourself
Before making your decision, or getting too far along with developing your decking or patio ideas, ask yourself the following questions.
How much maintenance are you prepared for?
What size patio or deck do you want?
Which materials will work best with your house style?
What furniture or other items will be standing on the deck or patio?
What is your budget?
Will the area be exposed to water and/or heat?
Your answers will go a long way towards pointing you in the right direction, as we explain below.
What Garden Styles Do You Like?
Before you choose between a patio or decking you should have a think about the garden styles you prefer and what will suit your home.
While this alone won't necessarily give you a definite answer to your dilemma, it should help you begin to form some ideas based on which materials will work best in your setting.
Those after a contemporary-style garden, for example, will be looking for a solution that will offer clean lines and minimal details. On the other hand, if it is a more rustic, traditional look you are aiming for, you should look to materials that provide plenty of warmth, texture and character.
Of course, both patio and decking can offer contemporary and traditional options, but in honing your ideas, you will at least begin to form an idea of which may best suit your requirements.
The Pros and Cons of Decking vs Patios
Garden decking is a popular way to create outdoor spaces for entertaining and seating. Depending on the material you choose, a range of looks can be achieved. As with patios, there are advantages and disadvantages to decking.
Benefits of Decking:
Quick to construct: Although this will depend on the complexity of your deck, many designs can be up in one or two days.
Can be installed on a DIY basis: Providing you arm yourself with the right tools, and read up on how to lay decking, installing a deck is within the capabilities of most DIYers.
Affordable: Although this depends on the type of decking you choose, a simple softwood decking can be picked up for as little as between £3-£6/m.
Huge range of materials to suit a variety of garden styles: Decking comes in a whole host of different varieties, from softwoods such as pine to hardwoods like redwood. Composite decking is also an option.
Perfect for raised seating areas: Whether your garden is sloped and you want to create a level surface, or just want a raised section of seating, decking is a great solution.
Disadvantages of Timber Decking:
Maintenance requirements: For timber decking to retain its looks, it needs regular care in the form of oiling, sanding or staining. It should also be cleaned. Composite decking can offer a good alternative here.
Can become slippery: If algae is allowed to build up on timber decking, it can become slippery. However, there are non-slip decking products available.
Can be susceptible to rot: If not properly maintained or allowed to get very wet, both softwood and hardwood decking can be prone to rot.
Can fade: When exposed over time to UV rays, the colour of timber can fade. However, many people welcome this natural weathering process.
Decking Materials
The pros and cons listed above strongly depend on the decking material you opt for. Although softwood decking, such as pine and and fir, is the cheapest option, it will also be more prone to damage and require more maintenance.
Hardwoods such as oak, cedar and redwood are good options, but will also require upkeep so make sure you understand how to clean decking.
Most experts strongly recommend a pressure treated timber for garden decking, although heat treated woods are often seen as superior. They are less prone to movement and have superior durability.
Composite decking is another option. Made from wood fibres combined with polymer resins, composite decking offers a non- or low-slip surface and is maintenance free. On the downside it does tend to lack the warmth and natural appearance offered by real timber decking and is expensive in comparison.
Decking Styles
Timber decking comes in so many styles and offers so much scope in terms of colours, board widths and laying patterns that it should be possible for most people to find a style that suits them.
Those after a contemporary deck might like to consider very uniform boards in striking pale or very dark shades. For those after a more classic look, weathered boards laid in random widths can work well.
Raised and multi-level decking can really create interest and make the most of small gardens — as can curved decks.
Patio Pros and Cons vs Decking
Just as with decking, patios also have their own set of pros and cons. Most patios are laid with paving or bricks.
Patio Advantages:
Strong: If you want to place any heavy items, such as a hot tub or sizeable table on your outdoor seating area, then a paved patio offers a sturdy surface.
Durable: A natural stone patio, with proper foundations, can last for hundreds of years and good quality porcelains are usually sold with at least a 10-year guarantee although could be expected to last for much longer.
Low maintenance: A yearly pressure wash should suffice when it comes to the upkeep of most natural stone paving. It may also be necessary to periodically check the grout joins between porcelain tiles.
Huge choice of materials: Paving comes in a massive range of styles, materials and designs meaning there is literally something for everyone.
Fireproof: If you plan on placing a firepit or similar on your patio then paving tends to be safer than a timber deck, for obvious reasons.
Perfect for seamless flow between inside and out: Many paving products are designed to be used inside and out meaning you can create a visually unbroken flow from your internal spaces out to your patio.
Patio Disadvantages:
Can be tricky to lay on a DIY basis: Large paving slabs require careful cutting and can be heavy to lay alone. In addition, the right fall needs to be created to ensure good drainage.
Require a sturdy sub-base: Just as a deck requires a sturdy frame for stability, so does a patio require a good sub-base.
Certain materials, such as natural stone, can be costly: Materials such as granite and limestone are not cheap.
Patio Materials
There is a huge choice of materials that can be used for patios. While this is, in some respects, a good thing meaning that no matter what garden style you are aiming for, there will be something for you, it can also make choosing hard.
When it comes to garden paving ideas, there are six main patio materials that people tend to choose from:
Concrete: The quality of concrete paving varies wildly. Some of the cheaper concrete products can look pretty unattractive and be prone to fading, however, higher quality concrete paving designed to mimic the appearance of natural stone can be very convincing.
Reconstituted stone: Similar to concrete paving although containing small amount of real stone, you get what you pay for. It tends to lack the natural variations present in natural stone.
Natural stone tiles: There are many different varieties of stone used for paving, including granite, sandstone, slate and limestone. Each has its own pros and cons. Although stone is durable, many varieties require sealing to retain their good looks but can be expected to last hundreds of years.
Flagstones: Similar to stone tiles, but with a rougher, more irregular surface. They come in various thicknesses and offer a beautiful rustic appearance ideal for country gardens.
Brick: Brick and other clay pavers add a timeless look full of warmth and charm and are perfect for smaller patios and traditional garden schemes. They can be laid in a range of patterns but are time consuming to install.
Porcelain tiles: Porcelain tiles are a fantastic option for patios, being non-porous, frost resistant and available in a fantastic range of colours and patterns. On the downside, some very smooth tiles can be slippery wet wet so provide adequate drainage.
Patio Styles and Laying
Patios can be designed in all kinds of shapes and sizes, from rectangular to circular. All patios should be laid on a good, sturdy and level sub-base. The depth and make up of the sub-base will depend on your patio material, but they commonly consists of MOT Type 1 hardcore, sharp sand and a layer of mortar.
You will also need to calculate the fall required in order for water to drain off your patio — this is a very gradual slope that ensures water won't collect.
Is Decking Cheaper Than Paving?
When it comes to the cost difference between decking and patios it really does depend on the material you choose.
Decking prices start at £4-£6/m for softwood, rising to £15/m for hardwood decking. Composite decking is more expensive at between £15-£30/m.
Paving for patios costs from around £20/m2 for concrete tiles, while porcelain tiles start from around £30/m2. Natural stone tends to be one of the more expensive options, depending on the variety you go for, with prices starting from at least £35/m2.
Patio and Decking Combined
If you still can't decide between a patio or decking, why not have both? There is nothing to stop you combining paving materials with decked areas — in fact this approach can lead to some of the most characterful and interesting patio designs.
Natasha is Homebuilding & Renovating's Associate Editor and has been a member of the team for over two decades. An experienced journalist and renovation expert, she has written for a number of homes titles. She has renovated a terrace and is at the end of the DIY renovation and extension of her Edwardian cottage. She is now looking for her next project.
Homebuilding & Renovating Newsletter
Get the latest news, reviews and product advice straight to your inbox.
Thank you for signing up to Homebuilding. You will receive a verification email shortly.
There was a problem. Please refresh the page and try again.