Garden Landscape Costs: What is Possible For Your Budget?
By Amy Reeves published
Budgeting for garden landscape costs is an important part of any self build or renovation project — here's what to consider, where to invest and the key costs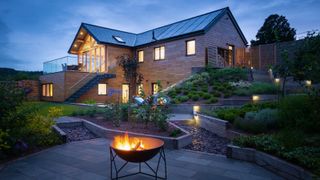 (Image credit: Nikhilesh Haval)
Garden landscape costs can be an expensive drain on a project's resources. There's more to planning an outdoor space than plants and trees so to avoid nasty surprises later down the line, it's best to plan in advance.
An extension or self build project is not complete until the garden design is finished; it makes the world of difference having anticipated the needs of your landscaping before you move in or open the doors for visitors.
However, when including driveways, patios, lawns and flower bed, the budget can quickly get out of hand. Follow the advice from industry experts and landscape designers below to estimate how much your garden landscaping plans will cost.
Garden Landscape Costs: How Much Should You Spend on Landscaping?
There is no fixed amount one should spend on a garden landscaping design — it all comes down to maximum budget, taste and the size of the space.
"It all depends on preferences and funds," Guy Barter, chief horticulturalist of the RHS (opens in new tab), explains. "Hard landscaping is much more expensive than people realise and often using grass, wildflower meadow and trees is a good idea, adding paving and walls later as funds permit and preferences evolve."
"Redesigning an existing garden or starting from a blank canvas can be daunting, especially for new gardeners," explains garden designer Paul Hervey Brookes (opens in new tab). "With a new space there are lots of questions over the costs of almost every aspect of the new garden and queries about which element is either the most crucial or sensible in terms of investment.
"Budget is the deciding factor, although sometimes the priorities are outside your control. Once you've factored in the essentials, there are some golden rules about what elements are worth spending as much as you can on, and others where spending can be more frugal."
How Can I Break Down the Costs of Garden Landscaping?
Work out your garden landscape costs by breaking down a garden into necessities dictated by planning permission (such as replacing contaminated soil or a particular style of driveway), areas that will work for your enjoyment (ie. a patio or outdoor kitchen), and choices in plants and trees.
Front garden
"Unless your front door opens directly onto the street, the most important spend is on practical kerb appeal," says Paul Hervey Brookes. "We know this spend has two direct benefits: creating strong visual statement, and adding up to 10% to the overall value of your home, according to estate agents."
Front garden ideas for completely bare plots will generally consist of a patch of lawn, a paved pathway (expect to pay up to £45-£60/m2) to the front door, shrubs (£300/£400/m2) and semi-mature trees (starting from around £1,500).
Patio
Choosing the right garden paving ideas is a big decision within a landscaping design. It will impact the durability and maintenance required, so don't skimp if you have the budget to allocate to this area of the garden.
Checkatrade (opens in new tab) advises that low end paving slabs cost around £25-£30/m2, while high end flagstones or porcelain tiles will reach up to £45-£75/m2.
The size and shape of your patio ideas will naturally affect the average price, as will the level of installation and detailing required.
Also think about longevity when planning a new patio as accessible garden design needs fore-thought in hardscaping for later in life.
Planting
"Planting gardens always seems expensive; I often think this is because many people make costly mistakes," explains Paul Hervey Brookes. "Well-planted gardens should be lower maintenance in terms of weeding and provide some form of interest year round, both for you and as a habitat for small birds and insects which are so vital to us.
"I would anticipate mixed planting to cost, approximately, up to £100/m2. If budget is a real concern, befriending a gardening neighbour or join a gardening club and get involved with seed growing, cuttings and potted up 'extras'."
Decide on the style of garden you want before making any plant purchases; cottage gardens are very different to more contemporary styles while organic gardening is becoming more popular and will dictate what and how you buy.
"If lockdown taught us anything, it was that the spaces that we live in can have an enormous impact on our sense of wellbeing," says Claire Hornby, head of creative at Barker and Stonehouse (opens in new tab). "As an extension of our homes, our gardens provide a space both for socialising and reflection.
"From an environmental perspective, a healthy garden can provide a wonderful habitat for birds and insects, whose numbers have declined dramatically over the last few decades. Even the smallest patch can make a difference."
Lawn
While the initial cost of a new lawn ideas seems low (around £3/m2 for low-end grass and up to £7/m2 for ornamental grass), the devil is in the details and preparation. Without careful planning, a new lawn can be like throwing good money after bad.
First, establish the PH levels of the soil and correct drainage — this will set the foundations for a healthy, thriving lawn.
"Once laid, the turf needs to be kept watered and fed as it knits with the soil," Paul Hervey Brookes advises. "If the lawn is to be sown, it must be watered and not walked on. Expect to pay £150 and upwards per hour, depending on the site, for a landscaper to do this job well for you."
As an alternative low maintenance garden idea, artificial grass cost from £9 to £45/m2, depending on quality, according to Checkatrade.
Growing from seed is the most cost-effective option (using boxes like this Gro-sure Smart Lawn seed from B&Q (opens in new tab) at £16 for 25m2), but the results aren't as instantaneous and will need supervision to ensure the lawn gets the nutrients it needs while growing.
Driveway
"Another area of work best carried out by a professional is the driveways and vehicle access," continues Paul Hervey Brookes. "Drives are expensive, both in labour and materials, so expect the cost to be in the thousands.
If conditions allow, lower cost options for drive surfaces include traditional gravel and bound gravels, but both should also be laid by a professional to ensure minimal later movement of the surface or potholing."
Take a look at our complete guide to driveway costs to establish what you can budget.
Lighting
Including garden lighting ideas into your landscaping plan is easier when working with a self build or garden extension.
"With an existing building, installation can be more time intensive and tricker depending on how unobtrusive you require the wiring and installation to be. Expect to pay upward of £200 per day for an electrician plus materials," say Paul Hervey Brookes.
For easier retrofit options, some of the best garden solar lights are very affordable and can be adjusted and adapted throughout the year to suit light levels.
Extras
"Once you've budgeted for the essentials (access, planting and structural items such as drainage), you can consider luxury items such as log stores, raised vegetable beds, outdoor offices and barbecue ares, depending on your lifestyle needs," Paul Hervey Brookes says.
"My recommendation would always be to invest in the best garden furniture that you can afford," Claire Hornby adds. "It has to withstand a fair bit when it comes to the British weather and if it's not well made you can find that you are paying out to replace it much sooner than you'd anticipated. For a good quality dining or sofa set, I'd recommend budgeting between £1,000 and £3,000, depending on the number of people you are looking to seat and the material you choose.
"Try to avoid soft woods such as pine and cedar if you can. They are often cheaper but aren't nearly as weatherproof as hard woods such as teak. With good maintenance, these will weather beautifully and last for many years.
"If you are looking for a lower maintenance option, then good quality rattan or metal garden furniture will do the job nicely. Make sure you opt for synthetic rattan however if you plan to leave the furniture outside all year round."
How Much Does a Garden Landscaping Design Cost?
With an overall budget in mind, it's now time to decide who will create a garden design, and who will do the work to install hardscaping, planting and so on.
Take on Gardening DIY
It is possible to take on DIY garden design, doing research into the world of landscaping is most definitely advised.
"Not having professional design assistance can often be a diseconomy: planting plants in the wrong soil, alongside the wrong companions or in an unsuitable amount of light can mean that plants look lacklustre at best or worse don't survive," warns Will Williams, founder of Soto Gardens (opens in new tab).
If you're determined to take on this elements yourself, consider taking up an online course or night class. This will arm you with the information and tools required to create a basic design.
When it comes to enacting a design (either by yourself or a professional), it very much depends on physical ability. The main tasks we would suggest for a novice are: clearing up, weeding and planting. For more able homeowners digging out or laying a patio might be possible. If you choose the DIY route, be prepared to get your hands dirty and for back-breaking work.
Hire a Landscape Consultant
"If you are unsure, the most cost-effective route is to have a designer or good gardener come round for a consultation," suggest Paul Hervey Brookes. "Most designers don't necessarily expect that you will want the whole garden designing. You may wish to design in stages, and if you are clear it's a consultation on specific they will give you charge for that element.
"A consultation day can cost from £300 to £1,000, depending on the designer, and will prove very helpful to you."
Choose a Landscape Designer
"A good plan is to find a garden designer who is in sympathy with your ideas and your needs," expands RHS's Guy Barter. "You might need to speak to several and expect to be billed for their time. They can project manage the job or just make drawings for you or your landscaper to work from, the latter often being cheaper.
"Many landscaping companies do design and build which simplifies the task. Many people are surprised by the cost of landscaping and seek to do part themselves. This can lead to misunderstandings. Be sure to be clear when instructing your landscaper."
How Much Does It Cost to Level a Garden?
"It depends what you mean by level," begins Guy Barter of the RHS. "To alter slopes is very expensive, many thousands of pounds for even a small scale garden. A cheaper alternative may be to make terraces.
"If you mean clear an area prior to landscaping then the cost is less and in many cases it is possible to retain features and materials that greatly reduces the cost and is greatly preferable from the point of view of sustainability."
How Much Does a Landscaped Garden Add to a House Value?
The jury appears to be out when it comes to how much a landscaped garden can add to your property.
According to the Post Office Money Survey, published in 2019, landscaping your garden could potentially increase the value of your property by 77%. While a Hiscox Renovation and Extensions Report 2018 revealed that the majority estate agents felt that garden improvements added less than 5% to the value.
However, there are a few task which don't add value, as Paul Hervey Brookes warns. "A few things don't all value and have a very limited appeal. As such they could be seen as a luxury if budget is an issue:
Overbearing external lighting can ruin a house and can be expensive both to install and remove, so think simple, discreet and practical.
Electronic gates, unless you have a rolling estate and budget is not a huge issue, can be retrofitted so this can be an investment for two years' time.
Hot tubs and garden spas take up a lot of resources, both in terms of installation and maintenance, while really adding little value. The money is generally better used on good terraces, outdoor dining spaces and planting to settle the new garden into the landscape."
How Can I Save Money on Garden Landscaping Costs?
"Where funds are limiting aim to restrict paving, walls and other costly features, use lawns, hedges, meadows and modest trees, retain as much existing vegetation as possible (which is sound practice environmentally)," advises Guy Barter.
"Reusing bricks is a great way to keep wastage low and your garden is the perfect place to create something new from something old," suggests landscape designer Rob Dwiar.
"Their multi-coloured and multi-textured nature makes them great for banding or edging to mark the extend of beds, borders and pathways. More functional uses could be to build brick walls (retaining or feature), seats, raised beds or fire pits; the latter being increasingly fashionable in contemporary gardens."
You can also use spoil created when excavating for extension or self build, in the garden. "You'll need to identify and separate what you have a little, but you should easily be able to find a landscape use for soil," continues Rob Dwiar. "Raised bed absolutely drink soil so any extra you can recycle from your build is exceptionally useful.
"If your spoil is mostly larger rubble and hardcore then use it as the sub-base for any hardscaping you'll be doing, such as a driveway or paving. Every bucket or sack full is another one you won't have to pay to get rid of and/or buy back in. It's one of the best ways a garden can swallow extra materials, saving you money and recycling matter at the same time."
"If you are limited on space and budget, it's worth having a good think about what will help you to enjoy the space the most," adds Claire Hornby from Barker and Stonehouse. "If you are a keen gardener and dream of borders filled with dahlias and delphiniums, then a small bistro table and chairs might be all you need to create the perfect spot from which to admire your handiwork.
"If you're more of an entertainer, then prioritise a dining or seating set that will let you host guests in style. Hanging baskets and climbers are a great way to introduce flowers and foliage without taking up too much of your precious square footage.
Assistant Editor Amy began working for Homebuilding & Renovating in 2018. She has an interest in sustainable building methods and always has her eye on the latest design ideas. Amy has interviewed countless self builders, renovators and extenders about their experiences for Homebuilding & Renovating magazine. She is currently renovating a mid-century home, together with her partner, on a DIY basis, and has recently fitted her own kitchen.
Homebuilding & Renovating Newsletter
Get the latest news, reviews and product advice straight to your inbox.
Thank you for signing up to Homebuilding. You will receive a verification email shortly.
There was a problem. Please refresh the page and try again.