Natural Swimming Pools: Is This Feature Right For You?
By Paul Hervey-Brookes Contributions from Natasha Brinsmead published
Natural swimming pools give you the chance to enjoy the benefits of chemical-free clean water, while upping the biodiversity of your garden — we explain all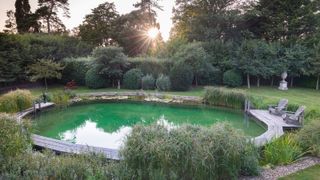 (Image credit: The Swimming Pond Company)
The popularity of natural swimming pools is on the rise — and for good reason. Not only do they make a beautiful visual feature, but they also present you with the opportunity to take a relaxing dip in your very own pool at the same time as as benefitting wildlife.
If you like the idea of a swimming pool for garden use but are wondering whether it is quite right for you, perhaps because you feel it might not suit a natural landscaping scheme or due to finding the maintenance requirements and the inclusion of chemicals off-putting, then a natural swimming pool could be just the thing you were searching for.
Chemicals are not used to clean the water; instead natural swimming pools rely on natural filtration using a range of aquatic plants, which clean the water in an organic way.
So, if you are dreaming of immersing yourself in your very own pool, surrounded by nature as a way increasing wellbeing, read on. Whether you are starting from scratch or you're looking to add a pool to your existing plot, here's all you need to know about the options, designs and costs.
What is a Natural Swimming Pool?
Natural swimming pools – which can be as small as 15m2 – come in two main forms:
the traditional natural pool (or pond);
and the living pool, which visually looks more like a traditional filtered pool.
When it comes to how natural swimming pools work, the idea is that a large, deep pool – the swimming area – is surrounded by marginal planting that filters and purifies the water naturally. In essence, this type of natural swimming pool has the look and feel of a large pond.
Construction involves creating a reinforced, lined swimming pool area, alongside a series of filtration beds made again with a liner and a series of planted shingle pools, which help to remove debris.
The plants are used as a living filtration system, absorbing nutrients in order keep the water clear and clean. Plants are bedded into several layers of gravel and other filtration materials. In the absence of soil, plants are forced to get their nutrients from the water.
Beneath the gravel, perforated pipes are installed and draw water through them thanks to a hidden suction pump. As this water passes plant roots, nutrients are absorbed to help with their growth. The purified water is then re-circulated back into the bottom of the swimming zone.
Unlike a traditional pool, a natural swimming pool's feel is best maintained by dark green liners. As its filtration system relies entirely on plants, using a darker liner will give some secondary warming that the light blue or aqua liners of a traditional pool don't.
You can also install lighting both in the main swimming area and through the marginal filtration beds.
What is a Natural Living Pool?
Unlike natural swimming pools, living pools look much more like a conventional swimming pool. Although they can still feature marginal planting and are chemical free, it is also possible for them to have no water plants.
Biotop (opens in new tab) – a specialist company that has been making natural pools for over 30 years – has introduced a natural filtering system that works to create this more traditional-looking swimming pool. It includes a series of hidden underground sand filters for cleaning, before the water is pumped back into the pool.
This removes the phosphorus that is the main cause of algae blooms and during the swimming season a pool robot cleans the pool daily — lighting can even be added into the main body of the pool.
Living pools are suitable for both indoor and outdoor installation and range in size from tiny plunge type pools to large designs. It is common to use an air source heat pump for swimming pools like this.
It is advisable to cover living pools when they are not in regular use, using solar or thermal covers.
What Are The Benefits of a Natural Swimming Pool?
When weighing up the pros and cons of building a swimming pool, it is useful to take a look at the benefits of natural swimming pools. These include:
No chemicals — A fresh water pool with no chemical disinfectants is good for swimmers' skin and the environment.
A pond and pool — A natural swimming pool looks just like a pond and is as natural as they come.
No one-size-fits-all — A living pool is a great alternative if space is limited or if you'd prefer a more traditional-looking pool.
Low maintenance — With only a little pruning needed, the plants keep a natural pool clean and the filter systems in a living pool keep it debris and algae-free.
A haven for wildlife — a natural pool will of course invite a whole host of wildlife into your garden.
How Do You Design a Natural Swimming Pool?
When it comes to designing a natural swimming pool, the aim should be to ensure the pool blends in and enhances the natural elements of the garden, taking into account its proportions, as well as that of the house.
The swimming area of a natural pool can be informal in shape or more rectangular. A natural swimming pool (as opposed to a living pool) can take up quite a bit of space and like any pool, needs to be constructed on a level or levelled site.
For a pool with a swimmable area of 20m2 the entire pool would need to be 40m2. This size tends to suit rural locations and those with larger gardens because alongside the pool you will need shallow space for a deck, terrace or jetty access point. The pool area will also need to be planted to merge with the herbaceous and shrub planting that outline the margins of the pool.
It is advisable to visit suppliers to see their pools — The Swimming Pond Company (opens in new tab) have a show pond you can visit, for instance. Suppliers will carry out a site visit and come up with a design proposal that includes planting plans and specifications.

How Much Do Natural Swimming Pools Cost to Build in the UK?
A natural swimming pool costs from £300 to £600/m2, with the price /m2 decreasing as the overall area increases. This may sound odd, but as the pool gets bigger many of the expensive items it requires – machinery hire, waste disposal, and some materials – remain the same in terms of up front cost. These items are then used over a larger volume of space, with the result that it effectively costs less.
Added to this, smaller natural swimming pools are often located in more restrictive spaces, which has an impact on costs and labour.
Designs are landscaped to sites and individual requirements, so construction costs may be high compared with traditional pools. Over time, however, natural pond owners save on the cost of chemicals and expensive filtration equipment.
How Much Do a Natural Living Pools Cost?
Natural living pools are more expensive and should always really be installed by a qualified specialist. You could expect an average-sized 20m2 living pool to cost in the region of £60,000.
How Do Natural Swimming Pools Stay Clean?
Natural swimming pools are usually made up of two zones — the swimming pool and the filter beds. These are separated by a shallow band of stone and this separation can be given a natural feel, or a more contemporary one (using a band of cut stone, for example).
Either way, this band stops the soil of the planted filtration beds moving into the main body of the pool. It is usually positioned roughly 50mm below the surface and should be 100mm to 200mm in width.
One of the advantages of a natural pool is the shallow planted margins that form its natural filters. Rather than the traditional drop into water, the margins on natural swimming pools are sloped.
A 20m2 pool, for example, will slope downwards about a metre from the edge to roughly 400mm below ground level (or your set 0 point if you're building on a slope and are creating an artificial level). The depth of the swimming area will be around 1.5m. So for a 40m2 pool the shallow graded margins need to be 20m2 — this will include 7m2 of bio (plant-based) filtration and 13m2 of marginally planted space that will allow the water to purify.
The swimming area will be 20m2 with a depth of at least 1.5m to allow good swimming and stop plants creeping away from the ledges to the swimming area.

What Plants Are Used in a Natural Swimming Pool?
Planting for a natural pool is key. Of course, like any part of the garden, it will require maintenance — herbaceous aquatic plants will need to be recut back in the late autumn.
It's also worth remembering that the term 'filtration plants' can be a misleading one as the plants do not remove particulate matter from the water. What they actually do is absorb and capture nutrients from the water — in turn meaning algae (which thrive on these nutrients) will not grow and bloom in the water.
The amount of nutrients that a plant absorbs is more or less proportional to the amount of plant growth. So, plants that grow 'greener' are removing more nutrients, but this can also mean that they grow more aggressively.
Common species used to filter include:
marsh marigold
flag iris
loosestrife
hop sedge
water mint
and water lilies.
Do Natural Swimming Pools Attract Insects?
Fresh water attracts a host of acrobatic insects. Damselfly feed on mosquito larvae, using leggy stems of flag iris to emerge from the water. Pond skaters, water boatmen and iridescent dragonfly are common.
Surprisingly for their size, many aquatic species depend on freshwater ponds for refuge, including more than 100 UK Biodiversity Action Plan priority species.
Where Can I Find a Natural Swimming Pool Specialist?
There are a number of specialist companies in the UK, including:
Always ask to have a consultation about your site and to talk through the type of natural pool you would like. If you can visit their previous work in person and speak to clients, all the better.
Paul is an award-winning landscape designer. An experienced designer, his diverse range of work has included everything from small courtyards to large country gardens, as well as public spaces, both in the UK and internationally.
He studied at The Royal Botanic Garden Edinburgh, giving him the opportunity to learn about plants and plant habitats from some of the most knowledgeable and inspiring plantsmen in the world. He created his first show garden at Malvern Autumn Show in 2008, and has since created show gardens at the Chelsea Flower Show and Hampton Court, alongside being invited to exhibit internationally in United States, France, New Zealand, Japan and Australia. (In 2022, he designed The Brewin Dolphin Garden at the Chelsea Flower Show.)
Since 2015, he has been a RHS Gardens Judge and chaired judging at all of the RHS Flower Shows including RHS Chelsea Flower Show. He has also worked with Marks & Spencer and Bradstone to create garden products, and has written for The Telegraph and Homebuilding & Renovating magazine.
With contributions from
Homebuilding & Renovating Newsletter
Get the latest news, reviews and product advice straight to your inbox.
Thank you for signing up to Homebuilding. You will receive a verification email shortly.
There was a problem. Please refresh the page and try again.