Garden Paving Ideas: 10 Inspiring Patio Designs for Your Outdoor Space
By Hugh Metcalf , Rebecca Foster published
Try these garden paving ideas to get the most from your patio design and complement the rest of your outdoor space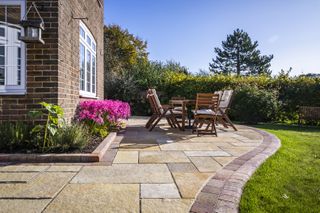 (Image credit: Brett Paving)
The right garden paving idea is one of the most important elements of your overall garden design, as your patio can set the tone for the entire outdoor space. Your choice of material, style and layout can make the difference between a modern or traditional look, so getting it right is important.
To get you on your way with deciding on a paving design for your garden project, we've pulled together 10 of the best garden paving ideas around, with brilliant examples of how they can be used in a real space to great effect.
1. Mix and Match Garden Paving Ideas
Choosing just one material as your garden paving idea can create a scheme that falls flat, where mixing different materials can add depth and sophistication to your space.
Consider a contrast border for paving to signify a change between materials or levels is a great idea, while switching up colours for the likes of a paving circle in a contrast colour or material can create an interesting feature too.
Using a contrasting material for pathways is also a great way to highlight the journey through your outdoor space.
2. Build a Water Feature Idea into Your Garden Paving
Don't think of a water feature as a luxury for your garden design — incorporating the sound of running water is important for your garden in blocking out periphery noise and creating a restful, tranquil space.
This idea for a water feature not only includes a water feature at paving level, but also uses the changes in material to highlight the water feature as a focal point of the garden.
3. Create Curves to Soften Your Garden's Paving
Block paving runs this risk of creating a very square, linear space. Freestyling your patio with curved edges will offer a softer, more organic finish that will suit almost every style of garden.
However, bear in mind that curved cuts will be trickier and more time consuming than standard straight cuts, which may push your labour costs up or test your DIY skills.
(MORE: Patio Design Ideas)
4. Choose Large Format Paving for a Dramatic Look in Your Garden
In general, the larger the paver, the smaller it will make the garden look, so choosing appropriately sized paving to your garden is important.
A large garden will be able to handle an oversized paver, helping the space to look streamlined where smaller paving would add fussiness with an overabundance of grout lines. It also helps to add a more intimate sense to a large garden, which could otherwise feel vast.
5. Lighting Ideas for Garden Paving
Lighting garden paving isn't just a great idea aesthetically, it ensures your gan den is safe to use at night. Recessed spotlights are great at illuminating paths and patio edges, and if you don't have power installed to provide for mains-powered uplighters, there are even solar light versions available.
(MORE: Best Outdoor Wall Lights)
Another garden lighting idea around paving is illuminating steps in your garden, again for good looks and safety. This idea using Stone and Ceramic Warehouse Arena Grey porcelain tiles uses warm-glow LED strip lights to match the treads of the steps.
6. Mix Paving Slab Sizes for a Dynamic Look in Your Garden
When using a simple, one material scheme, you can add subtle interest by adding variety in the size of paver used. While some designs come readily available in a mixed size layout, it's possible to create a custom design by ordering pavers in different scales of your own volition.
7. Use Your Garden Paving for Raised Beds Too
Garden paving can also make an effective cladding for raised beds, uniting these elements as part of your wider scheme.
In this scheme, Instagrammer @CarlysHomeIdeas used Tile Mountain's Axis outdoor tile range to clad raised beds alongside the garden's main patio, while creating a border around the lawn.
8. Create a Focal Point for Your Garden With Paving
Paving can be utilised to draw focus to a certain area of a garden, helping to lead the eye across the space. One such effective tool is to create a paving circle within your patio design to zone a dining area, outdoor living area or even a bar.
This design, using pavers from Paving Direct, encompasses raised seating and a firepit as a focal point of this garden scheme.
(MORE: How to Lay a Paving Circle)
9. How to Create an Accessible Garden with Paving
Accessibility is an important consideration for futureproofing your garden. Stannahstair lifts' gardening guru Mark Lane has this advice for designing a garden with accessible paving:
"Ideally aim for a path around 1.2-1.5m wide, which is wide enough for two people to walk side-by-side, in a wheelchair or using a frame or stick. To stop wheels — and feet for that matter — ending up in a flowerbed, install a raised edge, either using a wooden gravel board (the board found at the bottom of a fence) or a concrete edger that stands proud around 10cm above ground level.
For the pathway, consider paving slabs rather than gravel, as little stones are very difficult for wheelchair wheels to navigate. Paving should be pointed with a minimum gap of 10mm. You want a firm, stable, non-slip surface. In some instances, anti-glare paving slabs are a good idea — especially for partially sighted or blind people."
10. Design Ideas for Garden Steps with Paving
Introducing levels into your patio is a great way to add interest to your design, and steps in a sloping garden will be particularly important in connecting spaces as you move up, or down, the garden.
Using the same paving as the patio is one of the most popular choices for garden steps, but there are all kinds of brilliant ideas for making a feature out of them. This idea, showcased by Paving Direct is particularly inspiring, as it creates contrast with the blockwork risers of the garden steps and raised beds, as well as the circular shape bringing curves to contrast against the linear nature of the paving stones.
(MORE: How to Build Garden Steps)
Material Ideas for Garden Paving
Porcelain
Porcelain is the lowest maintenance option for your garden - it can withstand high temperatures, is highly water resistant, naturally non-slip and requires very little upkeep. It's also extremely uniform in terms of colour, texture and pattern. It's a good substitute for decking and will last considerably longer.
Hard-wearing, low-maintenance and resistant to both frost and stains, this material offers a long-lasting solution for your garden. An array of surface textures can be created to mimic the appeal of natural stone or timber.
Limestone
Few materials can match the innate appeal of this natural stone. Limestone is durable, cost-effective, and has bags of charm. It offers a fairly smooth surface compared to some other natural stones, which can add plenty of sleek allure to contemporary gardens. Typically, it retains less water than rocks like sandstone, so it's certainly capable of withstanding any assault from Britain's famously lovely weather!
However, despite its impressive durability, it is still a porous rock, which means there are tiny holes throughout. "If it's not sealed properly, any smoke or liquid can penetrate the stone and cause permanent staining,
Marble
Available in an array of different shades, this type of natural stone lends itself to contemporary patios. The distinctive white mottling and natural veining across the surface of the stone gives it the edge when it comes to creating wow factor.
However, unlike the sleek, polished marble surfaces you might get in the kitchen, marble for outdoor use should feature a tumbled surface to ensure that it is non-slip. If you did want to get the smooth aesthetic of polished marble, marble effect porcelain tiles might be the better fit.
Granite
Granite is highly slip-resistant, so it's a sensible choice for parts of the garden that are likely to get wet, such as near water features. It's a great allrounder.
However, granite will need to be sealed. It's extremely hard, so it can be difficult to work with if you need to do any cutting. Also be aware that the slabs are heavy.
Sandstone
With a slightly more rippled, varied surface texture compared to limestone (sometimes described as 'riven'), sandstone is a versatile solution that works particularly well in traditional settings. An impressive array of shades is available, from warm, buff hues to cool, silver tones. It can also be one of the more cost-effective choices if you're keen to have natural stone paving. It's easy to maintain and it doesn't require any specific care when it comes to cleaning
Slate
This durable choice comes in myriad hues, from greys and blue-blacks to warm rust colours. Slate is one of the strongest natural solutions; it's resistant to chips, cracks and scratches, and holds its colour better than alternative like limestone.
Slate is less porous than most other natural stones, but slate pavers will need a sealant to maintain their natural appeal. Like granite, slate is extremely heavy, which can cause difficulties if you're laying the slabs yourself.
Hugh is Digital Editor of homebuilding.co.uk and has worked on a range of home, design and property magazines, including Grand Designs, Essential Kitchens, Bathrooms, Bedrooms and Good Homes. Hugh has developed a passion for modern architecture and green homes, and moonlights as an interior designer, having designed and managed projects ranging from single rooms to whole house renovations and large extensions. He's currently renovating a Victorian terrace in Essex, DIYing as much of the work as possible. His current project is a kitchen renovation which involves knocking through walls and landscaping a courtyard garden.
Homebuilding & Renovating Newsletter
Get the latest news, reviews and product advice straight to your inbox.
Thank you for signing up to Homebuilding. You will receive a verification email shortly.
There was a problem. Please refresh the page and try again.