Low-Maintenance Gravel Garden Ideas: How to Plant and Budget
By Amy Reeves published
Gravel garden ideas can help to create a low-maintenance and budget alternative to a lawn or planted outdoor space — find out how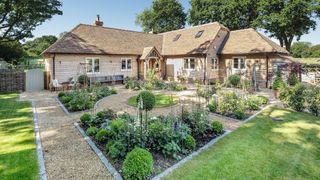 (Image credit: Simon Maxwell)
There are lots of benefits to introducing gravel garden ideas into an outdoor space. Low maintenance, budget-friendly and drought resistant, there's no wonder why this Mediterranean-inspired style of landscaping is growing in popularity.
Garden landscaping ideas are changing with our shifting priorities and climate, so a solution which relies on less water and can withstand areas of shade as well as full sun can't be ignored.
Take a look below to find inspiration of different design and styles as well as expert advice on how to build a gravel garden and how to choose the right plants.
How to Use Gravel Garden Ideas
"Gravel gardens are a really attractive choice for both front and back gardens," say the experts at Garden Buildings Direct (opens in new tab). "There are so many ways to be creative with borders, rockeries, paths and even driveways — the list is endless. They provide the beauty of a perennial garden with half the maintenance.
"Gravel gardens are becoming more popular and people tend to choose them for their relaxing and mediterranean feel," adds Chris Bonnet, founder of Gardening Express (opens in new tab). "They're also pretty low maintenance once they're established."
1. Create a Warm Welcome with a Front Gravel Garden
Creating a front garden which is practical in terms of maintenance, use and security can be a challenge, but using gravel to craft front garden ideas ticks every box.
If installed correctly with a weed membrane and grid underlay, a gravel garden design can double as a driveway that is simple in upkeep. Plus, the noise of gravel near entrances or windows is known to deter unwanted visitors as it alerts those inside to a foreign noise.
"When choosing a type of gravel, it's best to pick a colour that complements the colour of the house or surroundings. A light grey will suit most brick types as it's extremely versatile," advises Garden Building's Direct.
2. Choose Plants for a Gravel Garden Wisely
"You'll need to pick the most suitable area to start your gravel garden. Pick somewhere with some decent drainage that receives some sunlight," explains Garden Buildings Direct.
In order to save on garden landscape costs, choose appropriate plants in the formation of your gravel garden — the wrong ones won't survive and end up costing you more money down the line.
"Choose plants that come from the Mediterranean or the Mediterranean regions around the world such as parts of California, South Africa and Australia," advises Ian Bull, Dry Garden manager at RHS (opens in new tab) Garden Hyde Hall.
"These plants often have certain characteristics which you can look out for, including silvery or grey leaves, waxy or leathery leaves, finely cut leaves and long tap roots to seek out the moisture.
"Good plants for a gravel garden include shrubs such as lavender, Phlomis and Santolina; architectural plants such as Phormium and Yucca; perennials such as Verbascum, Eryngium, Salvia and Verbena; and grasses such as Stipa."
3. Use Gravel to Create a Drought-Proof Garden
For gardeners on a mission to keep their garden as sustainable and low-impact as possible, gravel gardens are a gift. Use this landscaping style alongside steps towards more organic gardening for a guilt-free and future-proofed outdoor space.
As a bonus, gravel gardens fall under the umbrella of low maintenance garden ideas, so you'll spend less time pulling weeds (so long as you opted for a good weed membrane) and more time enjoying blooms.
"If you have a warm, sunny area in your garden a gravel garden is a great choice. The gravel itself, if spread over the soil surface, will help to retain moisture in the ground and it will also help reduce the number of weeds that grow, both of which help to make this a great low-maintenance solution," says Ian Bull.
"By helping to keep moisture in the ground you will need to water your plants less often, which not only saves time but also helps to preserve a precious natural resource."
4. Combine a Gravel Garden with Raised Planters
Materials and levels are essential in a good accessible garden design. Ensure your initial landscape is flat and that materials can be laid evenly throughout.
Although loose aggregates, like gravel, are admittedly not ideal for wheelchair users, this style of garden will require less effort to keep looking good. When paired with raised beds for easy planting access, gravel gardens can be a valuable asset in landscape design.
Here, a quadrant-style gravel garden leads towards a central firepit. The neat raised beds looks fantastic and the timber they're made from blends in with the choice of gravel.
5. Create a Small Gravel Garden in a Courtyard
When looking for small garden design ideas, gravel gardens are a cost-effective option which looks more deliberate than a compact patch of lawn. Plus is easy to maintain — no more mowing!
In this home, the narrow strip of land has been transformed into an interesting, dynamic garden filled with vegetable patches, trees and a small seating area.
However, when planning your design, be wary of trying to squeeze too much into one space.
6. Create Levels in a Gravel Garden
As gravel gardens might be more pared-back than, say, a cottage garden or formal garden, try to create a dynamic landscaping style.
Sloping garden ideas and inspiration such as retaining walls and steps can be applied to any size or shape of outdoor area and will provide better visual interest.
7. Design a Gravel Garden Patio
Use gravel to achieve your favourite patio ideas — it is cost-effective, stylish and keeps furniture where you need it to be!
Inspired by Mediterranean gardens, this outdoor socialising space is brimming with character but prioritises practicality.
First, timber lawn edging ideas can be applied to keep the gravel away from the lawned area. Second, the firepit has been bolted to the ground before being covered with gravel. Finally, outdoor rugs have been used to a stunning effect beneath the patio table and the outdoor sofas behind, meaning users don't have to dig themselves out when they want to get up!
8. Replace a Lawn with Gravel
While many homeowner choose to include a gravel garden or rockery alongside a traditional grassed area, consider completely replacing grass with gravel for a truly Mediterranean scheme.
"When creating a gravel garden you should pick stones that blend into the colour and the brick work of your home," says Chris Bonnett. "It's also a good idea to choose stone that is in keeping with the area to minimise the carbon footprint of transporting gravel too far.
"You'll need to create an edge if you don't have one already, you can do this with large stones or boulders and the purpose of the border is to retain the gravel."
How Do You Make a Gravel Garden?
"Start by removing any topsoil and shrubs by using a shovel. If possible, try not to dig too far down, about 100-150mm should be sufficient. This is because the more you dig out the more gravel you'll need and this can start to get quite expensive," informs Green Buildings Direct.
"If you're thinking about using hardcore to create a more solid base then allow for 50-100mm more than this. Hardcore isn't an essential part of the process, but it's definitely worth considering if the gravel will be part of a walkway or will have large ornaments or big plants placed on it. It just helps to solidify the area by giving it a stronger base to work on.
"Once you've dug out your desired area and placed your hardcore layer – if it's needed – then it's advisable to buy a weed resistant membrane. A weed resistant membrane should help stop any weeds from growing through. This can make your gravel garden look untidy and be hard to manage. It's important to ensure that you buy a permeable membrane so that water can still drain. Otherwise, the area could flood.
"Use a rake to help distribute the gravel evenly across the membrane, but be careful not to poke any holes in it whilst doing this. Over time the gravel may begin to get uneven and sparse in areas, this is completely normal. Just set aside some of the gravel so that you have some top it up as and when, and regularly rake the stones to ensure even coverage.
"Creating a solid border around the gravel area can help to keep the stones in place. In our opinion, it's imperative for making the gravel garden a standout feature. Larger rocks, bricks, pavers and corten steel or plastic dividers can all be used to create a border."
How Deep Should a Gravel Garden Be?
"Ideally you want the gravel to be about 5cm deep to get a good, full and even coverage," says Chris Bonnet of Gardening Express. "You can use a rake to ensure you're spreading this out evenly."
"This style of gardening will always work best on a sandy soil as it is well-drained," adds Ian Bull. "If you don't have a sandy soil be sure to incorporate lots of sand and grit into your soil to help improve the drainage — plants that do well in a gravel garden don't like growing in a poorly drained soil, especially in winter."
What Plants Will Grow on a Gravel Garden?
"Because there'll be a significant lack of water in a gravel bed as opposed to a typical soil bed, drought-tolerant plants like succulents tend to do well in these rocky environments," says Garden Buildings Direct. "Mediterranean varieties will also be accustomed to the dry conditions that gravel provides.
"Lavender is great for creating a low screening or border effect and can be mass-planted too. Agapanthus are bold, hardy and can cope with a lack of water which makes them perfect for providing vibrant shades to a summer bed.
"Another beautiful summer bloom for your new gravel garden is the Gaura Rosy Jane. This perennial is known for its attractiveness to bees and its free flowering nature, a must have in our opinion."
Assistant Editor Amy began working for Homebuilding & Renovating in 2018. She has an interest in sustainable building methods and always has her eye on the latest design ideas. Amy has interviewed countless self builders, renovators and extenders about their experiences for Homebuilding & Renovating magazine. She is currently renovating a mid-century home, together with her partner, on a DIY basis, and has recently fitted her own kitchen.
Homebuilding & Renovating Newsletter
Get the latest news, reviews and product advice straight to your inbox.
Thank you for signing up to Homebuilding. You will receive a verification email shortly.
There was a problem. Please refresh the page and try again.