Patio Ideas: 14 Stylish Ways to Improve Any Outdoor Area
By Amy Reeves published
Get inspired by these patio ideas to plan the perfect spot for year-round use whatever the size of your garden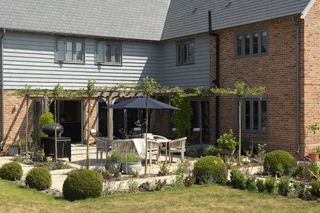 (Image credit: Jeremy Phillips)
The right patio ideas, styles and inspiration will all hinge on the space available and your budget. Get started with our helpful tips, tricks and plans that will help you decide what you need from the area and how to recreate your favourite designs.
It's important to create an inviting and interesting outdoor living space for use all year round — not just in the summertime. Let's face it, British weather is unpredictable at best so planning a place that can adapt as needed is essential.
From small updates on a budget to a new, modern designs, we've collected some incredible projects of all shapes and sizes and detailed how to apply those ideas to any outdoor area.
Patio Ideas for Every Size and Style of Garden
A well-considered patio is a key element of garden design. However, not all of us are blessed with huge outdoor spaces to create a large patio to suit. Fortunately, there are tips and tricks that can be applied to make this space feel larger.
"To make the most of a small patio, think about how you can use every bit of space," begins Chris Bonnett of Gardening Express (opens in new tab). "Think about multi-use pieces of garden furniture and make sure it doesn't overpower the space. Look for slim furniture, too. Remember to leave a clear walkway for guests — this may mean pushing furniture so it rests by the wall."
"When planning a small patio, it's incredibly important to make sure it is flush with the ground rather than raised as chair legs tend to topple off them. Potted plants are also great to use in small corners. Think vertical by adding hanging plants and lights."
1. Design an Outdoor Patio Dining Area
Use paving slabs to create an extra dining area on your patio. There are a good variety to choose from in terms of maintenance, colour and format — ideal for a unique space filled with garden paving ideas.
For a dining area, plan around how many people you will be entertaining during barbecues and the shape of the table you have/will be buying.
Plan for comfortable spaces for dining areas which sits six people – like this GoodHome Denia dining set from B&Q (opens in new tab) – and aim for a walkway behind each chair of at least 1.5 - 2m.
2. Opt for a Low-Maintenance Alternative to Concrete
Porcelain paving tiles are a great investment for new or updated patio designs. Easy to care for, frost-proof, non-porus (so they won't crack) and wide ranging in colours and sizes — they tick every box as far as we're concerned.
Most tile options will be suitable for outdoor use, but always check before spending and installing.
Here, stunning concrete-effect and patterned tiles have been laid on the floor and up the walls to create an outdoor living room. This isn't just a great idea in terms of styling, but could also hide unsightly exterior bricks or boundary walls.
If making the most of small garden design ideas is top of your list, choosing a bold look such as this could get the most bang for your buck.
3. Create a Covered Seating Area for a Year-Round Patio
As unpredictable as the British summertime is, you can always rely on the fact it will rain at some point. However, by creating an outdoor dining with a roof or even a temporary cover the space can be enjoyed even in colder months.
Verandas and covered outdoor spaces were definitely a trend when we were required to stay at home in 2020 and 2021, and the principles have inspired many to retain them as permanent features in 2022.
4. Go All Natural with a Good Quality Deck
Choosing a patio or decking will be very much dependant on how much maintenance you're prepared to keep up, and the initial budget outlay you're prepared to spend.
Limestone slabs and garden decking ideas offer a more natural style that looks great in all styles of homes, but patios which feature concrete or porcelain styles tend to suit more contemporary homes.
Here, slim format boards of decking crate a Mediterranean patio vibe when paired with the white garden furniture and garden wall ideas.
5. Light up an Outdoor Patio
Garden lighting ideas are essential to include in your patio plans. Try to accommodate different types of lights at different levels — building up layers will make the scheme feel more natural and allow better control.
Up and down lights on walls, which create a wash and a soft glow to a patio, look great, while low level solar lanterns or stake can also lend ambience.
"Adding lighting to the patio area is a key element of creating an inviting space. Using lights in a warm tone will help to create an inviting atmosphere in a typically cooler environment, while also allowing you to add further decorative touches in the form of lamps and lanterns," says Rikke Blaeside, design and range manager at JYSK (opens in new tab).
6. Create a Seamless Transition From Inside to Out
A simple place to start, but one that will make all the difference when the time comes to carry food and drinks from the kitchen to an outdoor area. Ensure the path from indoors to outdoors isn't an obstacle course by installing quality patio doors and a level threshold to a decked or paved area.
This Japanese-inspired garden flawlessly blends the indoor living spaces with the small patio using bifold doors and decking which strategically draws the eye towards the garden beyond.
7. Be Prepared for Cooler Nights with a Patio Firepit
"A dedicated place for a firepit or outdoor stove is ideal for keeping warm and creating a cosy ambience when entertaining," comments Rikke Blaeside. "A firepit also offers further entertainment with the possibility of cooking on an open fire, such as toasting marshmallows or warming bread."
If space is limited or if an open fire isn't possible on the patio, the best patio heaters will be able to provide warmth and lighting without taking up too much space.
8. Paint Exterior Walls For a Patio Update on a Budget
Quick and simple to achieve, painting a house's exterior walls will produce a new, contemporary finish that can make any outdoor space feel refreshed.
While the house above rendered the lower half of the walls surrounding the patio, a great finish can be achieved using the best masonry paint straight onto bricks— although be sure to prep the walls first.
"With regards to colour scheme, we expect to see soft tones that evoke comfort, nature, and warmth such as terracotta, creams, greys, and stone," says Rikke Blaeside of JYSK. "Personality and individuality will be added with muted tones of reds, blues, and yellows for a timeless aesthetic."
Painting patio slabs will also achieve a similar effect, and won't need to be repainted for three to five years, depending on the paint used.
9. Invest in Good Quality Patio Furniture
"Whether you have a spacious terrace or a small patio, a purposeful exterior can help take your outdoor space from bland to beautiful," advises Rikke Blaeside. "When shopping for patio furniture it's best to consider how you wish to use the space and opt for furniture that can be both functional and stylish. Opting for multi- functional furniture, in addition to traditional buys such as a dining set or a lounger can provide a great solution.
"For example, a stylish stool can be used as both seating and a small table depending on the day's needs, while a garden bench can be used to seat two to three people, as a coffee table for food and drinks or even as a footrest for added comfort when relaxing — just add a cushion or two.
"Garden trolleys are also a great patio pick. An easy to move trolley can be utilised when hosting guests as a great way to serve food and drinks, and also make perfect areas to create spots of greenery such as herb gardens with different levels for varying plant sizes."
10. Zone a Large Patio Area for Different Uses
If you have to space, a large patio stretching the length of a house is a wonderful thing. However, it is important to section the space for different uses, seating types and so on so the area doesn't feel lost or without purpose.
Think about who you will be entertaining — will it be families with kids that need a safe spot away from a barbecue, or adults who want to sit around a fire or outdoor log burner for close conversation?
This self build cleverly situates an outdoor sofa next to the indoor living room and a dining area nearby the kitchen.
11. Work With Your Garden to Inform a Layout
Big or small, patios and gardens all have their individual quirks that stop us from achieving the flawless finish we see in magazines and on TV. The best way to deal with a slightly imperfect garden is to use 'issues' to your advantage. For instance:
Sloping sites can lend themselves well to terraced sections using retaining wall ideas, as shown in the garden above — with an outdoor cooking space and dining table placed at a lower level.
Narrow patios look great with long, comfy seating and coordinated materials
If your patio gets no sun, create the ultimate nighttime area with carefully considered lighting and a patio heater — and even an outdoor bar
12. Create a Large Indoor-Outdoor Living Room
For extra wow-factor, match flooring inside and outside the house with flagstones, treated timber and tiles to create a living area which extending out into the garden.
"So far for 2022, corner lounge sets and hanging chairs have proved popular as customers prepare their outdoor spaces for entertaining and socialising," comments Rikke Blaeside. "This summer, we expect to see natural materials and wood continue to grow in popularity, overtaking previous desire for muted rattan-inspired furniture items."
13. Install a Pergola for an Elegant Patio Design Idea
Patios with pergolas look endlessly stylish. While they can also be used to string up solar string lights or for climbing plants to scale, building a timber structure cleverly shields patios from too much direct sun without putting users in shade.
Pergolas are helpful for giving a patio a little personality and shape — making it easier to position tables, chairs and outdoor sofas. They can also act as a garden screening idea, helping to provide privacy in gardens that may be overlooked.
This gorgeous example lines the patio with a pergola attached to the house itself. Delicate vines will produce a delicious scent in the summertime while a smart parasol is on hand when the weather gets too hot.
14. Use Architectural Features to Inform a Patio Design
For small patio design ideas, be sure to take a look at hidden storage benches (as in this house extension) and crucially, blending indoor and outdoor spaces.
This home included a picture window that can be used as an extra seat from inside and large sliding patio doors so people indoors feel connected to events and conversation outside without being crammed in.
Although small, the monochromatic design results in a practical and interesting patio area.
How Can I Make my Patio Look Nice?
Before heading out to completely redesign an existing space, clean up and restyle your current patio with some essential jobs that homeowners often forget (or ignore) that make a huge difference to the appearance of an outdoor space.
First things first, research the best pressure washers to give a tired slab or paver patio a good spring clean. A decent weed in and around the joint lines will also work wonders.
Unless you're willing to spend on the best quality garden furniture, it won't last forever so be sure to cover it when the weather turns in autumn or move it to the garage/shed.
Introducing fragrant and colour potted plants around a patio will also instantly boost its appeal.
"To create the ultimate outside space consider incorporating furniture and accessories that are not traditionally associated with outdoors, such as soft furnishings," advises Rikke Blaeside, design and range manager at JYSK. "Bringing interior décor items such as these along with accessories like mirrors, clocks, and rugs outside is a great way help to blur the lines of inside and out."
What is the Cheapest Way to Make a Patio?
The cheapest way to create a patio is by building a concrete slab area on a DIY basis, and topping with concrete slabs.
"Reclaimed stone can be wonderful if you are fortunate to find a cheap source however often is more expensive as it requires cleaning and cement removing from it," advises Chris Bonnett from Gardening Express. "For natural stone, lots of people use Indian sandstone as it is relatively cheap however it needs to be ethically sourced."
Assistant Editor Amy began working for Homebuilding & Renovating in 2018. She has an interest in sustainable building methods and always has her eye on the latest design ideas. Amy has interviewed countless self builders, renovators and extenders about their experiences for Homebuilding & Renovating magazine. She is currently renovating a mid-century home, together with her partner, on a DIY basis, and has recently fitted her own kitchen.
Homebuilding & Renovating Newsletter
Get the latest news, reviews and product advice straight to your inbox.
Thank you for signing up to Homebuilding. You will receive a verification email shortly.
There was a problem. Please refresh the page and try again.