11 Ideas to Make Your Garden More Eco-Friendly
By Paul Hervey-Brookes , Hugh Metcalf published
From improving biodiversity to making sustainable choices, here's the steps you can take to improve your garden's eco-credentials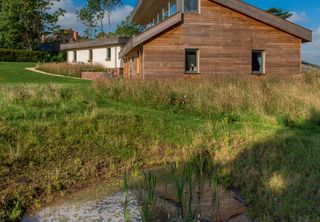 (Image credit: Jeremy Phillips)
You might think of a garden as 'green' in its very nature, but did you know there are choices you can make with your planting and landscaping that come with eco-friendly benefits?
From increasing the biodiversity of your garden to ensuring your pick of landscaping materials isn't harming the environment, we've picked 11 ideas for you to try to give your garden an eco-boost.
(MORE: 10 Ways to Get Your Garden Summer Ready)
1. Choose Wildlife Friendly Planting
Pollen rich food sources are equally important in supporting colonies of bees and other pollinating insects. Moths, for example, have seen their numbers drop dramatically in the past 12 years and while we may not notice, you would be surprised how many plants are actually pollinated at night by moths.
Studies by the Royal Horticultural Society (opens in new tab) have shown that native is not always best. This is good news for gardeners as our native flora, though beautiful, is modest, and many of our garden plants have come to us via China, the Far East, Australia, New Zealand and North America, not to mention Europe.
How to Choose Wildlife Friendly Plants
The rule of thumb is to select plants not only for their garden worthy characteristics, but more importantly for their food source benefit.
Big, open simple-structured flowers are best to give pollinators a fighting chance. Happily this also means you are choosing hardy perennials which not only come back year on year but also tend to be in flower for longer periods of time.
Hardy geraniums, especially the macrorrhizum types which originated in the Balkans, can be in flower for over five months. They have richly scented foliage and flowers in colours from white to deep magenta. The long flowering Agapanthus does well in the ground or containers and so is a smart choice for those with a small space or balcony — the campanulatus types are reliably hardy and need no winter protection.
Late season perennials such as Monarda, the Bergamot, Rudbeckia and other autumn daisies such as Aster are rich in pollen and mean that, with a combination of plants, you can have flowers for you and a food source available from late spring.
If you add in bulbs such as tulips or daffodils, and annuals that are easy to raise from seed such as forget-me-nots, you will even provide food sources for the first insects that awaken in February from their winter slumber.
2. Plant a Tree
Even the smallest plot can house a small tree such as a crab apple — Malus transitoria is particularly good with interesting foliage, blossom and tiny, pearl-like orange fruits in autumn, which small garden birds adore.
If you have more space then trees such as Hornbeam (Carpinus), some oaks (Quercus) and the birch family (Betula) can make wonderful additions, with beautiful foliage shapes, autumn colours and, in the case of Betula albosensis, coral pink bark all year round.
These medium-sized trees are an excellent habitat for birds and nearly 1,000 types of invertebrates, so planting just two will not only attract insects more likely to deal with the greenfly on your tomatoes than pesticides, but will also increase the quality of the air in your garden enormously.
For those with larger gardens, the extra space allows even more opportunity to create a kaleidoscope of autumn colours, interesting bark and blossom in spring, with a variety of trees of different heights, shapes and form attracting wildlife.
3. Choose Sustainable Materials for Hard Landscaping
Buyers and renovators are becoming savvy and want well thought-out hard landscaping options that don't include heavy amounts of imported stone. Using locally available materials will improve your project's carbon footprint and tie your garden in with your home's surrounding area.
Vast areas of unsuitable hard materials should also be avoided, alongside bright heat-attracting metal finishes or monoblocked drives.
Sustainable materials like UK or FSC timber, recycled aggregate paving and recycled hardwearing plastics can be also be used.
4. Harvest Rainwater
When it comes to conserving water in your garden, the simplest ideas are the best. Water butts are an effective and budget-friendly way of rainwater harvesting, which can be used for garden irrigation. Larger whole home systems cost more, but means that harvested rainwater from the garden can also be used for toilet flushing and even laundry.
5. Recycled and Recyclable Materials
While your first thought for an eco-friendly garden may be all natural materials, some modern composite decking boards are made from recycled plastics. These products are also likely to last much longer than timber alternatives with little maintenance in comparison.
As well as choosing recycled materials, think about what can be recycled at the end of its usable life. Plastic pots are a big waste issue for the garden, and while some gardening centres offer pot recycling schemes, others are forging forward with recyclable or biodegradable alternatives.
6. Try Reclaimed Materials
Reclamation is an option throughout your garden — from building materials reclaimed from salvaged yards to simply buying second hand when it comes to garden furniture, pre-loved additions to your garden will weigh less heavily on your conscious, sustainability-wise.
Plus, reclaimed materials can add a weathered beauty to your garden scheme — something you might have to wait a few seasons to achieve if buying new.
(MORE: Salvage Ideas for an Eco Garden)
7. Create New Habitats for Wildlife
If you are building new features or renovating an existing property there are now lots of integrated ways to provide habitat. As those who have renovated older buildings know, the existing structures can provide excellent nesting sites for small birds such as house sparrows, house martins and swallows and various bat species.
Often when renovating, replacement of these habitats may form part of your planning conditions if flagged by an ecological survey. Luckily (for renovators and animals alike) these can all now be built in with architecturally pre-made pieces which incorporate nesting.
You may wonder what the benefit is, particularly when the ecological survey throws a spanner in your works schedule, but, biodiversity aside, many of us would be happy to know that bats and small birds eat lots of everyday garden pests, so if you grow your own vegetables think of it like having 24-hour security.
More recent developments include nesting sites for ground-dwelling bees, created in a series of liftable sections which can be installed at the edges of paving.
This combined with habitat walls, which use reclaimed and recycled architectural salvage and woody plant debris, have elevated the humble wood pile into a designer garden feature that not only attracts wildlife and insects but is a sought-after design detail.
8. Recycle Green Waste Into Compost
Repurposing your garden's green waste is another important step in making your garden eco-friendly, and making your own garden compost can also help to reduce waste from the kitchen too.
Not only that, it'll save you money on shop bought compost improvers and offer an eco-friendly alternative to peat-based composts.
(MORE: How to Compost: Make Your Own in 5 Steps)
9. Opt for Peat-Free Composts Where You Can
Peat composts have proven super effective for retaining water and nutrients, however, it is sourced from peat bogs through processes that damage natural ecosystems and adversely affect the environment, making it an unsustainable product.
Modern peat-free composts have come a long way, however, you may need to mix additions in to improve performance, from your own compost to grit/sand and plant food.
10. Design an Eco-Friendly Driveway
Gardens and driveways with excess concrete cause rainwater runoff which street drains can't always cope with, potentially causing flooding. Permeable paving is now a requirement for driveways, and use of non-permeable varieties may require planning permission.
Using locally sourced gravel is a better option, while keeping paving to a minimum, leaving space for plants and allowing drives to drain into borders will also improve your driveway's eco credentials. Drives that actively harvest water are also creeping up people's desirability lists.
12. Add a Water Feature
A water feature is a great idea for every garden, not only for the enjoyment of humans, but offering another habitat for a range of amphibious creatures and insects. With any body of water in your garden, be sure to provide an exit path for small creatures that may venture into it - this can be achieved with a series of rocks that they can climb.
A water feature provides a source of water for thirsty birds and mammals during the warmer months too.
---
Green Homes Month (opens in new tab)
To coincide with Earth Day 2021, Homebuilding & Renovating and the wider Future Homes Network have joined forces to launch Green Homes Month, where we will be sharing all the best advice, ideas and products to help you reduce your carbon footprint and make your home greener.
Hugh is Digital Editor of homebuilding.co.uk and has worked on a range of home, design and property magazines, including Grand Designs, Essential Kitchens, Bathrooms, Bedrooms and Good Homes. Hugh has developed a passion for modern architecture and green homes, and moonlights as an interior designer, having designed and managed projects ranging from single rooms to whole house renovations and large extensions. He's currently renovating a Victorian terrace in Essex, DIYing as much of the work as possible. His current project is a kitchen renovation which involves knocking through walls and landscaping a courtyard garden.
Homebuilding & Renovating Newsletter
Get the latest news, reviews and product advice straight to your inbox.
Thank you for signing up to Homebuilding. You will receive a verification email shortly.
There was a problem. Please refresh the page and try again.