Garden Fence Ideas: Beautiful Boundaries For Your Garden
Your garden fence ideas will provide the backdrop for your landscaping scheme so take inspiration from our round-up of the best examples out there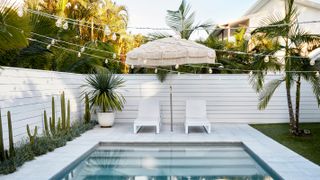 (Image credit: Lights4fun)
The best garden fence ideas are not only crucial in ensuring your outdoor spaces are sheltered from the elements and prying eyes, but they can also add so much to the look and feel of a landscaping scheme.
Although garden fences are traditionally thought of as serving a purely practical function as a means of marking out the boundaries of a garden, increasingly they are being used to enhance the aesthetics of spaces and as feature in their own right. From contemporary designs to painting a fence in a bold hue, we're finding ways to enhance our boundaries.
Our collection of garden fence ideas offers something for everyone, whether you favour traditional landscaping schemes or are after something a little more innovative and original.
Garden Fence Ideas For Every Landscaping Style
Before perusing our garden fence round up, take a minute to think about what you want from your garden design. If it is a tranquil oasis with a very natural feel you are after, you may well be after a fence that works with climbing plants, while those after a very cohesive look in their garden might consider choosing a colour to ensure it ties in with the shades used elsewhere in their scheme.
You should also think beyond using your fence as a boundary alone — fences can be useful places to hang other garden features, such as pots, lighting and mirrors too.
1. Opt For An Aged Look For Character
New wooden fences can have a tendency to stand out for the wrong reasons; their harsh, rather bright new colour making it hard for them to blend in. Likewise, the silvery grey they often weather to over time is not suitable for every garden style.
Painting a fence is great idea if this is a concern to you, and a good news is some of the best fence paints are now available in a range of colours — long gone are the days when brown or green were the only choices. Here, chalk paint in Athenian Black, from Annie Sloan, has been used in conjunction with UV lacquer.
2. Ensure Privacy With Hit and Miss Fencing
Seating areas in the garden should feel cosseted and protected from the elements — and hit and miss fencing is ideal for both requirements.
Hit and miss fencing, such as this from B&Q, features boards that are mounted alternately to the back and front of vertical battens.
3. Choose a Slatted Fence For Contemporary Spaces
When considering various fence types for your garden, you should be aware that some are more suitable than others for contemporary garden schemes.
Single and double slatted, or Venetian fencing, are particularly well suited to modern gardens, as can be seen in this crisp and clean example with a double slatted fence from B&Q.
4. Create a Focal Point With Decorative Fence Panels
As well as marking out the boundary of your garden and for zoning the various spaces within it, garden fences can also be used to create interest, becoming features in their own rights.
Decorative fence panels, such as B&Q'sNeva Decorative Fence Panel, are ideal for this.
5. Consider a Planted Fence Wall For a Lush Feel
Living walls are hugely fashionable at present, allowing for instant character and interest. For those who want a quick solution to creating the living wall look, then creating a planting scheme using your garden fence is a brilliant idea — and perfect for breaking up large expanses of fencing and making a new space feel established.
They are a particularly good choice for anyone looking for outdoor kitchen ideas, as can be seen in this example from CENA Outdoor Kitchens. Integrating a few herbs in easy reach of the BBQ could be another fine idea.
6. Break Up a Large Area With Brick and Timber Boundaries
Stuck trying to decide between a garden wall or fence? Great news — you don't have to. Large garden walls can feel a little overwhelming in smaller spaces and expanses of wooden fencing can feel a bit bland — combining the two is a great idea.
Here, a characterful brick wall has been topped with B&Q's Good Home Neva Timber Fence.
7. Create a Calm Oasis With Neutral Fence Paints
A light-coloured fence is a great way to instantly transform the look of a garden, and can work particularly well in small garden — creating the illusion of space.
This pretty courtyard garden has been given a sense of tranquility thanks to the shade chosen for the simple slatted fence that surrounds it — Well Grounded from COAT Paints x Luke Arthur Wells.
8. Enhance a Small Space With Lattice Patterns
If you are after more small garden design ideas then this one is for you. It can be tempting to think that you will be limited to using very plain, simple finishes in compact spaces but actually pattern and interest is a great way of distracting the eye from the proportions of a small area.
9. Fix a Water Feature To Your Fence For Tranquility
Water features add visual interest while introducing the calming sound of running water — plus they come in all shapes and sizes making them ideal for any style of garden.
If building your own water feature seems a little too much like hard work, then why not consider investing in a ready-to-use design such as this Lion Wall-mounted Water Feature from Cox & Cox and attach it to a simple garden fence?
10. Use Combination Fencing For a Softer Look
Combination fencing, such as this from B&Q, is made up of a panel fence topped with trellis. It is a great way to break up fence styles and is also ideal for those wishing to grow climbing plants up their boundaries. It is perfect for town gardens where green surroundings can sometimes be lacking.
This type of fencing can add also privacy, whilst allowing natural light to filter through.
11. Use a Single Fence Panel To Zone a Dining Space
As well as enhancing privacy and marking out spaces, fencing has other, additional, uses. A single fence panel can be the ideal way of marking out a space as having a particular function, or provide somewhere to hang plants or lighting.
This is a great solution for those after great garden decking ideas — here, a cosy dining spot has been created on a raised deck with the addition of a single fence panel adorned with fairy lights.
12. Pick Double Slatted Fencing For Modern Appeal
Double slatted fencing is the perfect choice for contemporary garden schemes, offering privacy with a minimalist look. It has slats mounted to both the back and front.
This fence is from Jacksons Fencing and has been used to mark out a smart, modern patio space.
13. Match Your Fence To Your Decking For Uniformity
For a modern, cohesive aesthetic in your garden, aim to use your fencing to pick up on materials used elsewhere in the space.
Here, the same shade and style of timber has been used for the fencing and the decking, with the soft brown shade being mirrored in the choice of patio furniture.
14. Paint Your Fence White For a New England Feel
You can't beat a lick of fresh white paint when it comes to creating a garden with a light and airy New England feel.
Here, a simple slatted fence, surrounding the enviable swimming pool, has been painted pure white and paired with a lush surrounding border. Festoon lights from Lights4fun add a playful finish to the look that stop it from looking austere.
15. Affix Decorative Lighting To Your Fencing
Fencing can provide the perfect spot to attach all manner of garden features. If you are after garden lighting ideas then why not think about injecting a sparkly touch of magic with the addition of a slew of fairy lights — they look particularly effective against dark-stained timber.
The Took Regular Colour Changing Outdoor Ball Lights shown here are from Iconic Lights.
16. Use Your Fence As An Art Gallery
There is so much talk about 'bringing the outside in' but how about bringing the inside out instead?
Mirrors and artwork, designed specifically for outdoor use, are a great way to inject fun and interest in the garden — Yardart's wonderful range of abstract garden art is digitally printed using UV protected weatherproof colourfast inks and applied to high quality outdoor grade acrylic.
17. Create Interest With Curved Fences
Curves create visual interest and can even make gardens feel more spacious — from curved flower beds and pathways to circular patios.
These Wickes' Forest Garden Pressure Treated Bristol Fence Panels add privacy but also have a softer look than those with straight edges.
18. Consider Natural Screening For a Rustic Look
Natural screening such as hazel and willow hurdle panels are woven from coppiced hazel and willow and, despite their soft and mellow appearance, are surprisingly robust.
They are great for creating a pretty country garden feel and offer great privacy levels.
Get the Homebuilding & Renovating Newsletter
Bring your dream home to life with expert advice, how-to guides and design inspiration, direct to your inbox.
Natasha is Homebuilding & Renovating's Associate Content Editor and has been a member of the team for over two decades. An experienced journalist and renovation expert, she has written for a number of homes titles. Over the years Natasha has renovated and carried out a side extension to a Victorian terrace. She is currently living in the rural Edwardian cottage she renovated and extended on a largely DIY basis, living on site for the duration of the project. She is now looking for her next project — something which is proving far harder than she thought it would be.