Swimming Pool Guide
By Jason Orme
A swimming pool sounds like the ultimate luxury, but it pays to think carefully about the type you install and maintenance first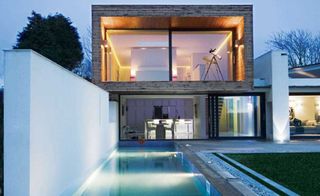 (Image credit: Hyde + Hyde Architects)
What could be better than having a pool available on demand for your own private use? So what are the choices, what's the difference between a good pool and a bad pool, and how do you know whether having one is right for you?
The Options for a Swimming Pool
Visit the Homebuilding & Renovating Show
While there is little doubt that an indoor pool is viewed as an asset to a house that can comfortably accommodate it, in our temperate British climate an outdoor pool is often considered something of a nuisance – a blight to an otherwise attractive garden – as opposed to a selling point. Future buyers may well take into account the cost of removing it — potentially devaluing the property. However, this depends greatly on the pool in question as modern construction methods can eliminate a lot of the risks.
The cheapest solution is an above-ground outdoor pool, which costs from around £2,500 for a 24 x 12ft model. A competent DIYer could install one themselves, though it will do nothing for the value of the property. It is, however, easier to remove than an in-ground pool.
For DIY enthusiasts, self build in-ground kits start from around £5,000 (excluding additional building materials and machinery hire), but you will require some building knowledge to install one.
At the lower end of the outdoor pool market, a customised in-ground liner kit installed by a professional starts at £25,000 and a mosaic tiled concrete pool costs from around £45,000.
At the top end of the market companies such as Compass Pools offer a cutting edge one piece solution delivered to your home as a finished pool. Made from carbon ceramic they incorporate integrated insulation and an antibacterial layer that reduces the need for chemicals.
They are essentially a yacht in reverse to eliminate a lot of the problems with leaks and maintenance associated with older tiled or liner pools. Their pools as a fully installed inground pool project range from £50,000 to £150,000.
When it comes to indoor pools, prices vary greatly, from around £60,000 to £150,000 all-in (to include an environmental control system or air handling unit such as a dehumidifier), depending on the chosen pool. When budgeting for an indoor pool you also have to consider the cost of the building itself, very similar in cost to an extension. Typical costs range from £1,000/m² upward depending on the quality of the finishes and spec.
For those on a tighter budget, sliding dome covers offer the best of both worlds giving you an indoor pool that can be turned into an outdoor pool just like a convertible car.
Do I Need Planning Permission for a Swimming Pool?
Outdoor pools don't need permission, unless the house is in a Designated Area or listed. An indoor pool may need permission, but not if it falls under Permitted Development. Check with the local authority.
How Much Will We Use It?
One of the biggest worries that potential swimming pool owners have is how much use they will get out of it. It's a significant sacrifice in terms of cost and garden space so you'll need to be sure that you'll be enjoying it to the max.
Of course, if you're building an indoor pool, it's not an issue, but for outside pools – which form the overwhelming majority – you will also be governed by the seasons. "Outdoor pools are mainly used from late March until the end of September, but we have customers who swim all year round, especially those that heat their pool up for a Christmas dip, with the steam rising up," says Alex Kemsley from Compass Pools.
Largely, your ability to use it depends on your willingness to heat it — but unless you're investing significantly in an energy-efficient system (perhaps linked to a ground-source heat pump) or are willing to spend a fortune on heating it conventionally, you will have to accept that it is going to be lying dormant for at least half of the year.
What Size Should my Swimming Pool Be?
Swimming pools come in a variety of sizes and the temptation is to try and economise on size to minimise costs. The smallest is usually 6 x 3m but as that requires little more than a handful of strokes to tick off a length, you might find it a little frustrating. At this size, most customers install a swim jet or counter current to allow their pool to be turned into a treadmill.
The standard is actually 11 x 4m (x 1.5m deep), with most companies offering a larger size off-the-shelf (although most will create bespoke sizes if you insist). This size gives a nice balance of usability and running costs, as the bigger the pool the more water to heat. You will, of course, need extra space around the pool of about 2m — plus associated space for a plant and filtration kit.
How Will I Heat a Swimming Pool?
Swimming pools require a significant amount of energy to keep warm. Pool heaters look a bit like boilers and can run off oil, electricity or gas. Some modern systems will use air-source heat pumps to extract energy from the air. You can expect up to 5kW from 1kW of electricity.
When choosing a pool shell – be it concrete, liner or one piece – it's worth considering the long-term running costs as a little investment early on in an efficient pool shell and cover, can pay dividends in the long run.
One of the problems is that, unlike an enclosed space, the pool will lose heat just as soon as it gets up to the required temperature (usually 26–30°C). Alex from Compass Pools comments: "most of our customers opt for an air-source heat pump, with typical running costs of just £5 per day in summer, for a 11m x 4m insulated carbon ceramic pool." For those looking to go a step further, investment in a super energy-efficient system (perhaps to linked to a ground-source heat pump) with a solar cover could expect even lower running costs.
Traditionally, when not used, a solar and debris blanket covers the pool to minimise losses (around 80 per cent of a pool's heat escapes through the surface).
The clever option is to invest in some form of renewables setup, which runs through a heat exchanger to heat the water. Using a solar thermal array makes sense, as the pool will be heated well on the sunny days when you really want to use the pool.
Another option is to use biomass (linked to a heat store). For these more complex solutions you'll need specialist advice, but the significant investment is usually well worth it.
Swimming Pool Maintenance
Because heat breaks down chlorine, the key job is really one of topping up and checking pH and chlorine levels. The good news is that the maintenance jobs are fairly routine — there are even apps that will help you monitor pH and temperature levels and you can buy automatic dosing systems.
If you hate the thought of using chlorine, then you can install a pool salt system.
How to Build a Swimming Pool
Top Tip
Pool companies factor in the weight of water as a counterbalance against the walls caving in, so an empty pool is a structural risk.
There are essentially four ways of building a pool. Most common is the traditional block and liner technique, which, as its name suggests, consists of masonry blocks and a vinyl liner (the liners usually have a lifespan of around 5–10 years). Secondly, a gunite shell – which is made up of a steel mesh frame onto which shotcrete or gunite is sprayed – is finished with a waterproof render and tiled. Thirdly, a polyethylene preformed shell is used.
And finally a more recent development, the carbon ceramic shell. This uses technology from the aerospace industry to deliver an energy efficient pre-made shell ready plumbed and all fitted out to your specification — bit like ordering a car.
The techniques get progressively more expensive but also quicker to install, are less prone to failure (cracking and liner failure being the two killers for the outdoor swimming pool) and more efficient to run.
When employing a pool installer, make sure they are a member of SPATA (the Swimming Pool and Allied Trade Association). This means you will automatically be protected against them being unable to complete the contract, and will have warranty insurance cover. 
How Much Does a Swimming Pool Cost?
A block and liner pool kit at a standard size starts from around £3–4,000. Add to that the costs of installation, pump, covers and filtration systems, and realistically you should be budgeting £7–10,000. This however excludes the costs of excavation, soil away, building materials such as concrete and blockwork, and any specialist labour such as screeding. Costs of the labour will depend where you are in the country.
Most professional installations on a typical 11m x 4m pool, that includes all groundworks and materials with a good selection of renewable energy options, a good warranty and safety cover start from £50,000 with the average being around £80,000.
Running costs are around £5 a day in summer and £10 a day if using year-round for heating and chemicals, and you will also have to pay for necessary repairs.
Does a Swimming Pool Add Value?
It's a tricky one. "If pushed, I would have to say that it doesn't usually add anything to the value," says Liz Lord from Worcestershire estate agents Allan Morris & Jones.
"Unfortunately, the ones I do see tend to be poorly maintained, and potential buyers worry about the heating costs, too," she explains. "I'm afraid the perception is that we don't have the summers to make the most of them, and in my experience they are less fashionable than they were."
For a certain market, however, it's a different story. Justin Godfrey, from Savills' Bishops Stortford office, comments: "Once you reach the above £3m mark, there's an expectation that certain things will already exist in the sale, and a pool, be it indoor or outdoor, is high on the buying criteria.
"If the property sits in the countryside with a certain amount of acreage, then a swimming pool would be almost essential to achieve a maximum price. If there is no swimming pool, then buyers looking for such a property as their main residence, are likely to be factoring building costs into the overall sum."
If you are building an integrated indoor pool at the same time as a house, then it is largely VAT free, if part of your overall build.
How Do I Keep a Swimming Pool Safe?
Safety is a huge issue, but with a sensible approach it can be built in to the installation, and risk – while never entirely removed – can be minimised.
According to Alex Kemsley from Compass Pools, "I can't remember the last time we installed a pool without a safety cover. They are a fair investment starting at £10,000, however they can save a life. They also make life a lot easier as the pool is opened at the touch of a button, dirt is kept out and heat is added by turning the entire pool into a big solar panel".
Your safest bet? A 4ft-high locked (and alarmed) fence around the pool with an automatic safety cover and rescue equipment nearby. It's also worth checking out a French-standard pool alarm (from around £500), which protects the perimeter of the pool using infra-red technology — a bit like a burglar alarm.
Homebuilding & Renovating Newsletter
Get the latest news, reviews and product advice straight to your inbox.
Thank you for signing up to Homebuilding. You will receive a verification email shortly.
There was a problem. Please refresh the page and try again.