Choosing a Home Swimming Pool For Any Size Garden or Indoors
Find out everything you need to know about home swimming pools (both inside and in gardens) — from the different types to installation and costs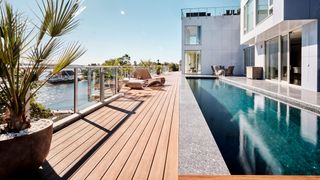 (Image credit: Lundhs Real Stone)
A home swimming pool can seem like an attractive prospect, especially when you find yourself in the midst of a summer heatwave. However, as you can imagine, investing in a swimming pool, whether indoor or in the garden, is no small commitment.
Not only do they take up a lot of room, they're expensive to install and heat, and maintenance on a poor quality pool will leave you with a potential headache that's unusable for large parts of the year.
In our guide to home swimming pools, we'll cover all the crucial elements from how to choose the size and style of pool, installation, if they're worth it and the most essential element of all: running costs.
A Home Swimming Pool for Garden: What Type of Pool is Best?
There are four main swimming pool types: indoor, outdoor, in-ground, and above ground. The decision between these options will hugely impact the design required, installation, and cost.
Indoor vs Outdoor
Indoor home swimming pools either require an extension into a garden, basement conversion or dedicated garden building while outdoor swimming pools, unless heated, might not be appealing for many people through the winter months.
"Pools are a commitment, it is hard to adapt a pool into another room should your needs change in the future," begins Dylan Godwin, architectural designer at AR Design Studio. "Indoor pools are a part of the house – to be successful they require involvement from the architect and design team throughout the process. They shouldn't be viewed as an addition."
However, in our temperate British climate an outdoor pool is often considered something of a nuisance — a blight to an otherwise attractive garden, as opposed to a selling point.
Visit the Homebuilding & Renovating Show
In-ground vs Above Ground
In-ground pools demand a more invasive design and installation process while above ground pools are less permanent (and cheaper), but are more easily removed by future owners. They may well take into account the cost of removing an in-ground pool — potentially devaluing the property. However, this depends greatly on the pool in question as modern construction methods can eliminate a lot of the risks.
Natural Pools
"One concept that is becoming more popular in the UK, following on from long standing trends in main land Europe, is the idea of a natural swimming pool," explains landscape designer Paul Hervey-Brookes.
"Natural swimming pools don't use chemicals to clean the water but are instead filters using aquatic plants which clean the water naturally." Natural pools can be built indoors or outdoors, but are most commonly in-ground designs.
Investigating good swimming pool ideas before making any decisions on the best type of swimming pool will ensure you get the right model for your money.
Can I Build a Swimming Pool in My Garden?
Swimming pools can be built in most sized gardens — even the smallest outdoor space can include a pool with a hydrojet (like a treadmill for swimming) if desired.
If you're looking to include a swimming pool in your garden or within the home during a self-build, make this very clear to your design team from the very beginning. "Discuss the brief with your design team at the outset of the process to define your requirements and ensure the pool is considered appropriately within the design," advises Dylan Godwin.
"The use of fitness or pleasure will influence size, depth, and which areas of the house you want it to connect to," he continues. "The possibility of a heated pool may also impact the amount of plant required depending on size. Answering these questions will allow the architect to design your pool and associated plant room as a part of the house and not a tacked on addition. The earlier this is confirmed the quicker rough costs can be established and factored into the wider house budget."
How Much Does it Cost to Put a Pool in Your Backyard?
"An above ground pool will cost less to install than an in-ground one, as there will be less groundwork necessary," explains energy expert David Hilton. "For a smaller pool of around 4m x 2.5m you will be looking at around £6,000. Therefore (on the budget end of the scale) you could realistically have a pool installed with a counter flor pump and a fully insulated safety cover with change from £9,000".
For in-ground options, if paying a professional to install, you'll need to consider the costs of excavation, soil away, building materials such as concrete and blockwork, and any specialist labour such as screeding. Costs of the labour will depend where you are in the country but Dave Horne of Origin Pools estimates the cost to take soil away as between £5,000 and £8,000 including VAT.
Most professional installations on a typical 11m x 4m pool, that includes all groundworks and materials with a good selection of renewable energy options, a good warranty and safety cover start from £50,000 with the average being around £80,000.
At the lower end of the outdoor pool market, a customised in-ground liner kit installed by a professional starts at £25,000 and a mosaic tiled concrete pool costs from around £45,000.
At the higher end of the market, a retailer such as Origin Pools will install an in-ground outdoor pool from around £96,950 for a small pool (8m x 4m) up to £187,000 for a 15m x 6m pool. This includes installation and an air source heat pump for use between May and September, but doesn't include the cost to take soil away or services.
Prices for natural swimming pools are better measured per m2, as the cost decreases as the size does. This will range between £300 to £600/m2
When it comes to indoor pools, prices vary greatly, from around £60,000 to £150,000 all-in (to include an environmental control system or air handling unit such as a dehumidifier), depending on the chosen pool. When budgeting for an indoor pool you also have to consider the cost of the building itself, very similar in cost to an extension. Typical costs range from £1,000/m² upward depending on the quality of the finishes and spec. Origin Pools offers indoor swimming pools including the building for guide prices of between £250,000-£414,250.
For those on a tighter budget, sliding dome covers offer the best of both worlds giving you an indoor pool that can be turned into an outdoor pool just like a convertible car.
What is the Cheapest Type of Swimming Pool?
The cheapest solution is a small unheated above-ground outdoor pool. Dolphin Leisure, for instance offer a 12ft x 4.3 ft steel frame pool for £2,355. A competent DIYer could install one themselves, though it will do nothing for the value of the property. It is, however, easier to remove than an in-ground pool.
For DIY enthusiasts, self build in-ground kits start from around £5,000 (excluding additional building materials and machinery hire), but you will require some building knowledge to install one. All Swim offer a self build 6m x 3m concrete pool kit for £3,400.
"Having to enclose your pool in a building makes indoor pools typically more expensive than outdoor pools," adds AR Design Studio's Dylan Godwin.
VAT on a new build is largely free — so this will save you money if you include a pool as part of an overall build.
Does a Swimming Pool Add Value?
"When properly designed and integrated into the scheme, swimming pools can often add significant value to the property," advises Theo James-Wright of Savills Country Department. "Historically, when sellers asked us if putting in a pool would make their home more attractive to buyers, we would point out that some see pool maintenance and costs as a negative.
"But with experiences of travel disruption and increasing numbers of people wanting to entertain at home, the existence of a pool might actually increase the desirability of a property. In fact a recent survey of our agents found that 90% agree that a swimming pool adds value to the home — and almost half (43%) believe that it can add more than +5% to the value of a home."
Do You Need Planning Permission for a Swimming Pool?
Before you begin any project, you have to make sure you comply with swimming pool planning permission and building regs.
"Typically for an indoor pool you can build it under Permitted Development if your PD rights are intact," explains Origin Pool's Dave Horne. "For an outdoor pool it is dependent on where you are as some local councils do have different regulations. If you have a listed building you will need planning permission."
What is the Best Way to Heat a Swimming Pool?
Swimming pools require a significant amount of energy to keep warm. Pool heaters look a bit like boilers and can run off oil, electricity or gas. Some modern systems will use heat pumps for swimming pools.
For example, using an air source heat pump to extract energy from the air, you can expect up to 5kW from 1kW of electricity.
When choosing a pool shell — be it concrete, liner or one piece — it's worth considering the long-term running costs as a little investment early on in an efficient pool shell and cover, can pay dividends in the long run.
One of the problems is that, unlike an enclosed space, the pool will lose heat just as soon as it gets up to the required temperature (usually 26–30°C).
"Most of our customers opt for an air source heat pump, with typical running costs of just £5 per day in summer, for a 11m x 4m insulated carbon ceramic pool," says Alex Kemsley from Compass Pools.
For those looking to go a step further, investment in a super energy-efficient system (perhaps to linked to a ground source heat pump) with a solar cover could expect even lower running costs.
Traditionally, when not used, a solar and debris blanket covers the pool to minimise losses (around 80% of a pool's heat escapes through the surface).
The clever option is to invest in some form of renewables setup, which runs through a heat exchanger to heat the water. Using a solar thermal array makes sense, as the pool will be heated well on the sunny days when you really want to use the pool.
Another option is to use biomass boiler (linked to a heat store). For these more complex solutions you'll need specialist advice, but the significant investment is usually well worth it.
Is it Expensive to Maintain a Pool?
The running costs of a swimming pool depend on your choice of heating system. While an electric system is lower cost initially than a heat pump, it will cost far more to heat your pool in the long run.
Keeping a swimming pool heated is the largest obstacle to overcome, as any pool will loose heat from the surface, but especially outdoor pools. To work out the cost of electricity, look at the surface area in square meters, Use 200W per square metre for an exposed outdoor swimming pool to around 50W if the swimming pool is in a protected location with a good thermal cover. Keeping the air in an indoor pool building warm will help to reduce air heat loss, but this has its own heating implications.
"For an outdoor pool that is going to be used for six months in a year the service visit cost will be around £110 plus VAT (depending on how much you're willing to do yourself)," explains Dave Horne. "If you're wanting someone to check in every week it will add up across the year.
"Heating costs for an outdoor pool using an air source heat pump will have gone up recently so they would be around £1,500 for a swim season. Running an indoor pool is probably going to be closer to £4,500 - £5,000 a year as it's heated all year round."
How Much Will I Use a Swimming Pool?
One of the biggest worries that potential swimming pool owners have is how much use they will get out of it. It's a significant sacrifice in terms of cost and garden space so you'll need to be sure that you'll be enjoying it to the max.
In recent years, we have seen an increasing number of self-builds and extensions with swimming pools thanks to the 2020 national lockdown preventing people from attending gyms and a spike in heatwaves (in particular July 2022 where temperatures soared into the 40s).
Of course, if you're building an indoor pool, weather is not an issue, but for outside pools – which form the overwhelming majority – you will also be governed by the seasons. "Outdoor pools are mainly used from late March until the end of September, but we have customers who swim all year round, especially those that heat their pool up for a Christmas dip, with the steam rising up," says Alex Kemsley from Compass Pools.
Largely, your ability to use it depends on your willingness to heat it — but unless you're investing significantly in an energy-efficient system or are willing to spend a fortune on heating it conventionally, you will have to accept that it is going to be lying dormant for at least half of the year.
What Size Should my Swimming Pool Be?
Swimming pools come in a variety of sizes and the temptation is to try and economise on size to minimise costs. The smallest is usually 6 x 3m but as that requires little more than a handful of strokes to tick off a length, you might find it a little frustrating. At this size, most customers install a swim jet or counter current to allow their pool to be turned into an 'endless pool' — sort of like a treadmill for swimming pool.
The standard is actually 11 x 4m (x 1.5m deep), with most companies offering a larger size off-the-shelf (although most will create bespoke sizes if you insist). This size gives a nice balance of usability and running costs, as the bigger the pool the more water to heat. You will, of course, need extra space around the pool of about 2m — plus associated space for a plant and filtration kit.
How is a Swimming Pool Installed?
There are essentially four ways of building a pool. Most common is the traditional block and liner technique, which, as its name suggests, consists of masonry blocks and a vinyl liner (the liners usually have a lifespan of around 5–10 years).
Secondly, a gunite shell — which is made up of a steel mesh frame onto which shotcrete or gunite is sprayed — is finished with a waterproof render and tiled. Thirdly, a polyethylene preformed shell is used.
And finally a more recent development, the carbon ceramic shell. This uses technology from the aerospace industry to deliver an energy efficient pre-made shell ready plumbed and all fitted out to your specification — bit like ordering a car.
The techniques get progressively more expensive but are also quicker to install, less prone to failure (cracking and liner failure being the two killers for the outdoor swimming pool) and more efficient to run.
When employing a pool installer, make sure they are a member of SPATA (the Swimming Pool and Allied Trade Association). This means you will automatically be protected against them being unable to complete the contract, and will have warranty insurance cover.
How Do I Keep a Swimming Pool Safe?
Safety is a huge issue, but with a sensible approach it can be built in to the installation, and risk — while never entirely removed — can be minimised.
"I can't remember the last time we installed a pool without a safety cover," says Alex Kemsley from Compass Pools. "They are a fair investment starting at £10,000, however they can save a life. They also make life a lot easier as the pool is opened at the touch of a button, dirt is kept out and heat is added by turning the entire pool into a big solar panel."
Your safest bet? A 4ft-high locked (and alarmed) fence around the pool with an automatic safety cover and rescue equipment nearby. It's also worth checking out a French-standard pool alarm (from around £500), which protects the perimeter of the pool using infra-red technology — a bit like a burglar alarm.
Get the Homebuilding & Renovating Newsletter
Bring your dream home to life with expert advice, how-to guides and design inspiration, direct to your inbox.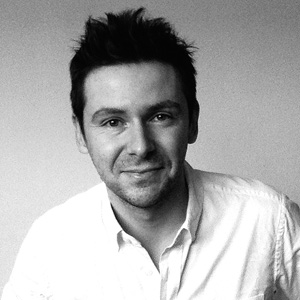 The former Editor of Homebuilding & Renovating magazine, Jason is an experienced self builder and has recently finished renovating his 1960s home. Jason is now Managing Director of Future PLC's Homes' portfolio, which includes UK-leading titles such as Ideal Homes, Livingetc and Homes & Gardens. He is also the author of The Self Build Dream. You can catch Jason in the seminar theatres and Advice Centre at many of the Homebuilding & Renovating Shows across the UK.